Female Athletes Make History at This Year's 'Jewish Olympics'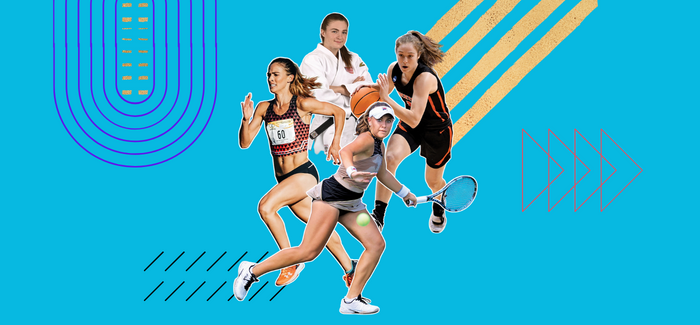 Growing up in Southern California, Chelsey Goldberg played roller hockey alongside her twin brother, Chad. When it got too hot to skate outside, they switched to ice hockey. When the Goldbergs' talent became obvious, coaches encouraged the twins to pursue ice hockey seriously.
Then came 2014, when Chad headed to Israel to compete in men's hockey at the Maccabiah Games, Israel's quadrennial sports event dubbed the "Jewish Olympics." For the first time, Chelsey couldn't join him: There was no women's ice hockey competition.
"I actually asked them if I could just play on the boys' team," recalled Goldberg, now 29 and a professional hockey player. "I wanted the opportunity to play for my country and take a trip to my holy land. But they said no. So from that point on, I was like, 'I'm going to get a girls' team over there.' "
Eight years later, Goldberg's determination is paying off: Women's ice hockey is debuting at the 21st Maccabiah Games this July. Goldberg joins an American squad facing off against teams from Canada and Israel. They are among a record 2,000 female athletes from around the world and part of a United States delegation of over 1,300—the largest American representation ever at any international sporting event, including the Olympics.
Postponed from 2021 due to Covid, the two-week event kicks off July 12, with festive opening ceremonies two days later at Jerusalem's Teddy Stadium. More than 10,000 athletes from 60-plus countries are competing in Haifa, Jerusalem, Tel Aviv and Netanya—but not on Shabbat, allowing observant Jews to participate and watch live.
---
To watch the livestream of the Opening Ceremony from Maccabi World Union, follow this link. The livestream will start at 11:30 am ET with the Opening Ceremony starting at 12 pm ET.
---
The Maccabiah Games "elevate the role of sports in bringing the Jewish community together across geographic, denominational, political and socioeconomic differences," said Marshall Einhorn, CEO of Maccabi USA, Maccabi World Union's American affiliate. "Our athletes are being exposed to Jewish cultures and Jewish languages from around the world."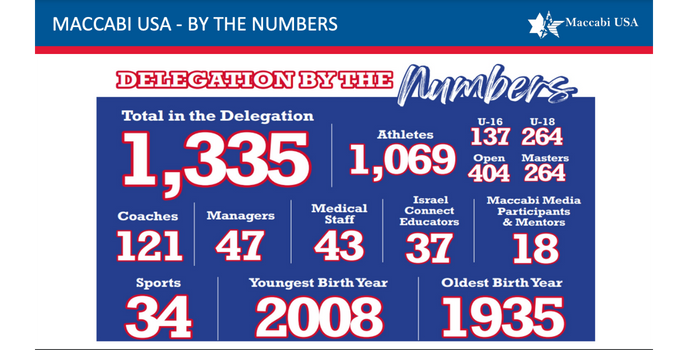 Indeed, athletes come from as far away as Uruguay and Ukraine (even this year, despite the war) to compete, tour and celebrate Jewish athleticism and shared identity in the State of Israel. The Maccabiah Games are the signature event of the Israel-based Maccabi World Union, the world's largest and longest-running Jewish sports organization, comprising 450 clubs in 60 countries. Maccabiah athletes range in age from 14 to 85 and compete in juniors, open, masters (over 35) and Paralympic categories.
They are swimmers and fencers, lawn bowlers and field hockey players, and they include some of America's most talented Jewish female athletes. In addition to Goldberg, standout women in the American delegation include Abby Meyers, the 2022 Ivy League Player of the Year in women's basketball; Leah Rosenfeld, a two-time gold medalist runner in previous Maccabiah Games; Alexis Blokhina, a teenage tennis ace who heads to Israel right after her second appearance at Wimbledon; and Sara Golden, a top-ranked judoka.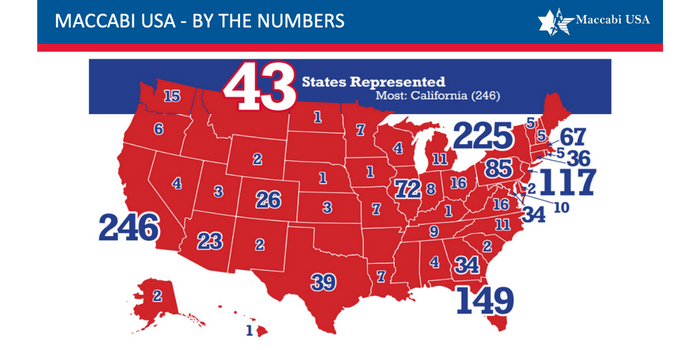 While female athletes are still a minority at the games, Maccabiah features a rich history of pioneering women. Brooklyn-born judoka Rena "Rusty" Glickman—later known as Rusty Kanokogi, her married name— fought to include women's judo in the 1977 games, launching what has become one of Israel's most successful sports. (The first-ever Israeli Olympic medal was a 1992 silver in judo won by Yael Arad.) Kanokogi singlehandedly made women's judo an internationally recognized sport, mortgaging her home to sponsor the first world women's judo championships in 1980, and threatening a lawsuit to persuade Olympic officials to add women's judo to the 1988 summer games in Seoul, where she served as the first coach for the American team.
This summer, 20-year-old Golden becomes a part of Kanokogi's legacy. So does Goldberg, whose spirit echoes that of the fiery Brooklynite. Here, we look at some of the American women with the potential to write new chapters of Maccabiah history during this summer's games.

Chelsey Goldberg wants the kind of professional athletic career that her equally talented male counterparts have long taken for granted.
That includes not only a well-paid day job on ice but also participation in the Maccabiah Games, where men's ice hockey is a marquee sport. Judaism and athleticism have been pillars of Goldberg's identity since her childhood skating alongside her brother and attending Temple Adat Elohim in Thousand Oaks, Calif., a Reform synagogue near their hometown of Agoura Hills, where the pair celebrated their b'nai mitzvah.
After playing at Northeastern University, where she earned a bachelor's and then a master's in sports leadership—and where she was involved in the school's Hillel—she spent several seasons with the Boston Blades in the Canadian Women's League before it disbanded in 2019. Since then, Goldberg has been affiliated with the Professional Women's Hockey Players' Association, a nascent federation of American and Canadian sportswomen working to build a sustainable league "and make enough money to live," she said.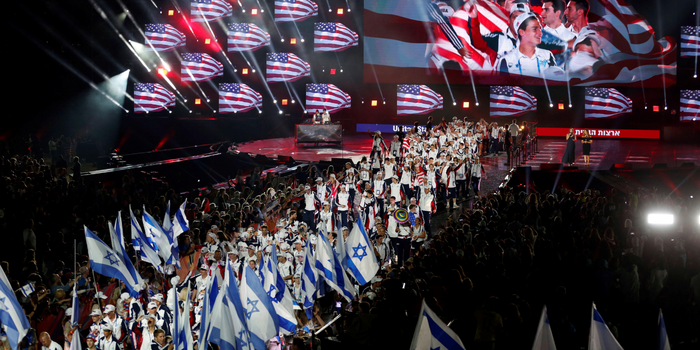 She has also spent the last eight years—ever since Maccabiah refused to let her play on the men's team— lobbying for a women's event at the games and recruiting an American team. "I put out the word on social media and reached out to past teammates," Goldberg recalled. But even harder than finding players for her own team, she said, "was not having enough interest from enough players from different countries."
After a decade away, she recently moved back to California, where, in between training and organizing the new league, Goldberg works as a sales rep for the Verbero hockey apparel line and as a coach and mentor to young female athletes.
While she has become accustomed to being one of the few Jews in athletic spaces, Jewishness "has always been an honor and a staple of my identity," she affirmed. That's why her first trip to Israel, along with the opportunity to compete in the games, is such a milestone. Coming after her 2020 induction into the Southern California Jewish Sports Hall of Fame, Goldberg said, "it's amazing to be finally going to Maccabiah—and to be a part of this first team."
---
READ MORE: The History of the Maccabiah Games
---

At 17, tennis phenomenon Alexis Blokhina is a bridge between countries: Her mother is from Russia; her father is from Ukraine, where he played on its national soccer team; and her uncle, who lives in Israel, is waiting to cheer her on at this summer's games. "Tennis has opened up firsts for everything," said Blokhina.
Now ranked No. 2 in the United States and No. 25 in the world in junior women's tennis, Blokhina first picked up a racket at age 5 while her family lived briefly in Japan. They later returned to her native California, where Blokhina's parents had met as high school exchange students. By age 9, Blokhina, also an accomplished swimmer, chose to focus on tennis, so the family relocated to Plantation, Fla., to train at a high-level tennis academy. (Blokhina has recently been training at the United States Tennis Association in Orlando.) This fall, she starts at Stanford University, where she was recruited to play.
The self-confident teen loves tennis's spontaneity. "You have to be ready for anything," she said. "Being out there alone on the court and just relying on myself, it really keeps me motivated."
By age 13, then-unseeded Blokhina became the youngest ever to win her division at the prestigious USTA Florida "Bobby Curtis" Junior State Singles Championships. This year, she won the singles title at the FILA Easter Bowl, a premier junior tennis showcase. She was also the singles champion and a doubles finalist in her age category at the Indian Wells Masters in California.
Wimbledon may be her most prestigious tournament to date, but the Maccabiah Games represent a special opportunity for Blokhina to connect with her paternal Jewish heritage and finally visit Israel. "Whenever I would have to choose in front of people, I would always say, 'I'm Jewish.' I was really proud, always, to be Jewish," she said.
Blokhina knows she represents more than just American tennis. Her success is a realization of her family's American dream. "My brother and I have both capitalized on the opportunities that have been given to us," she said, "and the sacrifices our parents have made."

As a longtime camper at Camp Young Judaea in New Hampshire, Leah Rosenfeld participated in its annual Maccabiah-style competition. Now 33 and a professional running coach in Flagstaff, Ariz., Rosenfeld is returning to Israel for her third Maccabiah Games. "Honestly, I just want to keep living that camp experience," she laughed.
She grew up in Ridgefield, Conn., helping runners at the charity road races organized by her parents— weekend warriors who themselves met at a race and owned several shoe stores. "I remember taking people's numbers at the finish lines, putting pins on the bibs and eventually running myself," Rosenfeld said.
She "was hooked" after her first Maccabiah Games as a high school junior in 2005. "It was a very powerful experience to see that many Jewish people from all over the world and have that athletic connection," she recalled. Though Rosenfeld grew up attending Temple Shearith Israel in Ridgefield (now Congregation Shir Shalom of Westchester and Fairfield Counties), she said that in school and professional circles, she's "almost always been the only Jewish person."
After earning a journalism degree from Penn State, where she ran cross country and track, Rosenfeld moved to Arizona for graduate school in educational leadership. She currently coaches runners of all ages online and is a NordicTrack trainer for the iFIT workout app.
As a competitive long-distance runner, Rosenfeld has numerous first place finishes to her credit, including at the Maccabiah Games, where she took gold in the 400-meter relay in 2005 and in the 3,000-meter event in 2013. She also won the half marathon at the 2019 European Maccabi Games in Budapest.
"The pressure is on, because each time I've gone I've won something," said Rosenfeld, who is competing in this year's half marathon alongside teammate Melissa Perlman, whom she coaches. In the near future, Rosenfeld hopes to qualify to run the marathon for the 2024 Olympics.
Meanwhile, Rosenfeld is looking forward to repeating some favorite experiences in Israel: swimming in the Mediterranean in Tel Aviv, training alongside other Jewish athletes and feasting on shakshuka and hummus. Israel "feels like nowhere else in the world that I have been," she reflected—except, maybe, her beloved summer camp. "Like camp, you're immersed in something completely different from your daily routine, learning and being athletic with other people. The fact that it's in Israel just makes it more meaningful."

Being recently named Ivy League Player of the Year in women's basketball "is one of the greatest highlights of my career," said Abby Meyers, 22, who graduated from Princeton in the spring with a degree in international affairs. Another highlight comes this summer, as Meyers helps the Maccabi USA women's basketball team defend its 2017 gold medal in Israel.
The Maccabiah Games are a new challenge for Meyers, but she's joining a team with several familiar faces: Among her basketball cohorts are Princeton teammate Maddie Plank and three other Ivy Leaguers she has previously competed against.
Beyond medals, the 6-foot-tall shooting guard from Potomac, Md.— who grew up observing holidays at the Washington Hebrew Congregation—said the games are "very much about embracing your Jewishness and understanding the culture behind it in the birthplace of Judaism."
The daughter of two doctors, Meyers was raised in a high-energy family alongside twin sister Olivia, who also graduated from Princeton, and older sister Emily. "We were crazy, wild maniacs, so they needed to put us into activities to tire us out," recalled Meyers. "Whenever I was bored, I'd go outside to the driveway and just shoot against myself. Every time I'd make a shot, I'd be like, maybe I can make one more."
Meyers, her high school team's all-time leading scorer, was recruited to Princeton and led the university's Tigers to the Ivy League regular season and tournament titles. Having lost one year of competition due to the Covid-19 hiatus in college sports, Meyers will transfer her final year of collegiate eligibility to the University of Maryland, pursuing a master's in business this fall.
"My grandma will finally be able to come and watch games; she's never seen me play in college," she said. Having interned with Nike, Meyers is eyeing an eventual career in sports marketing, but hopes to play professionally first.
The Maccabiah Games will be another rite of passage. "Being a Jewish athlete is actually a pretty rare thing," Meyers observed. "It'll be special to go to Israel, play basketball and represent the U.S.—and disprove that stereotype of small, curly-haired Jewish athletes."

Judoka Sara Golden's participation in the Maccabiah Games caps a year in which she took judo gold at the Junior World Championships in Italy. That followed her winning gold in 2020 at the Pan American Championships in Mexico and the Pan American Cup in Peru.
But Golden, 20, who is top ranked in her weight category and just moved up to senior level, was not always so worldly. As an adolescent from Crystal Lake, Ill., she felt self-conscious during a monthlong judo event in Japan. Locals stared at her and touched her light-colored hair. "My mom sat me down and said: 'You can keep feeling awkward, or you can smile and wave,' " she recalled. "So the next day, I smiled and waved. It was culture shock. But I represent America, and I have to put my best foot forward."
Nowadays, Golden said she enjoys that being a judoka "makes me different"—and she cites the sport's Japanese culture as key to its appeal. "Judo is really complex, and there's a lot of respect and discipline involved."
Golden was introduced to judo at age 6 by her father, an experienced martial artist who noticed her interest in her older brother's wrestling matches and began to train her. Focused on judo, she graduated early from high school and enrolled in Purdue University's online undergraduate program, where she is studying nutrition and training; the Olympics is her eventual goal.
The Maccabiah Games is more than just another tournament for Golden. Judo is especially popular in Israel, and over the years, the young American has been encouraged by members of the Israeli national team. She's excited to finally visit the country that looms so large for her sport. "This time, it isn't just about judo," she reflected. "It's an opportunity to embrace and learn about my own Jewish culture."
For extensive coverage of Team USA's participation in the 21st Maccabiah Games, including livestreaming of games, video features and articles, check out Maccabi USA's website, and its social media on YouTube, Twitter, Instagram and Facebook.
Hilary Danailova writes about travel, culture, politics and lifestyle for numerous publications