Sarah Aroeste, Ladino's Punk-Rock, Feminist Singer-Songwriter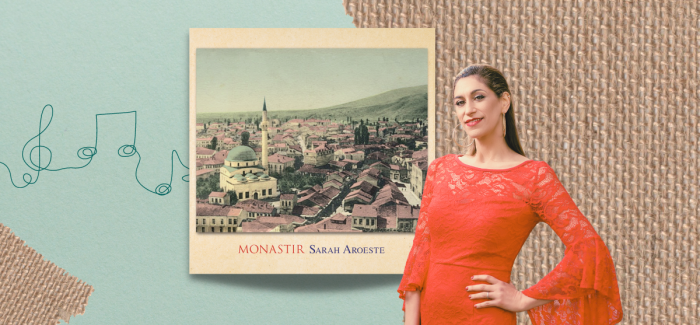 Sarah Aroeste is one of the leading performers of Ladino songs today, but growing up in a mixed Ashkenazi and Sephardi family in Princeton, N.J., she didn't even speak the language.
"One reason I was attracted to it was that it was so mysterious, a part of my tradition I had no access to," said the 46-year-old singer-songwriter, who recently released a landmark album of Ladino music, her seventh, titled Monastir, after the city her maternal grandfather fled in 1913 for America.
The language that developed among the Jews expelled from Spain in 1492 was a thread in the stories her grandfather told her about Monastir, nestled between three mountain ranges in Ottoman Macedonia. Jews had lived there peacefully for 400 years, but many emigrated during the Balkan Wars and Monastir itself was renamed Bitola when it became part of Serbia, and then Yugoslavia. In World War II, 98 percent of the city's remaining Jews were murdered in Treblinka. Bitola today, with no Jewish community at all, is part of North Macedonia.
The thread from her family's stories first tugged at her in 1997. Aroeste, who grew up singing and studying classical opera, decided to spend a summer at the Israel Vocal Arts Institute in Tel Aviv, training with Nico Castel, a renowned tenor and coach with New York City's Metropolitan Opera and a leading Ladino singer. "We discovered our shared heritage and he included some Ladino songs in his coaching," she recounted.
Once back in the United States, Aroeste began adding Ladino numbers to her repertoire. After one performance, an audience member told her that the Ladino part was her favorite, she recalled: "Clearly, I was singing those songs in a different way, reaching deeper into my soul, with more emotion and honesty."
She soon realized that Ladino, not opera, was her true passion and started learning the language, becoming one of the few contemporary artists who both sings traditional Ladino songs and writes new ones. Seven albums have followed.
The heritage thread tugged at her again after she released her third album, 2012's Gracia, a feminist pop-rock tribute to Doña Gracia Nasi, a 16th-century heroine and benefactor of the Sephardi Diaspora. An article about Aroeste and the album appeared in a magazine in Macedonia and readers contacted her on Facebook, wanting to know more about her family and history. Aroeste was invited in 2017 to perform in Bulgaria, North Macedonia's neighbor to the east, and reached out to her Facebook friends about visiting Bitola.
"They planned everything to get me to Bitola," she said. "And after two years of contact I suddenly realized that none of them was Jewish, just people who felt robbed of their neighbors, as if there were a hole in their [communal] identity." They arranged for her lodging, meals and tours, including the homes once occupied by her family, and she was followed everywhere by a television crew.
---
ONE BOOK, ONE HADASSAH WEBINAR:
Join us on Thursday, June 15 at 7PM ET for a virtual discussion with Kantika author Elizabeth Graver and a special performance by feminist Ladino rock artist Sarah Aroeste.
---
At the Jewish cemetery she saw a memorial plaque with names of all the city's Jews who died in the Holocaust, Aroestes among them. Later, after singing a set of Ladino songs to a standing-only audience, she was showered with flowers and gifts for her children. "I remember thinking other people need to experience this explosion of love," she said. "I can't be the only one."
The following year, Aroeste arranged a Jewish Macedonian heritage tour and returned with 20 Americans. Bitola city authorities organized a cultural festival, with assistance from Israel's Foreign Ministry, that included a performance by Aroeste at the city's main museum, followed by a rooftop reception at a local hotel. The singer described looking at a photograph from the festivities as "the aha! moment that changed my life."
"It captured Macedonians, Israelis and Americans dancing and singing together," she said. "I needed to harness the energy in that photo." The result was Monastir, honoring the city's Jewish heritage. The album is a magnificent portrait, consisting of traditional and new songs—in Ladino, Macedonian and Hebrew—bringing to life a community's sounds, smells, textures, pastimes and passions. (Click here for a full review of Monastir and to hear selections from the album.)
When the Ottoman Empire offered refuge to the Jews expelled from Spain, Sultan Bayezid II remarked, "You venture to call Ferdinand a wise ruler, he who has impoverished his own country and enriched mine!"
Five centuries later, Aroeste found the welcome mat still out.
A Perfect Pairing
Sarah Aroeste's next project, now in the works, is more than just an album. Called Savor (pronounced "sah-VOR"), it's a unique experience bringing together songs and food. The album itself will include 10 tracks, each musical number focused on a food—among them grape leaves, burekas, stuffed dates, eggplant—emblematic of Sephardi life. The larger project will encompass videos of chefs preparing classic dishes as well as food and music seminars and an expanded book that delves deeper into the nexus of Sephardi history, music and cuisine. See saraharoeste.com for details.
---
Alan M. Tigay is editor emeritus of Hadassah Magazine. He writes about music from around the globe at World Listening Post.