'Kantika': A Sephardi Woman's Song of Survival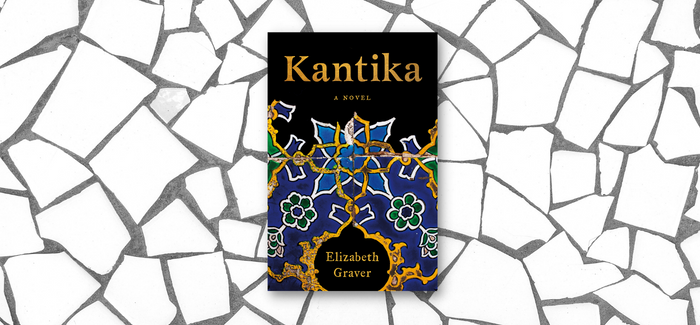 Kantika
By Elizabeth Graver (Metropolitan Books)
Elizabeth Graver's newest novel is a sprawling saga of a Sephardi Jewish family centered around one strong-willed woman, Rebecca Cohen. A work of historical fiction, Graver explains in an author's note that the story is loosely based on her maternal grandmother of the same name.
Indeed, the author uses real names and actual family photographs throughout the book, even as she takes liberties with facts and fictionalizes personal experiences. The result is a story of immigration, tenacity, family bonds and change that sits in a sort of liminal space between fact and fiction, making for fascinating reading.
The lyrical novel, whose title is the Ladino word for "song," opens in 1907 in Constantinople. By 1925, the Cohen family has moved to Barcelona, having lost their money and social status in the Ottoman capital during World War I. Rebecca chafes against the cloistered role expected of a young Jewish woman in Spain. Tenacious in her desire to help her impoverished family, she pursues work as a dressmaker and sets up a successful shop, though she must hide her Jewishness. By the time she is 24, she is married and has two sons—discovering the joys of motherhood even as her marriage fails: "Her old determination has been strengthened to almost bullish proportions by the birth of her children and the pathetic behavior of their so-called father," Graver writes.
---
ONE BOOK, ONE HADASSAH WEBINAR:
Join us on Thursday, June 15 at 7PM ET for a virtual discussion with Kantika author Elizabeth Graver and a special performance by feminist Ladino rock artist Sarah Aroeste. View the discussion guide here.
---
Kantika takes readers from Spain to Havana and then to America, with an arranged second marriage along the way. Rebecca's determination to ensure her family's survival steers her through loss, displacement and the all-too-common antisemitism of the era. Indeed, Rebecca's focus on survival is at the core of the book. Through hardships, through times of plenty, she "does" for her family. And that includes her stepdaughter, Luna, a young woman with a disability. Their well-drawn relationship is the most compelling in the book, and Rebecca's advocacy helps Luna come into her own.
While most of the book is richly detailed and impeccably plotted, the final section feels condensed and rushed, just as Rebecca finally gains a measure of happiness. Whether this is intentional or not is unclear, but it does make for an abrupt ending for a character who deserves better.
Contemporary Jewish fiction and immigrant sagas are for the most part overwhelmingly Ashkenazi, so this Sephardi story from a Sephardi author, threaded throughout with Ladino phrases and distinct cultural touchstones, is welcome.
---
Jaime Herndon is a writer and avid reader. Her work can be found on Book Riot, Undark, Kveller, Motherly and other places.