'Left on Tenth' Is Delia Ephron's Memoir of Hope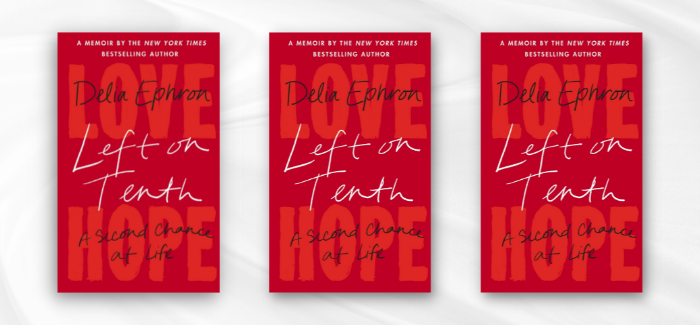 Left on Tenth: A Second Chance at Life
By Delia Ephron
Delia Ephron's latest book is the story of great love that struck twice. That love, however, is punctuated by loss, serious illness, healing and resilience. Zigzagging emotionally, Ephron is candid, tender and funny.
Left on Tenth: A Second Chance at Life opens with the death of Ephron's beloved husband Jerry Kass from cancer, only a few years after the death of her adored sister, Nora Ephron. With her husband gone, Delia Ephron writes that she was "dislocated, living in an unknown land."
Some months later, when she tried to have Kass's personal landline disconnected, her internet crashed and she became caught in a phone company abyss for more than a week. As is her way of processing emotions, she wrote about the experience, and that essay, published in The New York Times, turned out to be a "birdcall," she writes in the book, prompting several notes from men who want to meet her. She declines them all.
When Peter Rutter contacted her more than a year later, he, too, had read the piece and reminded her that they had gone out a few times in college after being introduced by her sister. Ephron didn't remember him but nevertheless responds to his email as she is struck by many confluences in their lives—he had recently lost his wife—and by the warmth of his note. And he loved her last book, which is certainly "the way to a writer's heart,"she acknowledges in Left on Tenth.
Ephron, a Jewish screenwriter of romantic comedies who co-wrote the film You've Got Mail with sister Nora, shares the story of how Rutter and she started dating and how her life began to feel as though she'd fallen into one of her own scripts. He is a psychiatrist who loves hiking and the outdoors; she's passionate about walking to a cafe near her home in New York City's GreenwichVillage; both adore conversation. Their romance in their 70s feels like young love "happening at the speed of light," writes Ephron. Their emails, many reprinted in the book, are a pleasure to read.
But soon she is diagnosed with acute myeloid leukemia, the same disease that struck down her sister. Friends and doctors remind her that she is not Nora Ephron and that new approaches are possible. And while her sister kept her illness a secret, Delia Ephron keeps friends and especially her new husband—they marry in the hospital—closely involved. She makes a point of not understanding medical terms, but also makes stages of her treatment clear to the reader, terror and all. Above all, this is a memoir of hope. Ephron is so likeable, and Rutter is heroic. Summing up her story, she writes, it is "a lot of very good fortune wrapped around very bad fortune."
Sandee Brawarsky is a journalist, editor, and author of several books