An Argentine Journalist Retraces 'The Murders of Moisés Ville'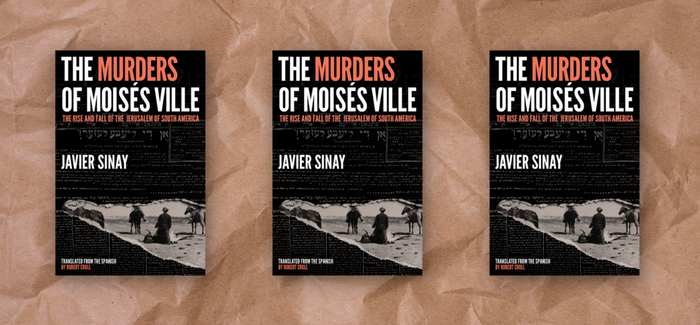 The Murders of Moisés Ville: The Rise and Fall of the Jerusalem of South America
By Javier Sinay. Translated by Robert Croll (Restless Books)
In June of 2009, Argentinian journalist Javier Sinay received an email from his father that pointed him to a surprising article written in 1947 by Javier's great-grandfather, Mijl Hacohen Sinay.
Mijl Sinay was also a journalist. In addition to reporting for a variety of news sources, he started Argentina's first Yiddish newspaper, Der Viderkol, in 1898. That 1947 article, "The First Fatal Victims in Moisés Ville"—a gory multipage report on the murder of 22 people in the town in the early 20th century—sets Javier Sinay on a path to investigate the murders, which were long forgotten by Argentinian Jews. In writing about his investigation, Sinay also brings to life the history of Moisés Ville, the first Jewish agricultural community in the country, and possibly all of South America.
Moisés Ville was established in the province of Santa Fe in 1889, when a group of Jews seeking refuge from Czarist pogroms in what is today's Ukraine set sail for Argentina. They had hoped to become farmers but experienced difficulties from the beginning, from broken promises of support to fraudulent land deals. Hearing of their struggles, Baron Maurice de Hirsch stepped in. Following the untimely death of his children, the German financier and philanthropist had "decided his fortune would be put toward Jewish people who were suffering," Sinay writes, and he formed the Jewish Colonization Association to help Russian and Eastern European Jews immigrate to agricultural colonies in North and South America. The JCA set up and funded infrastructure in Moisés Ville and brought in more immigrants to settle the town and surrounding area.
Dubbed the Jerusalem of South America, Moisés Ville became the urban center of a Yiddish-speaking oasis of Jewish settlements on the plains of Argentina. (Today, the town is less than 10 percent Jewish.) But further difficulties hounded the new arrivals, including violence from the local gaucho population.
Sinay's research into the murders is in many ways reminiscent of Don Quixote tilting at windmills, or in this case, history. There are few surviving documents from that period. Some were lost over time; many were destroyed in the 1994 terrorist bombing of the AMIA building in Buenos Aires that killed 85 and wounded over 100.
Moreover, Sinay's book is not helped by an uninspired translation from the original Spanish. Still, there is a nobility in the author's quest for answers that moves the narrative forward. His research uncovers connections to his own past: His great-great-grandfather, a rabbi, once lived in Moisés Ville, a discovery that leads the proudly secular author to his first Kabbalat Shabbat service at the Baron Hirsch Synagogue that still stands in the town.
Ultimately, The Murders of Moisés Ville offers more conjectures than answers. We do not know for certain how many murders there actually were, and it does not appear that they were motivated by antisemitism. Rather, Sinay writes, they were perpetrated by locals upset at outsiders encroaching on their land, or they were the result of robberies or misunderstandings.
The book presents a picture of a significant moment in Jewish time—the resettlement of a group of Jews daring to dream the impossible—and that is good and valuable. But that the picture is so fuzzy and out of focus is, no pun intended, a negative.
Curt Schleier, a freelance writer, teaches business writing to corporate executives.