Jennifer Grey Is 'Out of the Corner'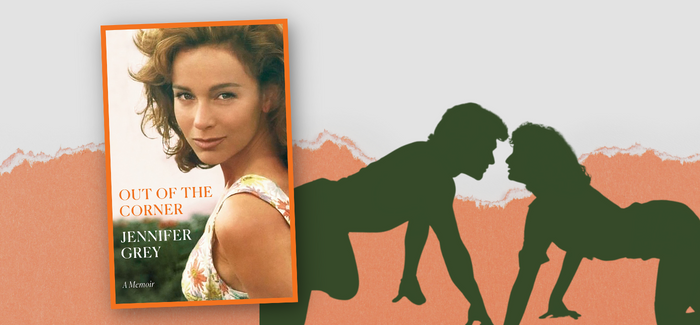 Out of the Corner
by Jennifer Grey
"Nobody puts Baby in a corner," from the 1987 blockbuster Dirty Dancing, is one of the most iconic lines of American cinema of the last 40 years. That line—voiced by Johnny Castle (Patrick Swayze), a dance instructor at a Borscht Belt resort, about Frances "Baby" Houseman, the young resort guest he has fallen in love with and is training to dance—galvanized a generation.
In her new and appropriately titled memoir, Out of the Corner, the metaphorical corner is where Jennifer Grey, the actress who played Baby, claims she has spent most of her life due to her "Jewish nose" and the botched surgery that ruined her career.
Grey was born into show business royalty. Her grandfather was late musician and comedian Mickey Katz, who rocketed to fame with songs like "Duvid Crockett" and "How Much Is That Pickle in the Window." Her dad is Joel Grey, a multiple-award-winning actor and director, and her mom is actress Jo Wilder.
Grey lived a seemingly charmed life, going to private schools like Dalton in New York City and attending dinner parties with the likes of opera singer Beverly Sills and broadcast journalist Barbara Walters.
According to Grey, being Jewish was an important part of her life. It "was a seminal part of my family's identity, culturally speaking," she writes, "but I couldn't help but notice that my parents' generation seemed to think it savvy not to lead with that."
However, for Grey there were constant reminders of her Jewishness, largely because of her nose. Indeed, the first section of the book explains how, even before her infamous rhinoplasty, her nose hurt her career. "I felt beautiful," she writes. "Not cookie-cutter beautiful, but my own kind of beautiful. It was based more on a feeling inside me than what I actually looked like."
Sadly, she didn't receive outside affirmation. Her mother once told her: "Your brother is beautiful. You are interesting looking." Typical feedback from casting directors was that she wasn't "pretty enough to be the popular girl, but not awkward enough to pass for the loser."
Yet she persevered. There were roles as Ferris Bueller's sister, Jeanie, in Ferris Bueller's Day Off; in Red Dawn, where she admits did not get along with Patrick Swayze, and then, finally, her breakout role at the age of 27 in Dirty Dancing, which celebrates its 35th anniversary in August. Grey gives insider details from the production, for example, how the filmmakers had to substitute Virginia and North Carolina in the fall for the Catskills in summer.
Then came what was supposed to be a simple surgery to "fine tune" her nose, she writes. That surgery went awry. Several corrective surgeries later, she became unrecognizable—and for a long period unemployable as well as a punch line about aggressive plastic surgery.
"People would rather believe that I hated my God-given Jewish nose than believe that something had gone seriously wrong," she writes.
Out of the Corner is a brutally honest retelling of an interesting life in the Hollywood spotlight. Grey doesn't shy away from including the messy parts involving sex and drugs and her numerous tumultuous relationships with A-listers. She even apologizes to her parents for putting them through her difficult hard-partying teen years.
Fortunately, Grey, now 62, says she has found peace in motherhood, which she calls "my dream job." She shares her 20-year-old daughter, Stella, with ex-husband Clark Gregg.
Now, she is embarking on a new phase of her life, working as executive director on a sequel to Dirty Dancing in which she will reprise her role as Baby.
Who doesn't love a happy ending?
---
Curt Schleier, a freelance writer, teaches business writing to corporate executives.