'Shanda' Discussion Guide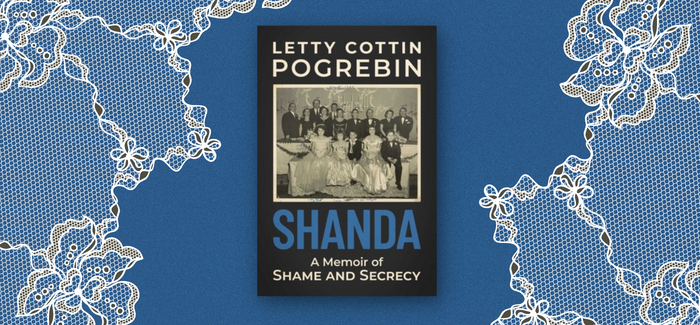 One Book, One Hadassah presents 'Shanda: A Memoir of Shame and Secrecy'
I'm obsessed with secrets because I grew up with so many of them. Byzantine cover-ups hid my parents' failures to meet the Jewish community's omnipresent pressure to be a credit to one's family, faith, and people. I knew the high bar I was expected to meet and the perils of falling short. Intelligence, reliability, and ethical probity were the qualities I was sworn to uphold and model in the world, and if I did not measure up, or do a good job of concealing my imperfections, I knew they would reflect badly on my family and The Jewish People. —Shanda: A Memoir of Shame and Secrecy
Pioneering feminist and author Letty Cottin Pogrebin's memoir is a deeply intimate account about the fear of shame and stigma that indelibly marked her upbringing in an immigrant Jewish family in New York City. With wit, humor and affection, Pogrebin, one of the founding editors of Ms. Magazine, reveals family foibles, secrets and deceptions, and shares a few of her own, capturing universal truths about families, truth-telling and the price of guilt. Read an excerpt from the book here or watch the virtual interview with Letty Cottin Pogrebin here.
Local book groups are a vital part of Hadassah for many members. If your chapter doesn't already have one, now's the time to start! We encourage groups to have their own discussions about Shanda before or after watching the virtual interview with the author. To facilitate those discussions, we present the following discussion guide with thanks to the author and Post Hill Press, who contributed a number of the questions.
---
The central focus in Shanda is how fear of shame and public disgrace impacted the lives of author Letty Cottin Pogrebin and her family. Describe the secrets kept by the author's parents and grandparents—around marriage, money, Judaism—and how those secrets might be perceived differently today. Would they still be considered "shandas"? What about the secrets that Pogrebin kept? How do time and generational attitudes impact what is considered disgraceful? What do you think is considered shameful in your community today?
Among the ideas discussed in the book's opening is the concept of a "good name," the desire to have a good reputation. Discuss how and if the ideas and issues around reputation and public shame resonate in this era of social media hypersharing. What roles do public shame and secrecy play in today's larger society?
Pogrebin differentiates between the type of disgrace and embarrassment within Jewish society and "shanda far di goyim." How does she delineate these differences? How does being an immigrant or a minority impact the view of appropriate behavior? Who or what would you consider a "shanda far do goyim" today, or does such a distinction no longer exist? In the author's view is shame—of either type—ever positive?
Shanda features Holocaust survivors who hid their wartime traumas from their children and grandchildren; it also reveals Jews in America who secretly felt ashamed that millions of their fellow Jews went to the ovens "like sheep." What was your response to those stories?
Citing both Jewish texts and history as well as personal anecdote, Pogrebin writes that hiddenness "is associated with Jews in particular and explains why I think of shame and secrecy as quintessentially Jewish issues." Do you agree with that statement? Why or why not? Do you think secrecy is unique to Jewish culture? If so, why do you think it became part of Jewish culture?
Revisiting her sexual assault in the 1960s by a famous playwright, Pogrebin admits, "Now, in 2022, I'm ashamed of having sugarcoated my ordeal…reducing it to a breezy anecdote…." In the age of #MeToo, how do you regard her experience in that hotel room and her reaction to it? How does shame impact those who have experienced assault?
Pogrebin explores the shame around body size and image. Is the scene at the pool party with Faye, a cousin who was seen as having gained too much weight, a familiar one? Do you consider yourself a "sizeist?" Have you ever been body shamed? How are issues around body image discussed in Jewish society as well as in the larger American society?
In the chapter "Motherguilt," Pogrebin, a mother of three, confesses, "Whether the focus of my work outside the home was on women, Jews, or Israel, it sometimes led me to shortchange my role as a mother." If you're a parent, do you feel you've achieved a satisfactory work-family balance? Can you relate to the guilt that the author describes? Is it possible to achieve the perfect work-life balance today?
In one memorable chapter, Pogrebin writes about her experiences of having two abortions when she was a young woman. Discuss that chapter in light of the ongoing national debate over abortion law. How did the secrecy around abortion impact Pogrebin?
Pogrebin wants to be free of all secrecy but not of all shame. Do you agree with her goal? How close are you to achieving it?
One person's secrets often involve other people. Are we obligated to get the approval of those who may be implicated when a secret is made public? Is it possible to rid yourself of a secret without violating others' right to privacy?