At This Youth Village, 'We Are All One Family'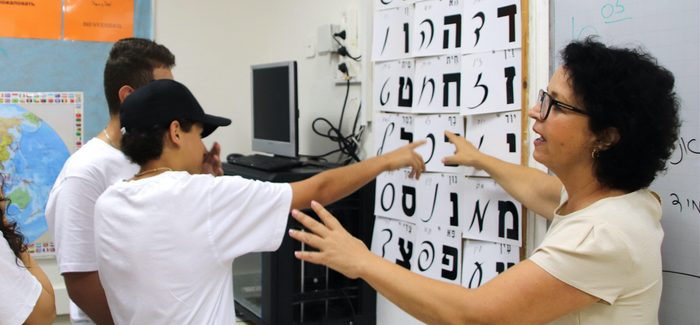 The pastoral setting of the Meir Shfeyah Youth Aliyah Village—with its bucolic orchards, dairy, chicken farm and organic winery—is a far cry from the bombed-out apartment buildings and missile-ravaged streets of Kyiv, Kharkiv, Mariupol and other Ukrainian cities devastated by the war with Russia.
It's hard to imagine a more ideal setting for the 29 Ukrainian Jewish teens now living at this Hadassah-supported boarding school just north of Zichron Ya'akov in northern Israel.
One of the students is 15-year-old David Kofman. An aspiring music producer, he composes tunes in his spare time using a computer and headphones.
"All my life, it's been my dream to live in Israel," said Kofman, who comes from the Danube River port city of Izmail. "It's very cool here. I like this place very much."
---
READ MORE:
Ukrainians and Russians Find Refuge in Israel
---
Andrey Palienko, 16, is also a musician. He arrived from Krivoy Rog in eastern Ukraine with his mother, who is already considering returning even though he wants to stay.
"I don't want to leave," he said. "I have really good friends here who help me."
Both teens belong to the village's mandolin orchestra. Like the other Ukrainians in their group, they had applied for the Na'ale program prior to the war, which began in February, and were scheduled to arrive in September 2022. The program, subsidized by the Jewish Agency for Israel and Israel's Ministry of Education, enables Jewish teenagers from the Diaspora to complete their high school education in Israel for free.
"But because of the emergency, the Ukrainian students were accepted immediately, without vetting, and arrived during March and April," said Lauren Stern Kedem, a longtime English teacher and later coordinator of Meir Shfeyah's English department.
Meir Shfeyah, established by Hadassah nearly 100 years ago and later used as a safe haven for children escaping Nazi Germany, was the first youth village in Israel to house young new arrivals from Ukraine, according to Yoram Panias, the village director. Meanwhile, nearly 60 Ukrainian athletes were resettled at Hadassah Neurim, a nearby Youth Aliyah village on Israel's Mediterranean coast.
"What is so special about Shfeyah is the huge diversity of the kids we serve," Kedem said. "I'm always inspired by these kids because of their willingness to trust us to take care of them."
At Meir Shfeyah, the new Ukrainian teens mingle with Israeli students—Amharic-speaking Ethiopians, Arabic-speaking Bedouins and Spanish speakers from Argentina, Chile and Uruguay. In all, the school serves 640 students from 7th to 12th grade, 325 of whom live at the village. About half the residential student body is from the former Soviet Union.
Boris Feldman, the school's Russian-speaking music director since 1991, said some of his Ukrainian students don't have an extensive music background because they couldn't afford instruments or lessons—but others have studied music for seven or eight years.
"In some cases, their parents had to sell their instruments in order to pay for the kids to come here," said Feldman, referring to some travel and other expenses the students may be responsible for. "When they arrived, we bought cellos and violins so they could continue, because music is such an important part of their lives."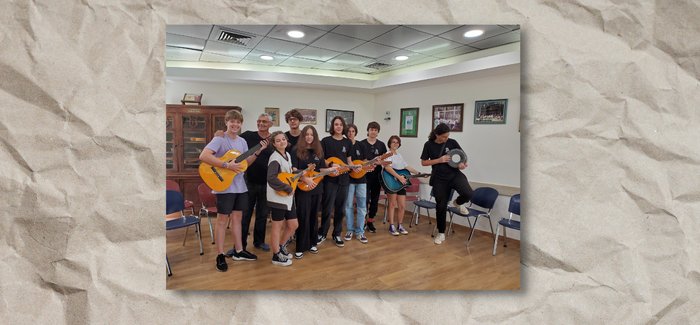 Fifteen-year-old Sonia Podebriy was born in Uzhhorod, a small town near Lviv in western Ukraine. Her brother, Igor, has lived in Israel for eight years and studies robotics at the Technion-Israel Institute of Technology in Haifa. Podebriy says her mother wants to return to Ukraine, but she's determined to stay: "I won't even think about going back because the war is still going on."
Given the trauma of leaving everything they know, "these kids need a lot of warmth and love—not just financial and physical support, but also emotional support," said Tatiana Kharlov, who has been teaching mathematics at Meir Shfeyah since late May.
Kharlov can relate. Originally from the Ukrainian city of Kherson, which is now under Russian occupation, she first left for Israel in 2008, but after seven years in the country, she moved to Kyiv. When the war broke out, she and her husband, Alexander, whose Israeli citizenship enabled him to leave, loaded their two children and four dogs into the family car and drove to Poland, eventually making their way to Israel.
Dikla Morgan, Meir Shfeyah's academic adviser, also noted that the adjustment process hasn't been easy for the teens.
"They have to undergo a process of acclimation to become students and just be able to sit in class and regain their childhood and happiness," she said. "There's also a linguistic issue. Everybody in Israel speaks Hebrew. That's a huge shift for them, plus they're without their families. And they come from a war zone and don't know if they're ever going home again."
Given occasional tensions between Russian and Ukrainian Jews in Israel amid the war, Morgan said her staff has spoken to the Russian youth at Meir Shfeyah, urging them to put politics aside and have compassion for their Ukrainian classmates.
Though the school does not attempt to erase any of their students' previous identities or cultures, "one of our main goals here is to create an Israeli identity that all students can adapt and relate to," Morgan said. "Here, we are all one family."
---
Larry Luxner, a Tel Aviv-based freelance journalist, is news editor of The Washington Diplomat. He also writes for the Jewish Telegraphic Agency, Times of Israel and Rare Disease Advisor.