Still Smitten With Deb Perelman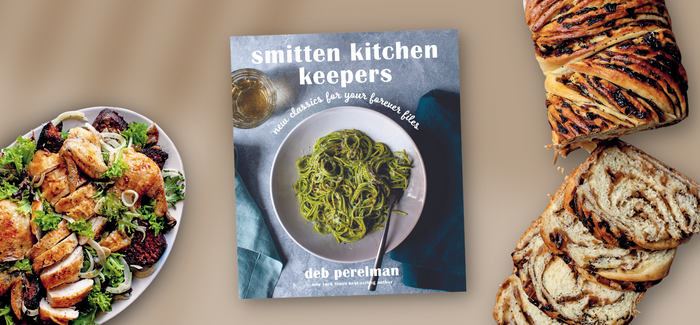 Back in 2006, when Deb Perelman tentatively began blogging about food, she feared her efforts would end up lost in a digital desert. A passionate home cook who had worked as an art therapist, Perelman had a penchant for prose but a pronounced lack of food industry experience and contacts. Cold-emailing various publications looking for work as a food writer yielded no bites.
"Obviously no one would hire me," Perelman told me from Manhattan, where she was preparing for her son Jacob's bar mitzvah that upcoming weekend.
And so she began developing, photographing and posting recipes for her nascent blog, Smitten Kitchen, out of her tiny East Village kitchen, where she lived with her then-newlywed husband, Alex. She did everything herself—shopping, planning, styling and cleanup—tentatively beginning to post and lingering in the emotional basement of low expectations.
"I was convinced it would be a failure," said Perelman, 46. "I figured I'd just blather about food online to a nonexistent audience and either find something worth doing forever or get it out of my system. I had no real experience. All I had were opinions."
It became very clear very quickly that people wanted to hear those opinions. Smitten Kitchen, featuring early signature recipes like Short Ribs Bourguignon that Perelman paired with latkes for Hanukkah, soon garnered a coterie of fans who connected to her self-deprecating sense of humor as much as her food. Here was a woman comfortable enough in her kitchen and digital space to confess her kitchen flops as readily as her successes.
Sixteen years later, Smitten Kitchen is more popular than ever, attracting millions of unique visitors per month—not to mention 1.6 million Instagram followers. The blog has spawned three cookbooks written and photographed by Perelman, the latest being Smitten Kitchen Keepers: New Classics for Your Forever Files, which was released on November 15.
The proliferation of TikTok recipe creators focused on up-to-the-second trends like corn ribs and wobbly Japanese pancakes made Perelman even more determined to write a book that would stand the test of time, similar to those created by her idol Ina Garten, of Barefoot Contessa fame.
"My hope is that the recipes in Smitten Kitchen Keepers are the kinds you could make forever," said Perelman. "I know books always eventually look dated, but a perfect pound cake recipe is, I hope, the last one you'd ever need."
Perelman is referring to her Better-Than-Classic Pound Cake, described with her trademark wit in the recipe's introduction as "a two-and-two-thirds pound pound cake. I don't make pound cakes that force you to look down into the pan to see them. I think pound cakes should dome tall and chaotic over the rim."
TikTok trends notwithstanding, Perelman, who is active on that platform, does appreciate the democratizing effects of social media food content.
"I think there are many more ways for people without food media experience to get in the door, which I think is a win for everyone," she said, citing food influencers like Edith Galvez and Carolina Gelen. "I love seeing more faces and hearing more voices than food media has traditionally celebrated."
For Gelen, the appreciation is reciprocal.
"Deb's work and success are very inspiring to me, as a creator," said Gelen, a Romanian-born Jewish immigrant to the United States. "Her inviting, friendly and approachable way of cooking is what makes her recipes so great and gets people comfortable in the kitchen. Her will to never compromise her website's voice inspired me to stay true to myself when it comes to the recipes and stories I share online."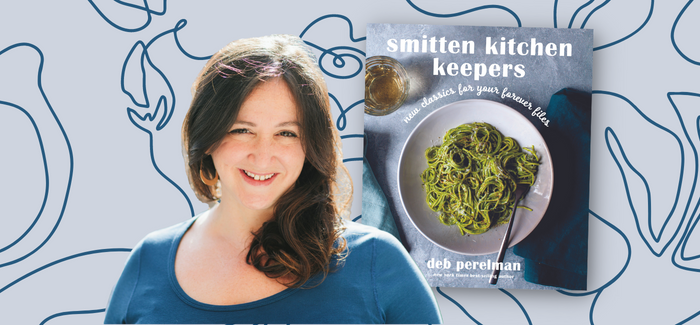 Smitten Kitchen Keepers is heavy on what has always defined Perelman's website—comfort-food classics like spaghetti and meatballs and s'more bars alongside a pantry of global flavors. Dishes like falafel, tomato-chickpea masala and oven-braised beef with harissa raise the question of cultural appropriation in recipe development. Perelman has written previously about wading into the dialogue around which country or ethnic identity can truly claim a dish as its own. Case in point: When she adapted a Saveur recipe for shakshuka on her site and referred to it as an "Israeli" dish, and she heard from a chorus of followers that shakshuka is in fact Tunisian in origin. She has corrected the mistake.
"I think we should cook anything that we enjoy and want to eat," said Perelman. "But if you're going to write about it, at minimum you should know where the dish came from and how whatever you're making might deviate from the way it's more typically made. I am hardly perfect at any of this, but I am always happy to make a correction."
Indeed, Perelman takes seriously feedback from her followers. She adjusts recipes and makes tweaks based on their comments, reading or responding, she says, to more than 350,000 queries since she started her blog.
The obsession over how every recipe will fare in the kitchens of her reader-cooks is what drives her the most.
"I'm realistic about our time, energy and grocery limitations at home," said Perelman, who uses her own family—Alex, Jacob and 6-year-old daughter, Anna—as her ultimate tasting panel. Alex also helps in the kitchen. While we were corresponding for this article, he was testing the Chicken With Rice, Chorizo, and Tomatoes from her new book. And he regularly makes her famous Crème Brûlée French Toast on the weekends.
"Once he loves a dish enough that he requests it, I hand off the recipe to him, especially when he has more time," Perelman said of her husband.
For Smitten Kitchen Keepers, she labored over how to improve upon a classic roast chicken, eventually landing on a bed of schmaltzy croutons and a lower cooking temperature than most versions require.
The schmaltzy chicken, shared here, and other "keepers" allude to Perelman's Jewish roots. While she isn't particularly observant, and many of her recipes are not kosher, she says that she does think about what makes certain foods Jewish.
"Most Jewish foods are of a place and time where they were made by everyone," she said. "But in their own homes, Jews did what they needed to make them kosher—swapping chicken or beef for pork, removing dairy from a cake or bread to make it pareve, making doughy soup dumplings with matzah meal."
Perelman grew up in Franklin Township, N.J., part of a family that identified as Conservative but preferred the nearby Reform synagogue, where Perelman celebrated her bat mitzvah.
"We just unearthed the photos as we got ready for my son's bar mitzvah," she told me, before launching into typical, and comical, self-mockery. "What a terribly awkward time for a girl to be so heavily photographed!"
A quick search through the "best of" recipe collection on smittenkitchen.com returns several quintessential Ashkenazi recipes: Best Challah, Mom's Apple Cake, Tangy Spiced Brisket, My Ultimate Chicken Noodle Soup and Marbled Cheesecake Hamantaschen, among many others.
Still other treats from Smitten Kitchen Keepers evoke the Jewish kitchen in homey and delicious ways, like her savory Bialy Babka and, with Hanukkah in mind, a Chocolate Olive Oil Spread that Perelman states in her recipe introduction makes "a wonderful host gift." And, she adds, it's "wonderful for gifting yourself." Chag sameach and b'teyavon.

FOR THE DOUGH:
4 tablespoons unsalted butter, melted
6 tablespoons whole or low-fat milk
1 3/4 teaspoons instant yeast
1 tablespoon granulated sugar
1 1/2 teaspoons kosher salt
1 large egg, plus 1 large egg yolk
2 1/4 cups all-purpose flour
FOR THE FILLING:
2 tablespoons unsalted butter
1 1/2 pounds yellow onions, diced
1 1/2 teaspoons kosher salt
2 teaspoons poppy seeds, plus more to finish
Make the dough: In the bowl of a stand mixer, whisk together the butter, milk, yeast, sugar, salt, egg and yolk until blended. Add the flour and use a dough hook to bring the mixture together and knead on low speed for 5 to 7 minutes, until the dough is stretchy but soft. Transfer it to an oiled bowl, cover tightly with plastic, and set aside for 1 1/2 to 2 hours in a warm spot, until just about doubled—it will grow from about 2 cups to about 4. Additional advice: If your kitchen runs cold, or things seem to be moving very slowly, heat your oven to 200° for a few minutes, turn it off, place your bowl in there, and let it stay there for the remainder of the rising time. It should move along more quickly. (For a longer rise, or to finish baking the following day, you can chill the dough in the fridge. Just remember to take it out about 1 1/2 hours before baking, so it has time to warm up again before you roll it out.)
While the dough rises, cook your onions: Melt the butter in a large sauté pan over medium heat. Add the onions, toss to coat them in the butter, and cover the pot. Reduce the heat to medium-low and let the onions slowly steep for 12 to 15 minutes, stirring once or twice. You can walk away.
Uncover the pot, raise the heat slightly, and stir in the salt. Cook the onions, stirring every 5 minutes, for another 20 to 30 minutes, until they are golden brown and very tender and sweet. No need to fully caramelize them, as you would for onion soup, which would take much longer. Raise the heat to medium-high and cook the onions until they get a little dark at the edges, about another 5 minutes. Transfer them to a plate and spread them out so that they cool faster.
Assemble the babka: On a large, well-floured counter, roll out the dough until it is about 12 inches wide on the side closest to you and as far away from you as you can make it when rolling it very thin, likely 10 to 14 inches. Spoon and then spread the onions over the dough in an even layer; then sprinkle the onions with 2 teaspoons poppy seeds. Roll up the dough with the filling, rolling it away from you into a tight coil. Transfer the coil to a parchment-lined baking sheet or board, place it in your freezer, and let it chill for 5 to 10 minutes. (You will be able to cut it in half much more cleanly if the dough has been chilled.) While it's there…
Prepare the pan: Coat a standard loaf pan with butter or nonstick spray and line the bottom and two sides with a sling of parchment paper for easier removal.
Finish shaping the babka: Remove the dough from the freezer and use a serrated knife to cut the log gently lengthwise into two long strips; lay them next to each other, cut sides up. Lift one side over the next, forming a twist and trying to keep the cut sides facing up (because they're pretty). Don't worry if this step seems messy; it will be gorgeous regardless. Transfer the twist to your prepared loaf pan.
Let the dough proof again: Cover the pan with the same plastic wrap you used earlier, and let it rise another 45 minutes at room temperature. You won't see much of a change in the size, and that's fine; we're just letting the dough relax a little. Heat your oven to 350°.
Bake the babka: Sprinkle the babka with a few extra pinches of poppy seeds. Bake for 40 to 45 minutes, until a skewer inserted into the center doesn't feel like it's hitting sticky/rubbery dough, or until the internal temperature is 185°. If the onions get too brown on top (mine did), you can cover the babka with foil for the last few minutes, but unless they fully burn, it will taste great regardless.
Serve the babka: Let it cool for 10 to 20 minutes, then cut it into thick slices with a serrated knife. Leftovers keep at room temperature for a few days; I usually wrap it in foil. Gently toast slices to rewarm.

FOR THE CHICKEN:
1 1/2 pounds bread (sourdough, miche or sturdy country loaf)
Olive oil
6 medium garlic cloves, but who's counting, unpeeled
Kosher salt and freshly ground black pepper
4-pound whole chicken
1 lemon
A few sprigs fresh thyme
FOR THE SALAD:
Juice of 1 lemon
1 teaspoon smooth Dijon mustard
4 tablespoons olive oil
1/4 cup roughly chopped green olives
1 small fennel bulb, sliced very thin
4 ounces firm, leafy lettuce, such as escarole
Heat the oven to 325°.
For the croutons: Cut the bread into 1-inch-thick slices. Coat a 9 by 13-inch roasting pan or baking dish with olive oil. Arrange the bread snug in the bottom, cutting the slices into small pieces as needed. (Tetris-heads, this is our time to shine.) Nestle the garlic cloves between the bread pieces throughout the pan. Drizzle the bread with 2 tablespoons olive oil, 1/2 teaspoon kosher salt and lots of freshly ground black pepper.
For the chicken: Sprinkle the chicken with 2 teaspoons kosher salt, black pepper, finely grated zest from the lemon, and the leaves from a couple thyme sprigs. Cut the lemon in half, and toss it, and any additional thyme sprigs, into the bird's cavity. Place the chicken on top of the bread, and—this is essential to keep the bread from drying out until the chicken releases any juices—sprinkle the exposed pieces of bread around the chicken with 1/2 cup water. Roast for about 2 hours to 2 hours 20 minutes, or until a thermometer inserted into the thickest part of the breast reads 155°, or 165° for the thigh.
Finish the croutons: Transfer the chicken to a cutting board, but before you do, take a look at the croutons. If they're very dry, tilt the bird over them, drizzling juices that have collected inside the bird over the bread to moisten it. If they are not yet dried out, you can skip this. In all cases, use a spatula to flip the croutons, and return them to the oven to cook for about 15 to 20 minutes, or until they're largely crisp and golden brown, while the chicken rests. The amount of time this takes depends on how dried out they were going in; they sometimes need longer.
Meanwhile, prepare your salad: Combine the lemon juice and Dijon mustard in a large bowl, and whisk in the olive oil in a thin stream. Season well with black pepper and more salt. Add the olives and fennel and toss to combine. Set aside until right before serving; then add the salad greens and toss to coat them. Season salad with additional salt and pepper.
To serve: Remove the pan with the croutons from the oven and transfer them to a serving platter. Shmear the garlic cloves over the toasts, discarding the peels. Heap the salad on top. Carve the chicken and arrange the pieces on top of the salad and croutons. Pour any juices from the cutting board over the chicken and serve immediately.

4 ounces dark chocolate (semi- or bittersweet), roughly chopped
1/2 cup olive oil
1/2 cup confectioners' sugar
1/4 cup cocoa powder, any kind
Flaky sea salt
In a medium saucepan, melt the chocolate and olive oil together over medium-low heat, whisking until they're evenly combined. Whisk in the confectioners' sugar and cocoa until the mixture is smooth. It will be liquid and needs to cool to become a spread. There are two ways to do this.
You can leave it out at room temperature for several (4 to 6) hours, faster in a cooler kitchen and slower in a warmer one. You can also cool this in the fridge, but it requires more monitoring. After 15 minutes, remove from the fridge and thoroughly whisk the mixture until it's even. Repeat this every 5 minutes (it shouldn't take more than 30 minutes total) until a spreadable consistency forms.
Spoon the mixture into its final jar for storage and sprinkle the surface with flaky sea salt, to taste.
We love this best spread on a baguette for breakfast, with a bowl of fresh berries on the side.
All recipes from 'Smitten Kitchen Keepers' by Deb Perelman. Copyright © 2022 by Deb Perelman. Excerpted by permission of Alfred A. Knopf, a division of Penguin Random House LLC. All rights reserved. No part of this excerpt may be reproduced or reprinted without permission in writing from the publisher.
---
Adeena Sussman is the author of Sababa: Fresh, Sunny Flavors from My Israeli Kitchen and co-author of Gazoz: The Art of Making Magical, Seasonal Sparkling Drinks. She lives in Tel Aviv.