New Jewish Books Coming in January/February 2023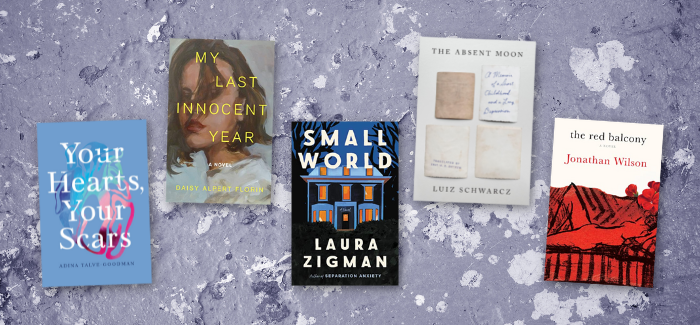 Your Hearts, Your Scars
by Adina Talve-Goodman (Bellevue Literary Press).
This short, compelling collection of personal essays gives readers a glimpse into the life of a young woman living with a transplanted heart. The daughter of two rabbis, Talve-Goodman was born with a congenital heart condition and received a transplant at age 19. In her writing, she is a sharp observer, funny, grateful and very likeable, who understands deeply that her adult life is tied to the loss of another person.
She recounts young romances, adventures as an editor in New York City, hospital visits, reactions to the scars from her surgery and ordinary encounters that take on significance. Sadly, Talve-Goodman passed away at age 31. Published posthumously, her essays will reverberate in many hearts.
The Absent Moon: A Memoir of a Short Childhood and a Long Depression
by Luiz Schwarcz. Translated by Eric M.B. Becker (Penguin Press)
The author, a prominent Brazilian publisher, writes with striking clarity and courage about his experiences with late-onset bipolar disorder as well as coming to terms with his own family history.
Schwarcz's story of inherited intergenerational trauma related to the Holocaust may be familiar but his take on the subject is singular, and his spare prose is full of wisdom and beauty. Although depression and bipolar disorder can still rob him of peace and certainty, he is nevertheless blessed with a loving family and a successful career.
Small World
by Laura Zigman (Ecco)
The novel's title is also the name of a neighborhood listserv where local Bostonians list products and services; the narrator, Joyce, privately turns those listings into poems. With empathy and humor, Zigman spins a tale of family and community as she brings Joyce and her older sister, Lydia, both divorced and childless, to live together again in Boston, 30 years after Lydia graduated from college and moved across the country. While the two don't talk much about another sister, who had disabilities and died at age 10, her memory is a presence. Zigman, the author of several terrific novels, understands sibling dynamics well, and Small World was inspired in part by her own experience of losing an older sister as a young child.
The Red Balcony
by Jonathan Wilson (Schocken)
Wilson's enthralling work of historical fiction and legal drama opens in Jerusalem in March 1933. The novel revolves around the trial of the killers of Haim Arlosoroff, a leader of the Jewish community in Mandate Palestine who was assassinated in Tel Aviv, and Ivor Castle, the Oxford-educated British Jewish attorney called in to assist in the defense.
With rich period detail, Wilson, the author of eight previous works, including A Palestine Affair, captures the ambiance and intrigue of the place and era. Layered among the conflicts between Jews, Arabs and the British are themes of ethics, identity and justice as well as great romance and sex.
My Last Innocent Year
by Daisy Alpert Florin (Henry Holt).
This debut novel is an evocative portrait of campus life in the late 1990s, when college senior Isabel Rosen finds both her voice and a path toward to self-understanding and adulthood. The only daughter of the widowed owner of a Lower East Side appetizing store, she must finish her final semester at a fictional private New England college, while navigating the sometimes messy issues of sexuality and consent, independence and ambition.
---
Sandee Brawarsky is a longtime columnist in the Jewish book world as well as an award-winning journalist, editor and author of several books, most recently of 212 Views of Central Park: Experiencing New York City's Jewel From Every Angle.