One Book, One Hadassah: 'Tomorrow, and Tomorrow, and Tomorrow'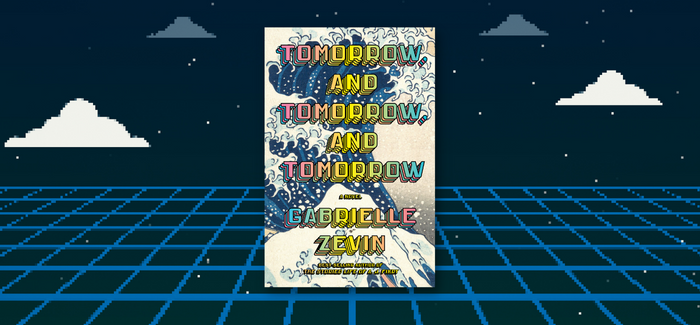 "Promise me, we won't ever do this again," Sadie said. "Promise me, that no matter what happens, no matter what dumb thing we supposedly perpetrate on each other, we won't ever go six years without talking to each other. Promise me you'll always forgive me, and I promise I'll always forgive you."
These, of course, are the kind of vows young people feel comfortable making when they have no idea what life has in store for them. —Tomorrow, and Tomorrow, and Tomorrow
Named Amazon's top book of 2022 and a New York Times best seller, Tomorrow, and Tomorrow, and Tomorrow by Gabrielle Zevin centers around the 30-year relationship between Sadie Green, a Jewish woman from Los Angeles, and Sam Masur, her Jewish and Korean childhood friend, as they develop a successful video game company. Set against the backdrop of gaming culture, the intricate and imaginative book is a rich character study of an enduring friendship interspersed with ideas around contemporary identities, living with disabilities and the need to love and be loved.
---
How do Sam Masur and Sadie Green's first meeting as children set up the framework and pattern of their relationship? Why were the two of them drawn to video games as children—and why do they continue to be fascinated by games as adults? Discuss the focus on "play" throughout the book and the lessons learned by the characters through their gaming.
Sadie is Jewish; Sam is the son of a Korean mother and Jewish father. Does their shared Jewish heritage affect their relationship? Describe Sadie and Sam's connection to their ethnic/racial backgrounds as compared to their connection to the general American culture of their day. While author Gabrielle Zevin includes specific references to Sadie's Jewishness—Sadie has a bat mitzvah (and receives an award from the local Hadassah chapter) and one of her early video games is dedicated to her beloved bubbe, Freda, a Holocaust survivor—how is Jewishness in general seen in the book?
One of the main themes of Tomorrow, and Tomorrow, and Tomorrow is the myriad ways that people love each other. What does the book say about the value of romantic relationships, of friendships, of sibling and parental love? Do you think Sadie and Sam should have developed a romantic attachment?
How does Sam's disability, which he refers to as "the thing with my foot," impact his life, body image and relationships? How does that disability influence the decisions of those around him? The book describes Sam's struggles in the 1990s. How have attitudes toward disabilities changed in recent decades? Are people more willing to discuss and ask for accommodations for their disabilities?
How do the tragic experiences of Sam's childhood impact him and how does he use them in his art? Does intergenerational trauma, specifically her grandmother's Holocaust experience, impact Sadie's life and creativity? Why do both characters hide their emotional and physical pain?
What is the significance of the book's title—Tomorrow, and Tomorrow, and Tomorrow—and how does it connect to the gaming experience? Why did Marx Watanabe want to name their company "Tomorrow"?
Do you find any of the three main characters—Sam, Sadie and Marx—likable? Which one, if any, do you relate to? Describe Marx's outlook on life and how it paved the way for his choices and the reactions of those around him. Discuss the name "Tamer of Horses."
Much of the book revolves around creativity and artistic endeavors, seen through the lens of video games. What do you think about the author's use of video games to explore the artistic process and artistic collaboration? Do Sam and Sadie need each other to create successful video games? What do you think about Marx's role in their collaborations? Is he an equal partner in their work?
Explore the interplay of reality and fantasy in the video game "Both Sides" and its evolution into the online multiplayer "Mapleworld." What do you think about the game creators' choice to insert politics into the game and the impact of that choice?
Discuss the tragedy that strikes Unfair Games and how each character processes trauma and grief. What do you think the author is saying with the sudden introduction of gun violence?
Through Sadie, Gabrielle Zevin describes the struggles of women in STEM fields and particularly video game design in the late 1990s and early aughts. How do Sadie's struggles with discrimination affect her career trajectory both starting out and later, as a young mother? How do those struggles inform her interactions with Sam and with her professor, Dov Mizrah? What do you think about Sadie's relationship with Dov?