'This Might Be Too Personal: And Other Intimate Stories'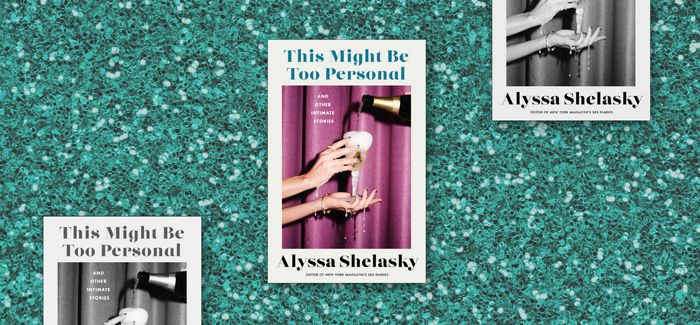 This Might Be Too Personal: And Other Intimate Stories
By Alyssa Shelasky (St. Martin's Griffin)
While some Jewish girls dream of one day meeting their bashert and having a beautiful wedding—imagining a white dress and elegant venue, not to mention the house in the suburbs that follows—Alyssa Shelasky never did.
"All I wanted was a cool little life," the author, journalist and editor of New York magazine's "Sex Diaries" column writes in her memoir, This Might Be Too Personal: And Other Intimate Stories.
Maybe that's why the opening chapter, titled "Are You Okay?," finds her bloodied, barefoot and disheveled, her fancy dress torn, running across Manhattan's West Side Highway to get away from the wedding of one of her former fiancé's close friends. She had called off her own engagement the previous night. Then a new reporter at Us Weekly, she was regularly partying hard with celebrities and supermodels. "Everything about getting married felt wrong," she'd told her mom even as she was registering for her wedding gifts.
"I didn't give a shit about having a wedding or becoming a wife," she writes. "I was already counting the affairs I would need to have make me feel alive in the marriage—and had recently started several of them."
In pursuit of a nontraditional life, but also in search of a big love, Shelasky writes about falling for all sorts of unmarriable men, like the Greek Orthodox dentist whose family, despite all his promises, would never accept her.
"The crazy part was, as a Jew, I already understood all the inner conflict and deep-rooted anxiety around the family," she writes in the chapter "See Alyssa Date," adding: "Which is not to say I didn't try to convert myself to Greek Orthodox, because I did, but even the nuns wouldn't take me…."
In another chapter, Shelasky explains that she named her book after a question her idol Sarah Jessica Parker asked when Shelasky was interviewing the actress for an article (it was a query about the dress that Shelasky wore to the interview). Indeed, the essay describes how Shelasky herself had been frequently compared both by friends and colleagues to Carrie Bradshaw, Parker's character on Sex in the City.
Shelasky, a self-described cultural Jew, possesses an abiding faith in a benevolent God and is close with her family. Her parents live in the same Brooklyn apartment building as she does, and her sister in the same neighborhood.
Throwing the narrative of the happy-go-lucky single girl on its head, Shelasky is dying to be a mom. She doesn't want the dream of "first comes love, then comes marriage," but still yearns for the baby carriage part. The essays in This Might Be Too Personal move toward that quest, which culminates in Shelasky having a daughter via a sperm donor.
But that's not the end of her anti-fairy tale. When her daughter, Hazel, is only six months old, she meets Sam, who later fathers her second child, a son named River, and adopts Hazel. Her big conflict is that Sam is not Jewish.
"This was not just because I wished for a partner who would feel emotional when I lit the Shabbos candles or kissed a mezuzah or joyfully sang 'Shalom Alechem' with Hazel and River," she writes, "but because I often lamented that Sam would never fully understand me on account of that striking difference in our upbringing and faith. Our cultural differences were not subtle. They frequently came out in the spiritual, the political and the mundane."
Partnered with Sam but not married to him, a mom of two kids, an author of two books, a television shows in the works, surrounded by family, this is Shelasky's happily ever after. Not a straight line, not the quintessential Jewish rom-com with wedding bells, but satisfying just the same.
---
Amy Klein is the author of The Trying Game: Get Through Fertility Treatment and Get Pregnant Without Losing Your Mind.