Chanie Apfelbaum Is 'Totally Kosher'—and Totally Fearless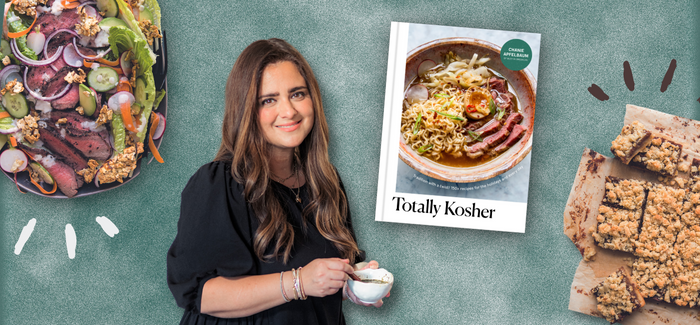 Passover is a time for renewal and rebirth, a springtime Jewish new year that allows for a fresh start as the winter cold melts away. That's certainly the case for Chanie Apfelbaum, the creative force behind the Busy in Brooklyn blog and its nearly 100,000 Instagram followers who look to her for inspired, trend-influenced (and trendsetting) recipes.
This year, the newly single mother of five will be celebrating Passover alongside the release of her second cookbook, Totally Kosher: Tradition With a Twist! 150+ Recipes for the Holidays and Every Day. It's the follow-up to her wildly successful first cookbook, Millennial Kosher, which came out in 2018. With recipes like Ramen Shakshuka and Spanakopita Quinoa Patties, the book cemented her status as a superstar of the kosher blogosphere.
Though her life as seen on social media—packed with trips to exotic destinations like Morocco and Hungary and many gourmet kosher restaurant meals, some of which she receives in exchange for promotion—seems glamorous, at heart she considers herself a home cook who acutely understands the fatigue that often accompanies food preparation.
"I want to bring love back in the kitchen because as Jewish women, we spend so much time there," the 42-year-old said. "Cooking for holidays, Shabbat, weeknight dinners, for our families, can feel like a chore—but it doesn't have to."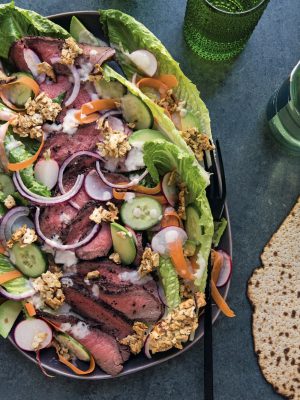 To that end, her new book is filled with doable yet exciting weeknight recipes like Skirt Steak Tacos with Roasted Pineapple Salsa and Chimichurri as well as Passover-friendly fare like a clever Passover Panzanella Salad with Matzo Brei Croutons (see accompanying recipe).
"I'm always looking to expand the idea of what kosher can be and see it as a happy thing rather than just a challenge," said Apfelbaum, who snapped all the recipe photographs herself for the 320-page volume.
Written and photographed in the era of Covid, Totally Kosher presented Apfelbaum with a whole set of challenges she hadn't anticipated.
"I got Covid early on and lost my sense of taste and smell for three months," she said of the temporary setback in the book's production.
She was also going through a divorce from her husband of more than 15 years, a journey she shared with discretion on Instagram.
"I wear my heart on my sleeve," she said, "but I also feel like there are so many things that are taboo in the Orthodox Jewish community that need to be spoken about, and I want to change that.
"There were definitely many times I wanted to give up" on the book, continued Apfelbaum, who lives with her children, ages 5 to 16, in the same Crown Heights section of Brooklyn where she was raised as part of the Chabad Lubavitch movement. "For me, this book ended up being the goal that kept me going."
Born into a prominent Chabad family, Apfelbaum and her four siblings had close ties to the Lubavitcher Rebbe, the late Menachem Mendel Schneerson, in whose home her father had been a caretaker. Her younger brother, Ari Halberstam, was considered a protégé of the rebbe before his murder in 1994.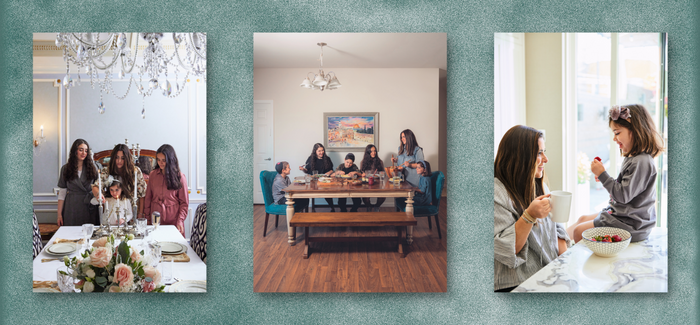 Halberstam had been one of 15 Chabad students traveling in a van back to Brooklyn after a visit to the ailing Schneerson in a Manhattan hospital. At an entrance ramp to the Brooklyn Bridge, a Muslim terrorist opened fire on the van, hitting four of the teenagers, including Halberstam, who ultimately died from his wounds. Apfelbaum has said that much of what she does professionally is dedicated to her brother's memory—and perhaps explains her fearless approach.
That fearlessness includes an eagerness to be photographed with her children for Totally Kosher, something that is unusual in the Orthodox food world she inhabits. For more than a decade, it has been standard for many Orthodox publishers to decline showing women's faces in any printed work, not only cookbooks—something that she struggles to comprehend.
"Judaism has always celebrated women," said Apfelbaum, who, as a child along with her mother and sister, was featured in a full-page Chabad advertisement in The New York Times promoting candelighting on Shabbat. "This idea of not printing women's faces is a new-age concept within certain insular communities that distorts Torah values. It didn't exist years ago. Having women featured in print should be the same as having men in print—a non-issue."
Shoshana Keats Jaskoll, co-founder of Chochmat Nashim (woman's wisdom), a group that, among other initiatives, is trying to reverse the trend of erasing women's faces, agrees.
"Judaism has never cut women out of the picture, not literally or figuratively," said Keats Jaskoll. "There's nothing holy about it. That Chanie is showing her face and showing other women and girls that they can be seen is nothing short of heroic."
Rather than releasing another cookbook with her original publisher, ArtScroll, which does not print women's faces, Apfelbaum said she chose to branch out to Clarkson Potter, a culinary imprint of Penguin Random House.
"I'm always looking for authors with a distinct point of view—a unique culinary perspective that is so singular, it is almost like a trademark," said Raquel Pelzel, editorial director of Clarkson Potter. "Chanie has it all—the point of view, the devoted audience, the ingenuity and, of course, talent to spare."
It was a talent that was developed over time, and one driven by her interest in design as much as in cooking. Apfelbaum has a degree in web design and worked in the field before she began her blog in 2011.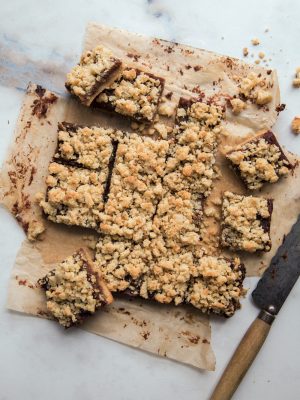 "I got really interested in cooking as an artistic medium," she said. "The beauty, the shapes—that's why I fell in love with the process."
In her childhood home, she recalled, her mom served a deeply traditional diet of heimishe Ashkenazi classics like kugel, chicken soup and gefilte fish.
"Those are comfort foods for me and a great way to connect to my childhood when I want to," she said. "But why would I make a kugel where I shred, mash or overcook the vegetables when I could literally roast them with olive oil and have them come out delicious?"
That simple but elevated approach to seemingly humble foods appears throughout Totally Kosher, many of whose recipes rely on ingredients sourced from a global kitchen.
"I've taken a bigger interest in worldwide cuisine and different cultures and figured out how I can incorporate that into the kosher world," said Apfelbaum. "I'm all about having fun and making it Jewish." (Almost 10 years ago, her Drunken Hasselback Salami went viral for its playful kosher take on thinly sliced Hasselback potatoes.)
For Passover, which begins with the first seder on April 5, Totally Kosher offers a range of inspiration, from a gefilte fish recipe handed down from the rebbe's wife, the late Rebbetzin Chaya Mushkah Schneerson, to gluten-free chocolate chip scones and charoset-packed bars perfect for breakfast or dessert.

MATZO BREI CROUTONS
1 extra large egg white beaten
2 tablespoons extra virgin olive oil
1 teaspoon kosher salt
1/4 teaspoon dried oregano
1/4 teaspoon garlic powder
1/4 teaspoon freshly ground black pepper
3 squares unsalted matzos or 2 round matzos
STEAK AND SALAD
1 pound London broil (preferably the shoulderblade cut)
2 tablespoons grapeseed oil
Kosher salt and coarse ground black pepper, to taste
2 heads romaine lettuce, roughly chopped
2 Persian cucumbers, thinly sliced on the diagonal
1 carrot, peeled into ribbons
4 radishes, thinly sliced
1 avocado, sliced
1/2 small red onion
HORSERADISH DRESSING
1/2 cup mayonnaise
3 tablespoons grated horseradish
1 tablespoon freshly squeezed lemon juice
1 garlic clove, minced
Kosher salt and freshly ground black pepper to taste
1. To prepare the croutons: Preheat the oven to 400° and line a baking sheet with parchment paper. In a medium bowl, whisk the egg white with the olive oil, salt, oregano, garlic powder and pepper. Break the matzo into small pieces, about 1/2 inch, and add them to the bowl. Gently toss the mixture with a spoon until the matzo is fully coated, then spread it out on the baking sheet. Bake for 10 to 15 minutes, until the matzo crisps up into clusters. Remove from the oven and set aside to cool completely.
2. To prepare the steak: Rub the London broil with the grapeseed oil and season liberally with salt and pepper. (I like to use a lot of pepper so that it's pepper crusted.) Grill over high heat or broil on a sheet pan with the oven rack in the highest position for 6 to 8 minutes per side, until the steak is charred on the outside and cooked to medium rare. Transfer the steak to a cutting board and set aside to rest for 10 minutes. Thinly slice crosswise and against the grain.
3. To make the dressing: In a small bowl, whisk together the mayonnaise, horseradish, lemon juice, garlic, salt and pepper until creamy. If a thinner consistency is desired, add water to thin.
4. To make the salad: In a large bowl, combine the romaine, cucumbers, carrot, radishes, avo- cado and onion. Toss with the horseradish dressing. Top with the meat and the croutons and serve.

3 cups superfine blanched almond flour
3/4 cup sugar
1/2 cup walnut or grapeseed oil
1 extra large egg
1 1/2 teaspoons kosher salt, divided
1 ripe pear or Granny Smith apple, peeled, cored and roughly chopped
14 plump medjool dates, pitted (about 10 ounces)
1/4 cup dry red wine
1/8 teaspoon ground cinnamon
1/2 cup chopped walnuts, about 2 ounces
1. Preheat the oven to 350°. Line an 8- by 8-inch pan with parchment paper.
2. In a medium bowl, stir together the almond flour, sugar, oil, egg and 1 teaspoon of the salt until combined into a smooth dough. Remove 1 cup of the dough and set aside.
3. Using your hands, press the remaining dough into the bottom of the prepared pan in an even layer. Bake for 12 minutes, until lightly puffed. Cool for 5 minutes.
4. In the bowl of a food processor, pulse together the pear, dates, wine, cinnamon and remaining 1/2 teaspoon salt until pasty, scraping down the sides of the bowl with a rubber spatula as needed (it should resemble mortar, just like the story of the Exodus!).
5. Add the walnuts to the reserved 1 cup of dough and mix with your fingers to combine. Spread the charoset filling over the cooled baked dough and crumble the walnut mixture over top. Bake for 18 minutes, until browned around the edges. Cut the bars into squares and store in an airtight container (use parchment paper if layering). Store at room temperature for up to 2 days or refrigerate for up to a week.
6. To freeze, wrap squares individually in plastic wrap, transfer to a zip-top bag and freeze for up to 2 months.
---
Adeena Sussman is the author of Sababa: Fresh, Sunny Flavors from My Israeli Kitchen and the upcoming Shabbat: Recipes and Rituals from My Kitchen To Yours, set to be released on September 5. She lives in Tel Aviv.