Meet Suzanne Patt Benvenisti, Hadassah's New Head In Israel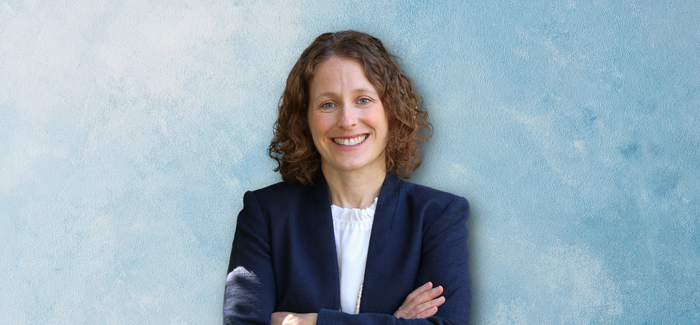 When Suzanne (Suzie) Patt Benvenisti became executive director of the Israel offices of Hadassah, The Women's Zionist Organization of America, she felt she was "coming full circle," given her multiple and longtime connections to the organization.
Born in Houston to Israeli parents—her mother was born at Hadassah Hospital Mount Scopus—the 44-year-old has helped develop public policy for a number of health care organizations in the United States and been involved in child welfare and youth programs as well as in nonprofit management. Patt Benvenisti is a former director of public policy for Aetna, an American health insurance company, and has consulted on strategic and operations planning for Community Partnership for Protecting Children in Portland, Maine.
In 2010, she went with her husband, Ido, to volunteer at the Agahozo-Shalom Youth Village in Rwanda, which is modeled on Israel's youth villages, two of which are sponsored by Hadassah. The couple spent their year in Rwanda mentoring youngsters orphaned by the 1994 Rwandan genocide and its aftermath, teaching piano and singing—both of them are musical—and helping the village develop fundraising and economic plans.
---
READ MORE: New Israeli Made Immunotherapy Targets Myeloma
---
The following year, she and Ido moved to Israel, where she was appointed managing director of Jerusalem's Taub Center for Social Policy Studies, later becoming CEO of the independent research institute. The two live in Jerusalem with their three children—Ariel, 11; Noa, 9; and Aya, 5.
"Hadassah has been a household name as long as I can remember," said Patt Benvenisti, who started her new position in January, succeeding longtime executive director Audrey Shimron, who stepped down to become executive director emeritus. This interview has been edited for brevity and clarity.
What attracted you to directing Hadassah's Israel offices?
I saw it as an exciting, multifaceted position that merges many aspects of my personal and professional backgrounds. And all this at Hadassah, an organization at the forefront of Israeli health care innovation, and a place with which I have strong personal connections.
Can you share more about your Hadassah connections?
Both my mother and father graduated Hadassah's medical school. I grew up in Hadassah's Young Judaea youth movement—as camper, regional president, national board member and finally staffer at YJ camps. I met my husband when we both worked at Young Judaea's teen leadership camp, Tel Yehudah.
What do you see as your main priorities in the role of executive director?
Foremost is serving as HWZOA's representative on the ground here in Israel—as the daily connector between the organization in the United States and its Israel projects. Allied to this is representing Hadassah's interests to the Israeli government and Knesset.
Another key aim is strengthening and enhancing the image and name of HWZOA in Israel and worldwide—reminding a new generation of Hadassah's historic role in building the state's health care infrastructure and Youth Aliyah. Beyond that, I'll be identifying opportunities to reinforce our Israel role in both traditional areas and new, developing relationships with Israel's civil society and government, and building and strengthening partnerships with other Jewish organizations in Israel. I'm working on a strategic plan to meet these goals.
Why did you make aliyah?
I always felt connected to both Israel and the United States, where I grew up. I spent 1997 in Israel on Year Course and made aliyah (for the first time) in 2004, returning to the United States to complete a postgraduate degree at Harvard. It was only a matter of time till I went back to Israel, especially after meeting Ido, who is a Jerusalemite.
Did your Rwanda experience impact your career path?
Definitely! Our year in the village reinforced for me the importance of infusing my professional life with meaning and remembering to use my skills and experience to make a difference.
---
Wendy Elliman is a British-born science writer who has lived in Israel for more than four decades.