New Jewish Books For Spring 2023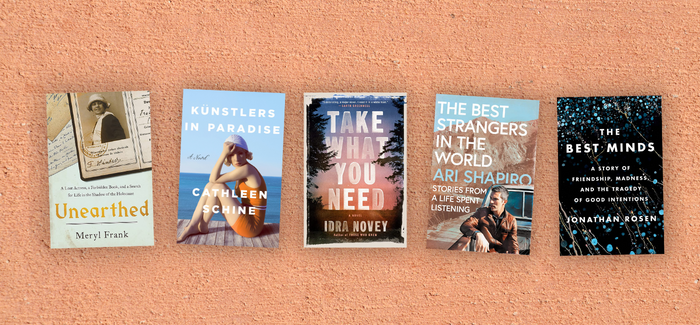 Künstlers in Paradise
by Cathleen Schine (Henry Holt)
Over many best-selling novels, Schine has demonstrated her talent for creating unforgettable characters using empathy and humor. Here, a trio spends the early months of the pandemic locked down together: 93- year-old Salomea, known as Mamie; her housekeeper/friend; and her 20-something grandson from New York City. Mamie is teaching her grandson "the ways of the world. A vanished world, but so be it" as she recounts for him family stories of Vienna—her family left in 1939—and their new lives in Los Angeles among a community of artists.
Take What You Need
by Idra Novey (Viking)
Novey is a poet and the author of two previous novels; her first, Ways to Disappear, won the Sami Rohr Prize for Jewish Literature in 2017. She has described herself as an Appalachian Jew, and this novel is set in the Allegheny Mountains where she grew up. The narrative unfolds through the alternating voices of two women—Leah, who fled her hometown, and Jean, her estranged stepmother. Upon Jean's death, Leah returns and learns that her stepmother had become a sculptor, welding towers of metal from found materials. In vibrant yet spare prose, Novey tells a story of finding beauty in what had been cast aside.
The Best Minds: A Story of Friendship, Madness, and the Tragedy of Good Intentions
by Jonathan Rosen (Penguin)
Rosen's childhood best friend and Yale classmate, Michael Laudor, grew up in a liberal, Jewish home in New Rochelle, N.Y. Laudor was known to be brilliant. Twenty-five years ago, however, he killed his pregnant girlfriend, a tragedy that still reverberates for Rosen. An accomplished author, Rosen writes of their parallel coming of age and rigorously researches the web of Laudor's life. This is an important work about schizophrenia and mental health policy—and about helping people who need help.
The Best Strangers in the World: Stories from a Life Spent Listening
by Ari Shapiro (HarperOne)
Shapiro, a host of NPR's All Things Considered, begins his memoir-in-essays by recalling that he became a public speaker in first grade in Fargo, N.D., when he was charged, as one of few Jews, to explain Hanukkah to his school. That, and his later experience as an openly gay teen in Portland, Ore., sparked his passion for listening and making connections. A man of wide curiosity, he recounts the stories behind some of the stories he has reported, understanding that one of the best ways for a journalist to tell a big story is through a small one.
Unearthed: A Lost Actress, a Forbidden Book, and a Search for Life in the Shadow of the Holocaust
by Meryl Frank (Hachette)
Frank, who was appointed by President Barack Obama to be ambassador to the United Nation Commission on the Status of Women, is not the child or grandchild of survivors. However, she grew up preoccupied with the past—with what had happened to her extended family before, during and after the Shoah. Through extensive research, she tracks down her family's history, in particular the tragic story of a cousin who was a leading figure in Vilna's Yiddish theater.
---
Sandee Brawarsky is a longtime columnist in the Jewish book world as well as an award-winning journalist, editor and author of several books, most recently 212 Views of Central Park: Experiencing New York City's Jewel From Every Angle.