Michelle Azar on Embodying RBG in 'All Things Equal'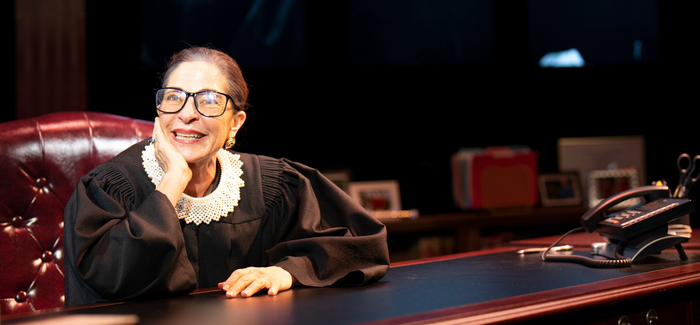 A few words you might not expect to hear at synagogue: The rabbi's wife is away on national tour.
That is until you are told that the woman on tour is Michelle Azar, an award-winning singer and actress. Azar is currently headlining an acclaimed national run of All Things Equal: The Life and Trials of Ruth Bader Ginsburg. Back home in Los Angeles, her husband, Jonathan Aaron, is the senior rabbi at Temple Emanuel, a Reform synagogue in Beverly Hills.
All Things Equal is the latest from composer, author and Tony Award-winning playwright Rupert Holmes, whose works include a musical based on The Mystery of Edwin Drood and the play Say Goodnight, Gracie—though he may be best known for the hit 1979 single "Escape (The Piña Colada Song)."
The one-woman show completed runs in Florida and on Long Island, N.Y., last year. All Things Equal began a national tour in February that will end in May in Washington, D.C.
The play's conceit is that the late Supreme Court justice is telling her story to a visitor in her chambers, a young friend of her granddaughter. RBG ages in the show, which travels back and forth in time from her mid-30s to her 80s. While much of the legendary jurist's career is explored, at the play's center lies the staggering prejudice she endured as a student, one of only nine women in her first-year class at Harvard Law School in 1956, and as a young female lawyer unable to get a clerkship or find a job with a law firm, even though she graduated from Columbia Law School at the top of her class.
"It is the greatest, most heartbreaking gift to be playing such a person," said Azar. "The audiences' audible responses keep me constantly in the moment as I want to be mindful about people's various views but steadfast to the work RBG was committed to. When there is anything that we see as uncaring, unfair or unequal, any impediments to the equal rights for all people to find their voice and realize their potential, we must 'dissent.' Without rage or condemnation, but with simple and clear words."
"Within seconds of the show starting, the audience believes she is Ruth Bader Ginsburg," Holmes said about Azar's portrayal of the late justice. "Her performance earns her a standing ovation every night."
That applause might be because Azar intuitively understands how to embody complex women. Her father was born in Iraq, and he immigrated with his family to Israel when he was a young child. After completing his Israel Defense Forces service, he came to the United States, married an Ashkenazi woman and settled in Brooklyn. Azar has called herself the "product of intermarriage" of two Jews. She explored the intricacies of that rich family heritage as well as the prejudices experienced by Jews from Arab countries in her 2017 one-woman play, From Baghdad to Brooklyn.
"I always knew we were Jewish," she said of her traditional Sephardi upbringing. "But Jewish differently."
After earning an undergraduate degree in drama from New York University, Azar landed the role of Janis Joplin in the Off-Broadway musical Beehive. Exhausted from the all-encompassing focus that live theater required, when the show closed, Azar "escaped," as she described it, to Israel.
"My father always said he could see that I was torn between worlds—that of theater and that of Israel and Judaism," she noted. It was in Israel where she met Aaron, who was in rabbinical school at the time.
"He was the first person I met who was studying to be a rabbi," Azar said of her husband, with whom she has two daughters, ages 17 and 21.
Aaron comes from a line of spiritual leaders. His grandfather, Hugo Chaim Adler, was chief cantor at the Haupt Synagogue in Mannheim, Germany, from 1921 to 1938. After immigrating to the United States, he became chief cantor for Temple Emanuel in Worcester, Mass. Aaron's uncle, Samuel Adler, is a world-renowned composer and conductor, and his cousin, Naomi Adler, is CEO of Hadassah.
As for her role at Temple Emanuel, even though she divides her time between stage and synagogue. "I'm very involved," said Azar. "I read Torah. I help organize this or that event. In that sense I'm a traditional rebbetzin."
---
Curt Schleier