One Book One Hadassah: 'Code Name Sapphire'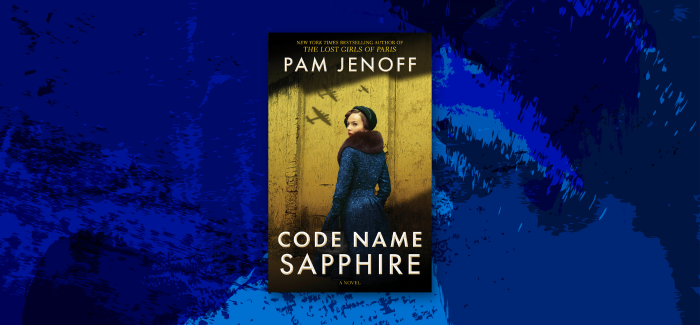 " 'An artist and a nurse…. Who are we to do this, to execute such a dangerous plan? Just a few women with no training or real equipment.' Hannah silently acknowledged the truth of Lily's statement.
But who were she and Micheline, really, to undertake the work of the Sapphire line? No one bestowed courage or freedom or self-determination—one simply decided to take it." —Code Name Sapphire
Set in Nazi-occupied Belgium, New York Times best-selling author Pam Jenoff's most recent book, Code Name Sapphire, is centered around three compelling women. Inspired by true stories of resistance during World War II and filled with complex family relationships, secrets and betrayals, the page-turner explores the sacrifices and bravery of women during perilous times.
Local book groups are a vital part of Hadassah for many members. If your chapter doesn't already have one, now's the time to start! We encourage groups to have their own discussions about Code Name Sapphire before or after watching the virtual interview with the author. To facilitate those discussions, we present the following discussion guide.
---
What was your first impression of Micheline and cousins Hannah and Lily, the three female protagonists of Code Name Sapphire? How does author Pam Jenoff's initial descriptions of the women set up their personalities as well as foreshadow the events in the book? Which of the three do you identify with most?
"Stay silent, Lily thought…. That was the lesson of the war and the only way to survive it." What do you think of Lily's decision to keep quiet and follow the rules as well as her pretense that the occupation is not affecting her and her family?
Describe how Lily's role as a parent influenced her decisions throughout the book. Is she right to completely shelter her young son, Georgi, from the continuing depredations by the Nazis? Do you think she is a good mother?
Discuss the contrast between what Micheline calls Lily's complacency in the face of the Nazi occupation and Micheline's active resistance. What drives Micheline's determination to maintain the Sapphire Line, the network that ferries downed Allied airmen to safety? What about her brother, Matteo? Why does he feel compelled to work for the resistance?
How is Jewish heritage and identity conveyed in the book? Do Hannah and Lily feel a connection to Jewish culture or religion? How do their outlooks impact their reactions to the Nazi occupation?
Discuss the importance of the sparrow incident in Lily and Hannah's youth. Why do you think the two of them have very different recollections of the event? Describe how Hannah and Lily's relationship changes and evolves over the course of the book.
Do you think Hannah is careless with the safety of her cousin's family even before taking Lily's identity card? How does Hannah's personal history and tragedy inform the choices she makes? Why does Lily keep forgiving her trespasses and omissions?
What are your thoughts about gender roles in the novel? How do Hannah and Micheline use gender assumptions in their work with resistance groups?
Betrayal and sacrifice are twin themes that run throughout Code Name Sapphire. Discuss the choices and sacrifices that each character makes, including Nik and Matteo. Were you surprised by the deceptions and secrets kept by many of the characters? What was the most difficult choice each of the women faced? Did you agree with their choices?
Much of Code Name Sapphire is based on real history, thought Pan Jenoff created fictional characters and organizations as well as merged dates and historical events. What do you imagine are the challenges in writing historical fiction that touches on Jewish experience during World War II? How much can an author deviate from the historical record of the war and the Holocaust to tell a compelling story? Do you think there should be any limits or rules when writing fiction from that era?