New Jewish Books for June 2023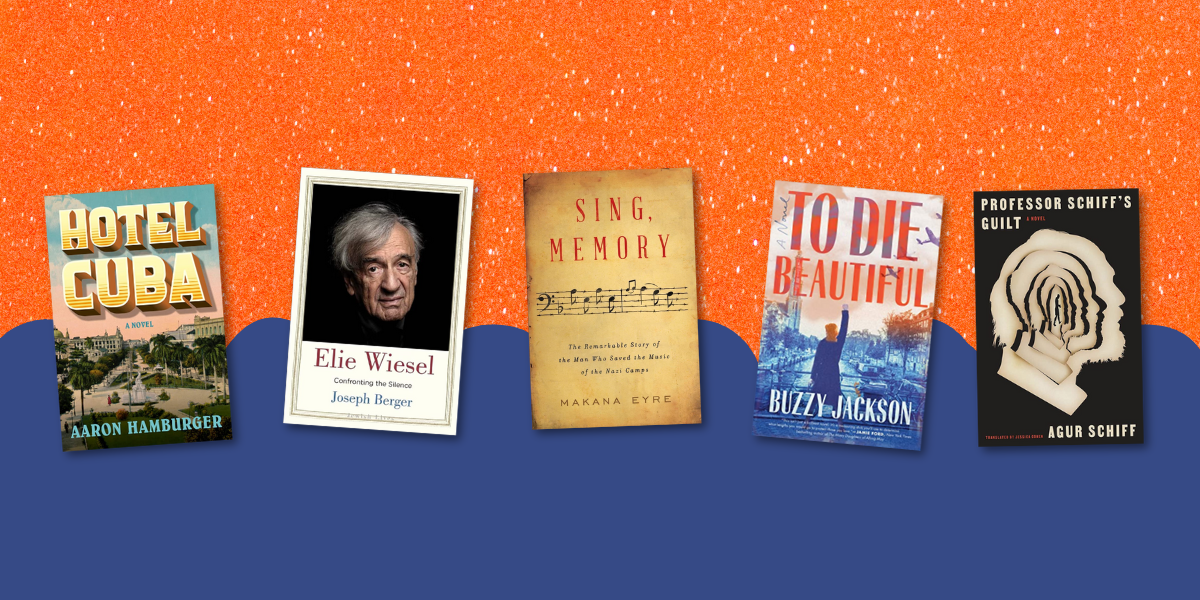 Professor Schiff's Guilt
by Agur Schiff. Translated by Jessica Cohen (New Vessel Press)
This provocative novel raises urgent questions about family legacy, human trafficking, atonement and memory. Full of unexpected twists and humor, the story of an Israeli professor whose ancestor was a slave trader in Africa is told in narratives that alternate between his home in Tel Aviv and a fictional country in Africa where he is being put on trial for his ancestor's sins. The author, Tel Aviv-born Schiff, was awarded the Prime Minister's Prize for Hebrew Literary Works in 2010.
Hotel Cuba
by Aaron Hamburger (Harper Perennial)
Set in Havana in the 1920s and inspired by the immigration story of author Hamburger's grandmother, this historical novel follows a pair of Jewish sisters who flee their shtetl on the Russian-Polish border in the hopes of immigrating to America. Instead, they are diverted to Cuba. The award-winning novelist richly captures the atmosphere of Cuba in pre-Castro times as well as the sisters' distinctive sensibilities and their emotional journeys. It's a story of displacement, creativity and hope.
To Die Beautiful
by Buzzy Jackson (Dutton)
While streets and memorials in Holland are named for Dutch resistance fighter Hannie Schaft, few in the United States know of her heroic role during World War II. Based on extensive research, Jackson's debut historical novel highlights the courage and moral integrity of the law student turned armed fighter who risked everything to defy the Nazis. In Holland, Schaft became the most wanted woman by the Nazis. She was eventually captured and executed just a few weeks before the Third Reich surrendered. Jackson, a historian and author of nonfiction works, learned about Schaft in a 2016 visit to the Verzetsmuseum-The Resistance Museum in Amsterdam.
Sing, Memory: The Remarkable Story of the Man Who Saved the Music of the Nazi Camps
by Makana Eyre (W.W. Norton)
Beginning with its perfect title, this nonfiction work is an astonishing chronicle of musical resistance. Eyre, an American journalist based in Paris, describes an unlikely friendship born in the Sachsenhausen concentration camp between a Jewish conductor, Rosebery d'Arguto, and a Polish political prisoner, Aleksander Kulisiewicz, an amateur musician who understood that music was a force for life. In Sachsenhausen, Jewish prisoners took part in a secret choir organized by d'Arguto, who had been a prominent musical director in Berlin. Kulisiewicz was asked by his friend, who died in the camp, to save the musical heritage of the victims, including the conductor's own compositions. Kulisiewicz, who survived the war, devoted his life to the task.
Elie Wiesel: Confronting the Silence
by Joseph Berger (Yale University Press)
In the first biography published since the Nobel laureate's death in 2016, Berger draws on Elie Wiesel's own writings, research and new interviews with family members and scholars to portray the man who lent his eloquent and powerful voice to preserving the memory of the Holocaust and standing up for human rights around the world. Berger, a longtime journalist for The New York Times, addresses the question of how this soft-spoken Hungarian-born survivor of Auschwitz became a towering world figure.
---
Sandee Brawarsky is a longtime columnist in the Jewish book world as well as an award-winning journalist, editor and author of several books, including 212 Views of Central Park: Experiencing New York City's Jewel From Every Angle.