Meet the Team that Keeps Hadassah Hospital Safe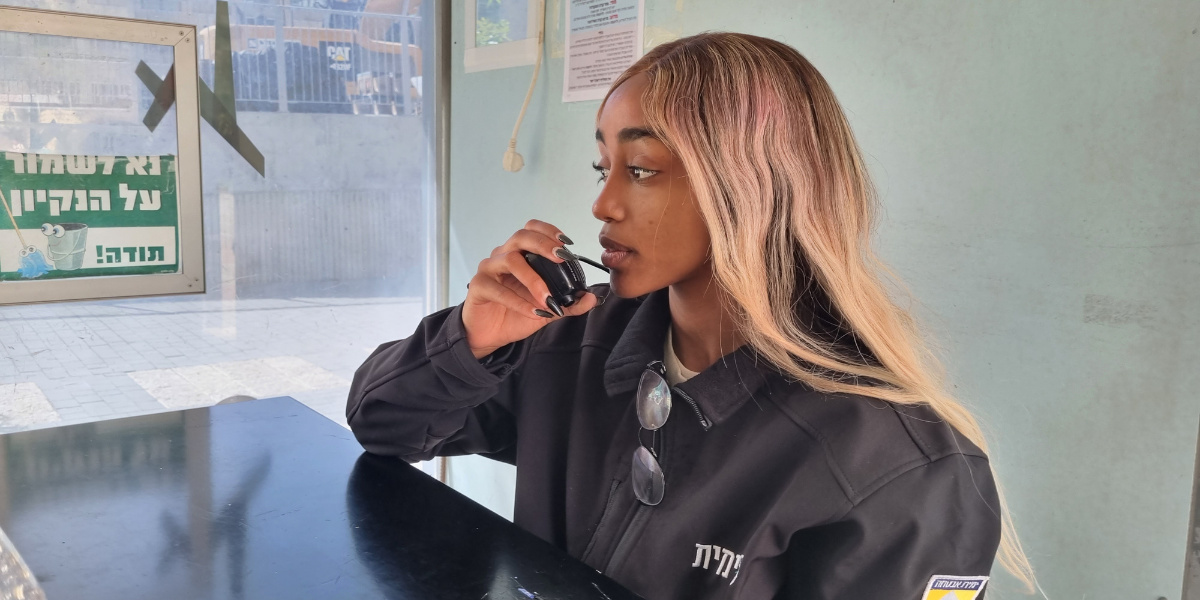 Eyal Kashi pulls brass knuckles, knives and what appear to be two guns from his desk drawer in his office at Hadassah Hospital Ein Kerem. While the latter two are replicas—one shoots tear gas and the other is a cigarette lighter—Kashi and his team have confiscated these potential weapons from men and women attempting to sneak them past security checkpoints.
Kashi is the head of Bitachon, or security, at Hadassah Ein Kerem, where it is his team's responsibility to protect staff and patients as well as secure the hospital, its equipment and campus.
About 30,000 people a day pass over the thresholds of the Hadassah Medical Organization's two Jerusalem campuses, in Ein Kerem and on Mount Scopus. The vast majority have come to heal or be healed, to visit the sick or celebrate the birth of a new family member.
Kashi and his counterpart Roi Bardea at Hadassah Hospital Mount Scopus are charged with stopping the relatively small percentage of people who enter to do harm.
HMO security is responsible for managing the crowds that arrive at the hospitals, overseeing media events and press visits and patrolling the busy hallways, parking lots and hospital grounds. They also must act as buffers between anxious or hostile patients and hospital staff.
Tall and lanky, Kashi, 44, projects hyper-alertness softened by a boyish smile. He stresses to his nearly 100-member security team that they are safeguarding a hospital, not a shopping mall. His message: "Patients and their loved ones are rushing to emergencies, anxious about procedures, waiting for diagnoses. Everything you do needs to be tempered with compassion."
Pinned to a bulletin board on a wall behind his desk is a roster of his security deputies in charge of a rotating list of departments and security personnel. A mix of Israeli Jews and Druze, all have served as officers in the Israel Defense Forces. Kashi has quipped that he heads the most highly educated cadre of guards in the world; among them are physicians-to-be, budding engineers and graduate students in sciences and humanities. All, he said, are trained to evaluate a tense situation with intelligence and nuance.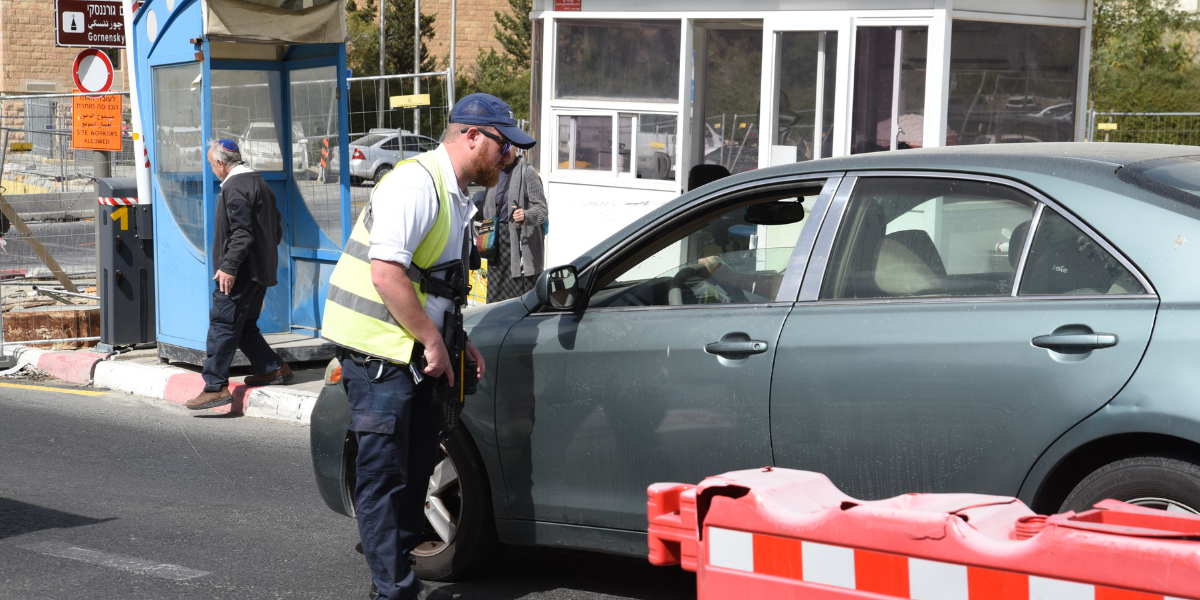 In addition to this internal team, HMO hires an outside security company with a mix of Jewish and Arab guards, men and women. There are also small police stations and an around-the-clock police presence at both the Ein Kerem and Mount Scopus campuses.
"We're all dedicated to the same thing: Keeping Hadassah Hospital safe," Kashi said.
The challenges are profound. Greater Jerusalem is about 61 percent Jewish and 39 percent Arab, a ratio represented in both patients and staff. The daily mix of Israeli and Palestinian patients and staff includes every political opinion, although Hadassah's motto, said Director-General Dr. Yoram Weiss, is "check your political opinions at the door."
The Mount Scopus campus is bordered by the Palestinian village of Isawiya, a site of frequent civil disturbances that can spill over to campus grounds. At Ein Kerem, helicopters frequently land on one of the two helipads, carrying wounded soldiers and visiting celebrities or international politicians.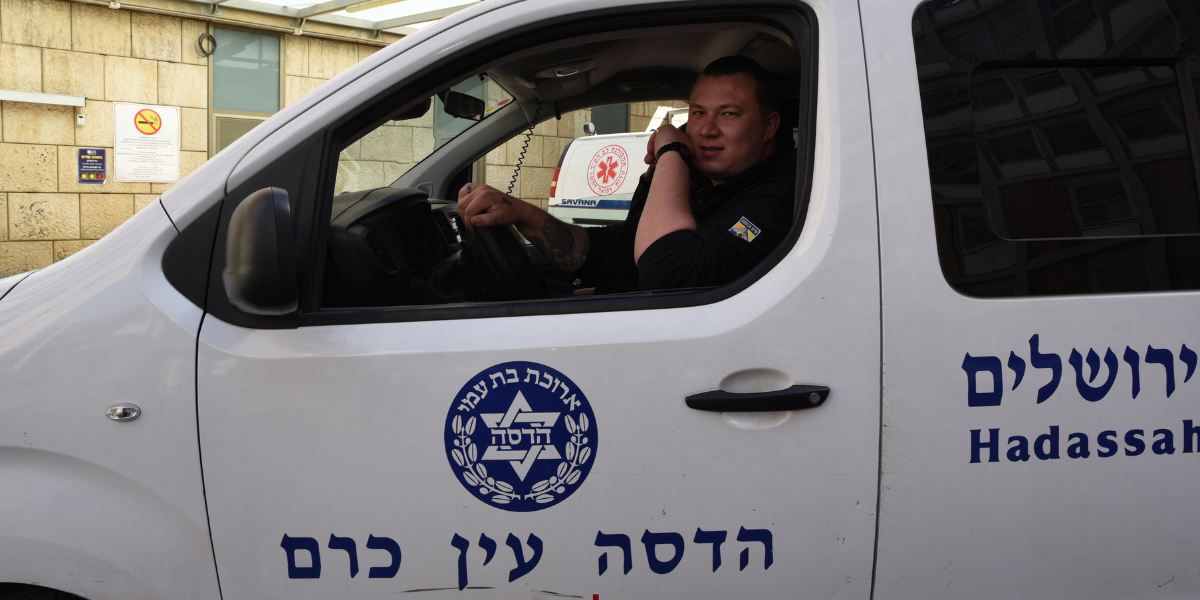 Over the past year and a half, greater attention to the number of disruptive incidents at Israeli hospitals and clinics, including assaults on medical personnel, has resulted in increased security vigilance at major medical centers. According to the Israel Medical Association, in 2022, hospitals throughout the country experienced more than 100 cases of physical assault and 2,000 reports of verbal abuse, threats or damage to personal property. Among the events was an incident at Hadassah Mount Scopus in May 2022 in which the family of a patient who had been declared dead attacked staff and destroyed equipment.
For Kashi and his team, who rotate onsite 24/7, the security day begins at dawn with a circling of the periphery of the hospital, when they look for anything out of the ordinary—a door left open or an abandoned backpack, for instance.
People arrive around the clock and are screened by security with magnetometers. In the hospital, many patients have metal screws and plates from orthopedic procedures. Then there are the construction workers renovating the 1960s-era Round Building who wear steel-toed boots, which set off a warning alarm in the magnetometers. How can everyone be checked?
"We see the person in front of us," said Kashi, who usually arrives at Ein Kerem before 7 a.m., "talk to him or her and, if necessary, take them to a special booth that identifies where the ringing is coming from. That's why we need such a sensitive and professional staff."
Crowd management remains one of the most difficult duties for Kashi's team, and he strategically places his staff in critical locations throughout the hospital.
In tiny Israel, news travels fast. Whether there is a terrorist incident, a building collapse or a multi-car collision, friends and families rush to the emergency department for firsthand information.
---
Hadassah on Call
Decode today's developments in health and medicine, from new treatments to tips on staying healthy, with the Hadassah On Call podcast. In each episode, journalist Maayan Hoffman, a third-generation Hadassah member, interviews one of the Hadassah Medical Organization's top doctors, nurses or medical innovators. Upcoming episodes will discuss nutrition and diet and the connection between asthma and sleep. Catch up on recent episodes, including a discussion about Crohn's disease with Hadassah gastroenterologists Drs. Ari Benson and Zev Davidovics. Subscribe and share your comments at hadassah.org/hadassahoncall or wherever you listen to podcasts.
---
Patient rooms are potential sites of conflict as large families come at all hours bringing homemade food, flowers and balloons, despite hospital restrictions on visitor numbers and hours. When the situation gets too unuly, the security team is called to intervene.
"The good news is that everyone feels at home in our hospitals," said Kashi, "but they can also feel a little too much at home and ignore the rules."
Yossi Millstein, 32, a medical student and one of Kashi's deputies, deals with extended families in the wards. "We'll often get 40 to 50 family members and neighbors visiting one patient," said Millstein, who has been part of Kashi's crew for several years. "We seek a person of authority among them and make sure to speak in their language," whether it is Hebrew, Arabic, Yiddish, Russian or English.
If the patient is the rabbi of an ultra-Orthodox sect, the crowds get even bigger. (When the late Rabbi Ovadia Yosef, spiritual leader of the Shas Party, was hospitalized in 2013, thousands gathered both within and around the Ein Kerem campus.) "We enlist the most senior rabbinical figure to help us make order by limiting the numbers in the hallways and keeping the noise down," explained Millstein, who like the rest of the guards is armed while on duty at the hospital.
Sometimes security is forced to restrain someone, which requires the help of more than one guard, or must escort someone out of the hospital. But, said Millstein, "if I have to use force, then I've failed."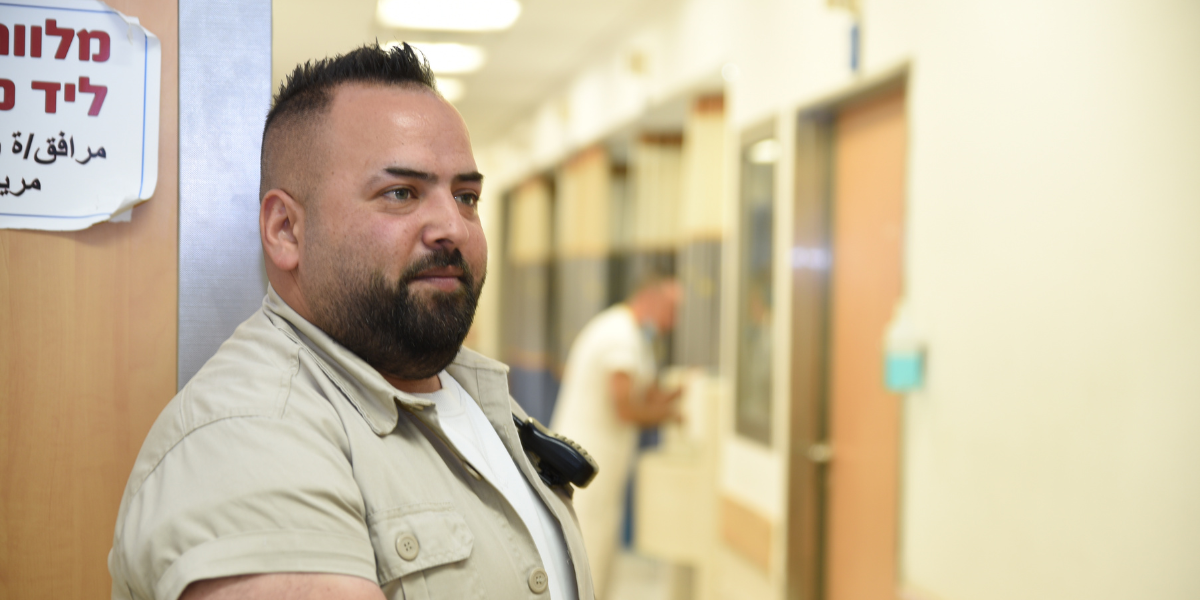 The emergency room is another possible setting for escalating tensions, even violence. Nearly every day, the security team is called on to diffuse heated situations, according to Alaa Abu Roukp, a 32-year-old security guard often stationed in the Ein Kerem emergency department. Scared patients can speak to nurses in an angry way, he explained. The guards step in and talk to the patient, allowing the nurse to take a moment to back away from the confrontation.
Abu Roukp often teams up with colleague Eliav Ben Yair. Recently, the two prevented a man from committing suicide.
"A man was treated in our emergency room and sent home," said Abu Roukp. "When he left, we heard him say he was going to kill himself. We followed him at a distance and saw him climb up on a railing near the campus hillside mall. We raced toward him. Each of us grabbed one of his arms and caught him as he jumped."
The man was then admitted to the psychiatric ward.
The incident was not out of the ordinary. Roughly once a month, Kashi reports, a distraught patient attempts suicide by jumping from either a rooftop or window.
Kashi himself is a local, having grown up on the campus of the pastoral Ein Kerem Agricultural School, a residential high school minutes away from Hadassah Ein Kerem. His Iraqi-born dad was the principal and his mother, the housemother.
After serving in an IDF unit that specialized in dismantling bombs, Kashi attended Hadassah Academic College, studying information systems management. During that time, he applied to join HMO's security team on a part-time basis. The job quickly evolved into both a career and a passion. His wife, Natalie, and their four children, he said, have grown accustomed to his being on call every day, including Yom Kippur.
"Part of the job," he said with a shrug.
Over the course of his career, he has dealt with several mass casualty events. The first was the collapse of the third floor of the Versailles Wedding Hall in Jerusalem in May 2001. The incident resulted in the deaths of 23 people and injuries to another 380, including the bride.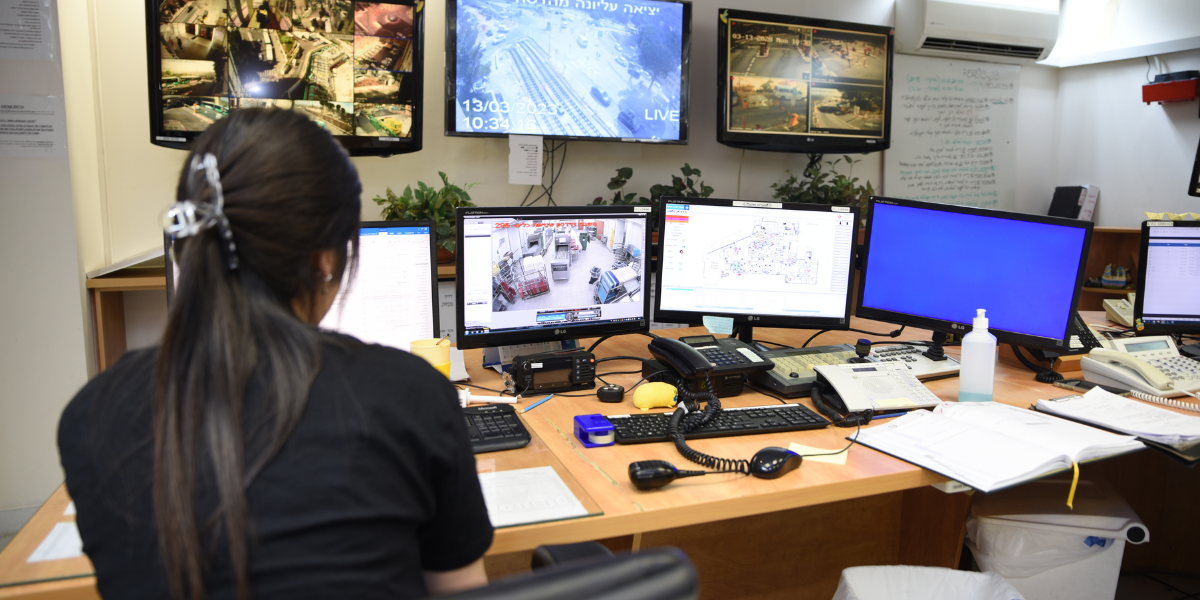 Additional emergency areas needed to be opened and protected at the hospital—including in the lobby of the building that is now the Charlotte E. Bloomberg Mother and Child Center—as hundreds, including members of the press and officials, followed the ambulances to the campus.
"The first step was to create a sterile area separating onlookers and press from the patients," recalled Kashi.
In the case of mass casualties after a terror attack, his team receives support from both the police and intelligence from the Shin Bet, Israel's security agency. These incidents pose an added complexity as the terrorist might be among the injured being treated at the hospital.
Indeed, Hadassah has many times faced the challenge of treating terrorists, who must be kept under constant surveillance. The same is true for criminals who arrive from Israel's prisons.
"We are trained to treat these patients professionally without expressing anger or sympathy," explained Kashi.
Because the security team often arrives first in an emergency, dispatched by spotters who monitor CCTV cameras discreetly placed throughout the hospital, they have even played a role in medical interventions. For example, Abu Roukp and Ben Yair recently delivered a baby in a car in the Ein Kerem parking lot.
"We went to get the mom in our security ambulance, and she started shouting that the baby's head was out," recalled Ben Yair, 26. "She was right. We delivered the baby. The grandmother"—who had driven her laboring daughter to the hospital—"started asking, 'Boy or girl?' and only then did we look and say 'girl.' "
Amid the mazel tovs, the two brought mother and baby to the maternity ward for further care.
During the height of the coronavirus pandemic lockdowns, security was increased. Kashi's team had to make sure that each arriving patient was accompanied to the specially designated internal medicine departments and intensive care units, all of which had strict no-entry policies for relatives.
"Israelis hated seeing their family member being taken away without them," said Kashi. "Our job was to supply TLC and reassurance—not part of every security officer's job description. But it is in ours at Hadassah."
---
Barbara Sofer, an award-winning journalist and author, is Israel director of public relations for Hadassah, The Women's Zionist Organization of America.