Barbie, Taylor, Margaret and Me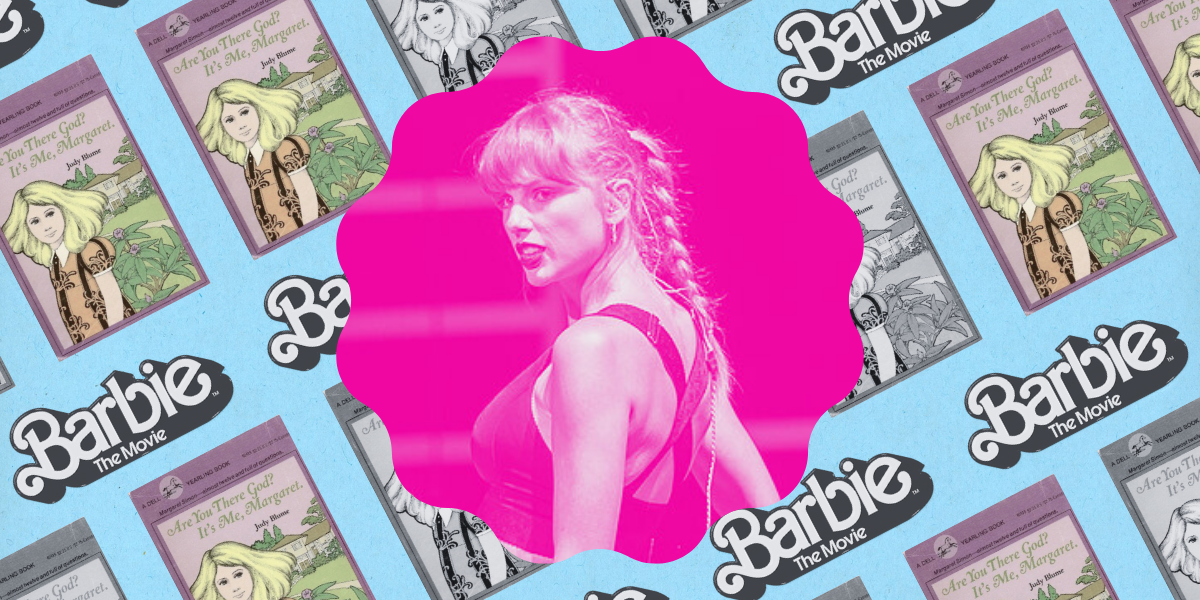 This summer I experienced three seismic pop cultural events in the space of one week. And I'm not just talking about the "Swift Quake," though I felt that, too (more about that later).
In a feat of stunning cosmic coincidence not witnessed since the total solar eclipse of 2017, over the span of seven summer days I viewed Barbie in a movie theater; attended one of Taylor Swift's record-setting shows at Seattle's Lumen Field; and rented the film adaptation of Judy Blume's Are You There God? It's Me, Margaret to watch by myself. It felt like a lifetime's worth of ruminating about girlhood, feminism, mothering, identity and the color pink all compressed into one astonishing multimedia fever dream.
Since the Margaret movie appeared in late April, the discourse, as it's known, has had a lot to say about all three of these happenings. I am not overestimating when I say that I have consumed literally dozens of think-pieces cataloguing the feminine contents and discontents raised by these different cultural moments. No sooner had I sworn not to read another provocative analysis of Barbie, Taylor or Margaret than a friend would post a new article or meme, sending me back down the rabbit hole of wondering what it all means for people who identify as women.
Of course, there has also been a plethora of Jewish takes on the above. By now we've all heard about Barbie's Jewish roots, both through the doll's creator, Ruth Handler, and through the movie's formidable director, Greta Gerwig, who is herself not Jewish but has spoken about the warmth she felt attending Shabbat dinners at friends' houses growing up, a feeling she tried to replicate for her film's audiences.
While not a lodestar of explicitly Jewish content, Taylor Swift's Eras tour has included the strongly Jewish-identified rock trio Haim as an opening act. In addition, the post-performance amnesia reported by Swift fans has been compared, by the Forward's Mira Fox, to the type of memory loss described in the Talmud. Fox's argument? If your religion is Taylor Swift, the post-concert daze can feel like the aftermath of an epiphany. ("Epiphany," as it happens, is also the title of a track on Folklore, one of Swift's excellent pandemic albums).
Yet I come not to quibble about the particularistic Judaic links to major pop cultural events; I come to reflect on the conversation they have prompted with my friends, many of whom are Jewish mothers, and inevitably with myself. Why? Because each of these things has brought me face-to-face with a former incarnation of my girlhood and prompted me to wonder who, exactly, I am now.
Like many other parents, I took my kids to see Taylor Swift on her "Eras" tour this summer. Embracing my 40-something mom status, I dressed in compression socks and sensible shoes, the better to climb the many stairs leading to our perch high up in the stadium rafters. My comfy concert lewk was a far cry from the array of sequins, feathers, cowboy boots, ballgowns and seriously inventive creations assembled by the young Swifties who packed the arena. However, when my 14-year-old handed me a few of the beaded bracelets that he had made—at every show, fans are trading thousands of friendship bracelets encoded with lyrics and colors—I instantly felt a little more "bejeweled," to namecheck another Swift song.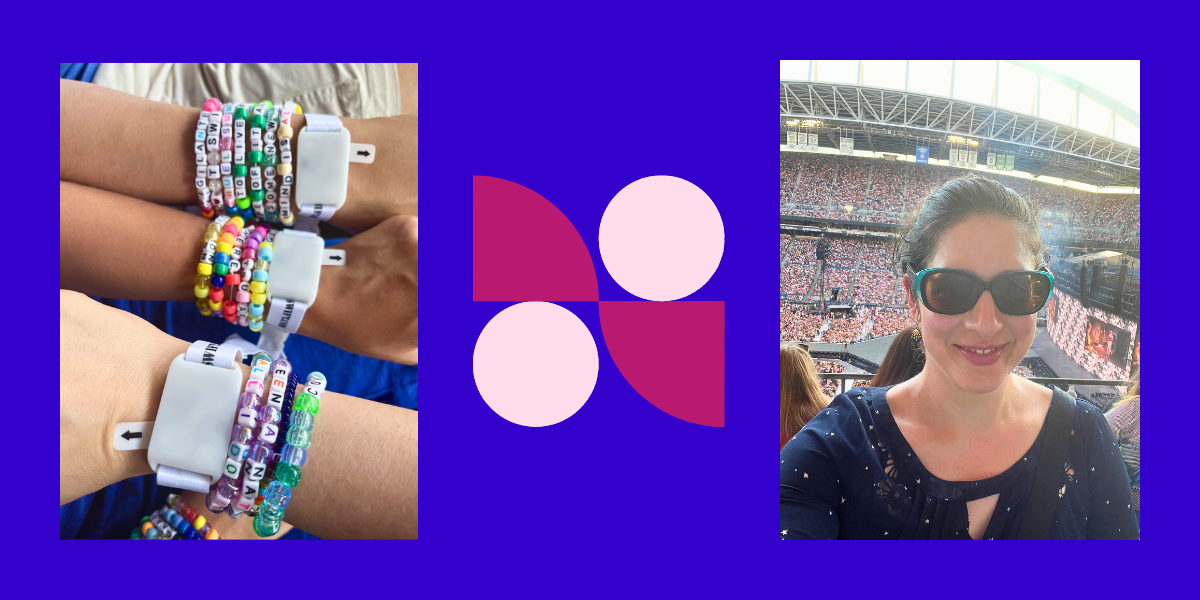 Watching the pop superstar display her full range of songwriting powers over nearly four hours, I found myself in awe of Swift's ability to stitch her catalogue, much of it famously autobiographical, into a narrative of artistic and personal growth. The night was epic, but the story of girlhood on display was thrillingly intimate. Despite the mesmerizing production, I found myself at times turning to simply watch my kids watching her. I couldn't avoid the parental awareness that this would be a core memory for them; their first stadium concert, their first time singing alongside 72,000 other people, their first time seeing the night sky lit up by cellphone flashlights held up in tribute to Swift's Grandmother during the performance of her song, "Marjorie."
Don't worry, I didn't spend the whole show musing about future memories. I, too, sang, danced and joined the crowd in "shaking it off," collectively jumping so hard that a 2.3-magnitude earthquake was registered in the area.
Barbie felt like an earthquake of a different kind. I showed up at a Seattle theater for a weekday afternoon matinee wearing a pink sweater set and evil eye jewelry—I called myself "Sephardi Barbie"—and feeling ready to see some gender norms subverted. I did not expect the swell of genuine emotion and theological searching that Gerwig's interpretation would provoke. I suppose I was surprised because my dolls of choice growing up were a redheaded Raggedy Ann and a brunette mother-daughter pair that my mother's friend had sewn. The girls across the street, though, owned a Barbie Dreamhouse with all the trimmings, and my sister and I thought that it was spectacular.
It turns out you don't need to have owned a Barbie—or identify as a woman—to be moved by this movie. Gerwig's masterful take ended up being a "both-and" experience for me. I recalled being a girl in thrall to the doll's original appeal while also staying mindful of being a middle-aged mom with a young daughter (still too young to see the movie) and a few thoughts about women's often perilous status in the world today.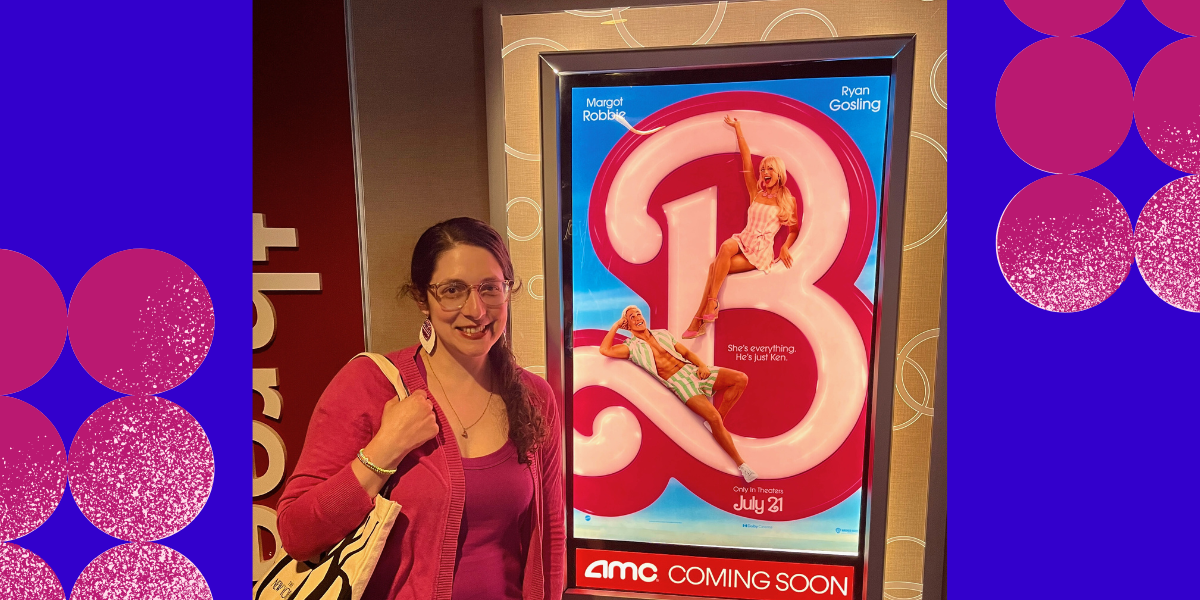 When America Ferrera's character, Gloria, delivers her instant-classic monologue toward the end of the movie, I silently co-signed each frustrating societal double standard that she pointed out. Yes, and yes, and yes. Who knew that a candy-colored exercise in corporate irony could make me feel so much? Exiting into the theater lobby afterward, I locked eyes with an older woman wearing dangly pink earrings. She felt it, too.
Of the three women-centered performances that I experienced over the past week, Are You There God? It's Me, Margaret. is the one I felt closest to initially, perhaps because I first encountered the book as an adolescent. I missed the film adaptation's theater run in the spring; a group of mom friends wanted to all go together, but we couldn't sync our schedules to find the right time. (See above, "feminine discontents.") Watching the story unfold on my laptop at home, I could feel waves of nostalgia crashing over me. I remembered the experience of reading the book and the experience of being the age depicted in the book. I remembered all the other Judy Blume novels I read around the same time, and the feeling that she was granting me access to a world that was new and challenging but also exciting.
My friends and I rejoiced that our beloved Judy Blume was having a moment. Women of a certain age, and especially Jewish women of a certain age, feel seen by the movie. It's true that Blume's novel and life offer overt Jewish connections, but her books have been rightly recognized for articulating universal truths. She also, as Reader's Digest points out, has written books for every stage of life.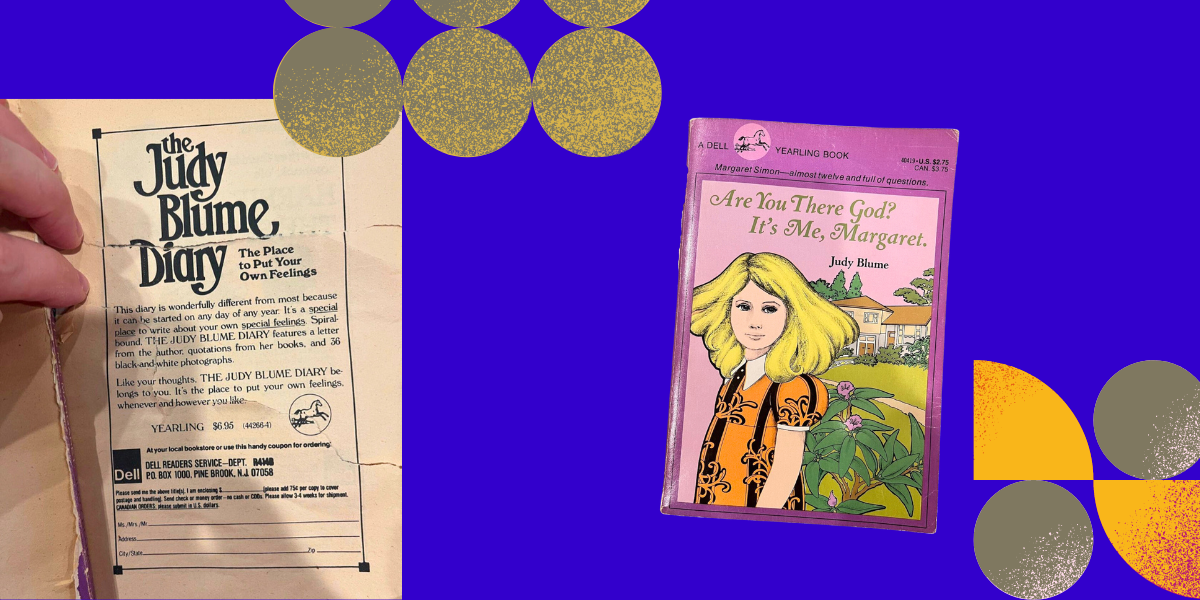 Viewing Taylor, Barbie and Margaret in one week made me face some truths of my own. I am now the parent who takes tween and teenaged kids to a concert. I am now the woman who can laugh ruefully at jokes about patriarchy's power. I am now the reader who wonders how 30 years could possibly have passed since encountering a certain book. I am still the girl who preceded all these identities, wondering who I'm going to be when I finally grow up.
And it turned out that the universe had a way of reminding me about this, too. I recently visited my parents' house in Virginia, part of an annual summer tradition that got interrupted by the pandemic but that this year, thankfully, resumed. As usual, I undertook the ritual of going through items in my childhood room to identify things to be donated or shipped to Seattle. Rifling through my old bookcase, I found my fingers resting on a paperback copy of Blume's groundbreaking novel, a Dell-Yearling edition published in 1970 with a cover showing a blonde girl in a yellow dress against a background of purples and greens. It cost $2.75 and came with a back page cut-out order form for The Judy Blume Diary: The Place to Put Your Own Feelings.
Brushing my fingertips on the book's spine conjured a universe of longing and shame. I shared photos of the cover and order form on my Instagram page. Another Seattle Jewish mom immediately texted me a photo of the same exact book cover. She was in New Jersey visiting her parents' house, and Margaret was sitting on a shelf waiting patiently for her, too.
Waiting, as the selves from all our previous eras do, to be rediscovered, so that they can remind us of our history and propel us forward, bravely, toward our next evolution.
---
Hannah S. Pressman is currently at work on Galante's Daughter, a memoir connecting her Sephardi family history to explorations of American Jewish identity. She is also the director of education and engagement at the HUC-JIR Jewish Language Project. She lives in Seattle with her husband and three children.