Between Alienation and Acceptance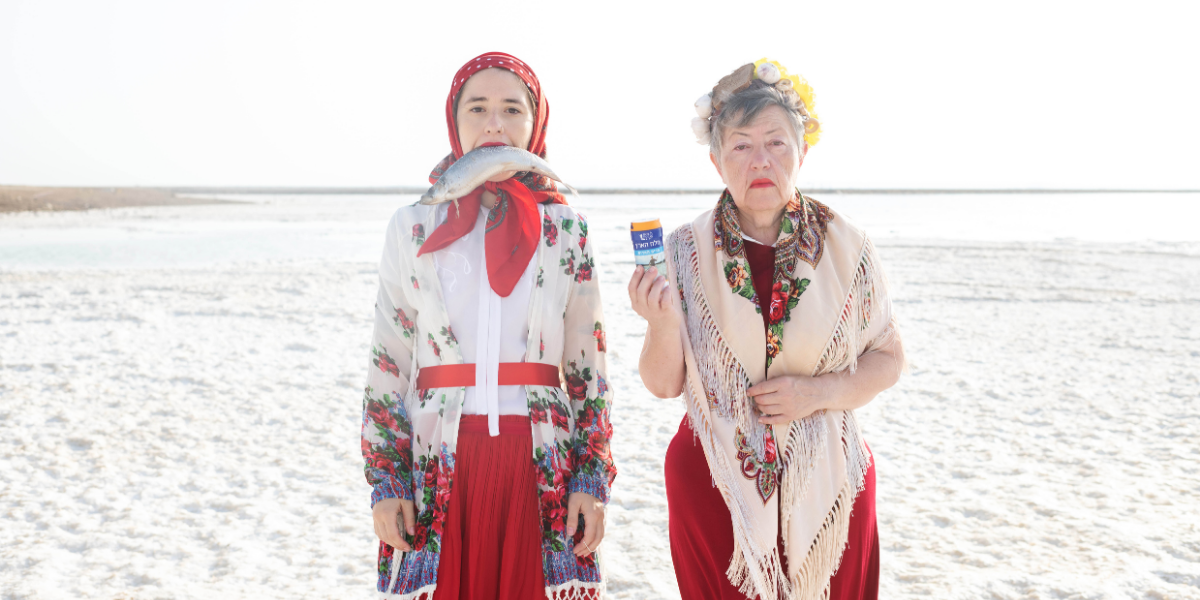 The fish that Tali Ratzker is holding in her mouth in the photograph Dead Sea is clearly out of water, and, in many ways, so is the Ukrainian-born photographer herself.
In the image, Ratzker wears traditional Ukrainian clothes—colorful garb she remembers from her childhood in the city of Mariupol—and stands on the shores of the Dead Sea. The body of water has such high salinity that it's largely uninhabitable, even to the herring clenched between her teeth. Her mother, Ella, stands beside her wearing a crown strewn with bulbs of garlic and rye bread. She is handing her daughter a salt container of Melech Ha'aretz, salt of the earth, a brand found in most Israeli homes.
While Ratzker and her mom are unmistakably posing in Israel, they are just as obviously plucked from elsewhere—women removed from their native home and unsure how to thrive in their new environment.
This acerbic image is part of Ratzker's ongoing series of self-portraits—many of them taken with her mother—called "Potatoes in Uniform," after a beloved Soviet dish in which potatoes are cooked with their skins. She started the series, available to view on her Instagram page, in 2021 to describe the tension between her Ukrainian and Israeli identities.
"The connection between the cultural place of my origins and the ethnic place where I grew up and its combination with Israeli culture interests me very much," said Ratzker, who made aliyah with her mother in 2000, at age 12, and now lives in the central Israeli town of Shoham.
Although Ratzker is a relative newcomer to the arts scene, she is part of a cohort of Israeli female artists born in the former Soviet Union (FSU) that includes fellow photographer Vera Vladimirsky and acclaimed painters Zoya Cherkassky and Anna Lukashevsky. All in their 30s and 40s, these artists are fusing their FSU backgrounds with their Israeli identities in their artistic endeavors, exploring themes of alienation and acceptance, birthplace and adopted homeland. Since Russia's invasion of Ukraine in February 2022, their artworks have gained greater attention in Israel through museum exhibits, art festivals and gallery showings.
Indeed, according to Raz Samira, deputy director and chief curator of the Eretz Israel Museum in Tel Aviv, who also curated an exhibit of Vladimirsky's work at the Tel Aviv Museum of Art, "the whole subject of wandering, transitions, has become the hottest subject there is, especially over the past five years—for political reasons, for personal reasons."
This attention represents a coming of age of sorts for the artists, who were part of the large wave of nearly 1 million Soviet émigrés who came to Israel in the 1990s through the early 2000s, the largest influx of immigrants to Israel since the mid-1950s.
For Ratzker, Cherkassky, Lukashevsky and Vladimirsky, their formative experiences are divided between the cities and towns where they spent their early years and the nation where they became adults. They identify with both places but aren't wholly of either.
This split reality is evident in often ironic paintings and drawings by Kyiv-born Cherkassky, who lives in Ramat Gan. In one, titled We Eat Russian Lard, a counter displays deli meats right next to cheeses, all labeled in Russian alongside slightly smaller text in Hebrew and prices in shekels. This piece, along with others capturing her recollections of Kyiv and transition from Ukraine to Israel, was featured in a 2018 solo exhibition at the Israel Museum, titled "Pravda" (truth, in Russian).
Lukashevsky, who lives in Haifa and was born in Vilnius, Lithuania, is known for her nuanced portraits. Her oil-on-canvas series "Soviet Haifa," displayed at the Museum of Bat Yam in a major 2016 group show, "The Kids Want Communism," depicts FSU immigrants looking out of place in classic Israeli settings. The painting In the Market, for example, shows a woman in a brown cardigan, too warm for the Israeli climate, shopping for lemons at a shuk. The artist is currently working on a new series of portraits of immigrants and refugees to Israel. Both Cherkassky and Lukashevsky's works can be seen on their social media pages and through the Rosenfeld Gallery in Tel Aviv.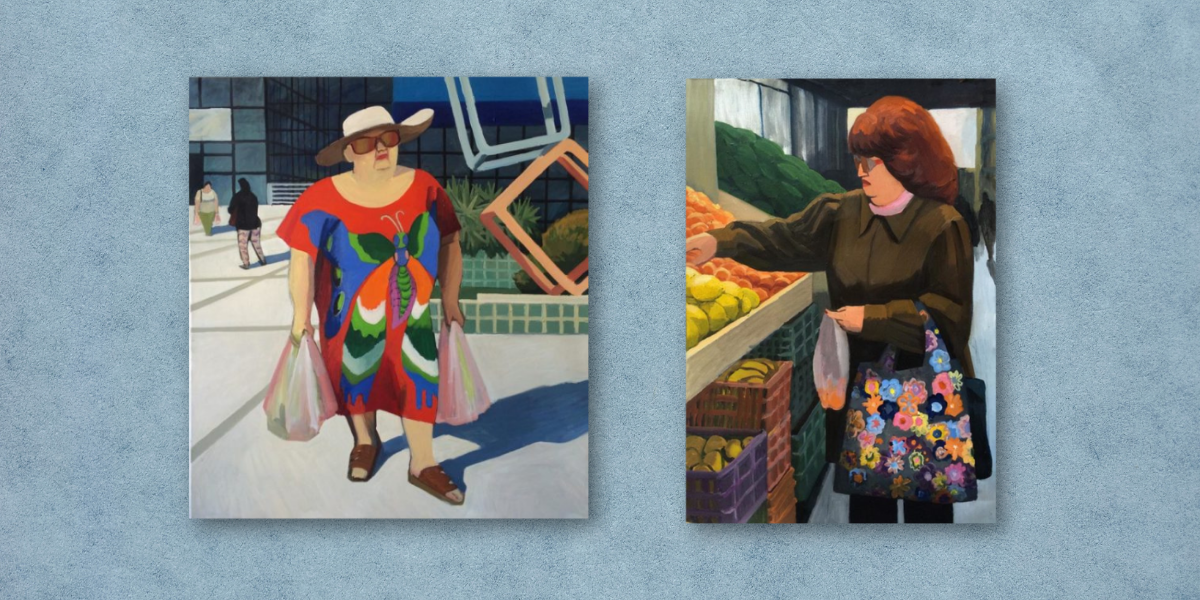 The palpable humor in Cherkassky's paintings is also present in an untitled 2022 photograph by Ratzker from "Potatoes in Uniform." The image shows Ratzker, once again in ornate Ukrainian dress, behind a row of pita bread hung from a laundry line, reminiscent of the way she had seen laundry strung outside apartment buildings in Mariupol. However, this laundry line is placed between two trees in a field, adding a note of surrealism.
Ratzker had not realized that she had attached the line to an iconic Israeli tree, the eucalyptus, until after the photo was displayed at the annual PHOTO IS:RAEL festival last winter, along with other pieces from her series. "People came up to me and said, 'What a wonderful thought, you photographed yourself in this traditional dress in such an Israeli field,' " recalled Ratzker. "And I had no idea."
The photographic meditations on memories and the immigrant experience by Tel Aviv-based Vera Vladimirsky focus not on individuals but on objects, including buildings and apartments. Yet like Ratzker, her work has a surreal touch. She merges photographs she has taken in different spaces into photo collages, sometimes printing an image then re-photographing it in another place.
The collages are both disorienting and captivating, creating optical illusions that offer glimpses into many places at once. The artworks reflect the disorientation that the artist said she experienced after leaving her native Kharkiv, Ukraine, in 1991 at the age of 7.
This is especially true in her series "The Last Apartment," eight collages that combine images from 25 different places she once called home that she later re-photographed in her current apartment. In one image from the series, for example, a seemingly typical Israeli kitchen includes a cabinet and countertop that, upon closer look, is the entrance to a building.
"I explored my personal biography by returning to all the apartments in which I lived throughout my life and photographed them as they were occupied by other people," Vladimirsky said. In the collages, the distinctions between her past and present are flattened. Some of her images are like a child's dollhouse, with mismatched couches, balconies and floors all squeezed into one space.
Vladimirsky is the recipient of the 2021 Lauren and Mitchel Presser Photography Award for Young Israeli Artist, which included a recent solo exhibition, "Sand Wall," at the Tel Aviv Museum of Art.
The exhibition was already in the planning stages when Russia invaded Ukraine. The outbreak of war, however, inspired a new series, "Surface and the Deepest Depths," in which Vladimirsky merges photos she took of the interior of her grandmother's home in Ukraine's Donbas region during visits in 2012 and 2015. The series was put together after her grandmother had fled "and the house was abandoned. Its condition is unknown," she said. It was "a way to encounter the house again and my childhood memories, while simultaneously saying goodbye to it."
While the war added urgency to Vladimirsky's Tel Aviv exhibit, Raz Samira, the show's curator, believes that her works have a universal and timeless quality. "Even someone whose parents made aliyah in the 1950s can relate to this subject matter," she said. "We are a country of immigrants."
Ratzker has had a similar response to her photographs from both native Israelis and immigrants. "Many people could relate—even if they didn't make aliyah in the last 20 years," she said. "I really hope that we all continue to tell this story."
---
Karen Chernick is an art historian and writer living in Tel Aviv who specializes in arts, culture, food and travel.