Compelling Jewish Reads to Kick off the New Year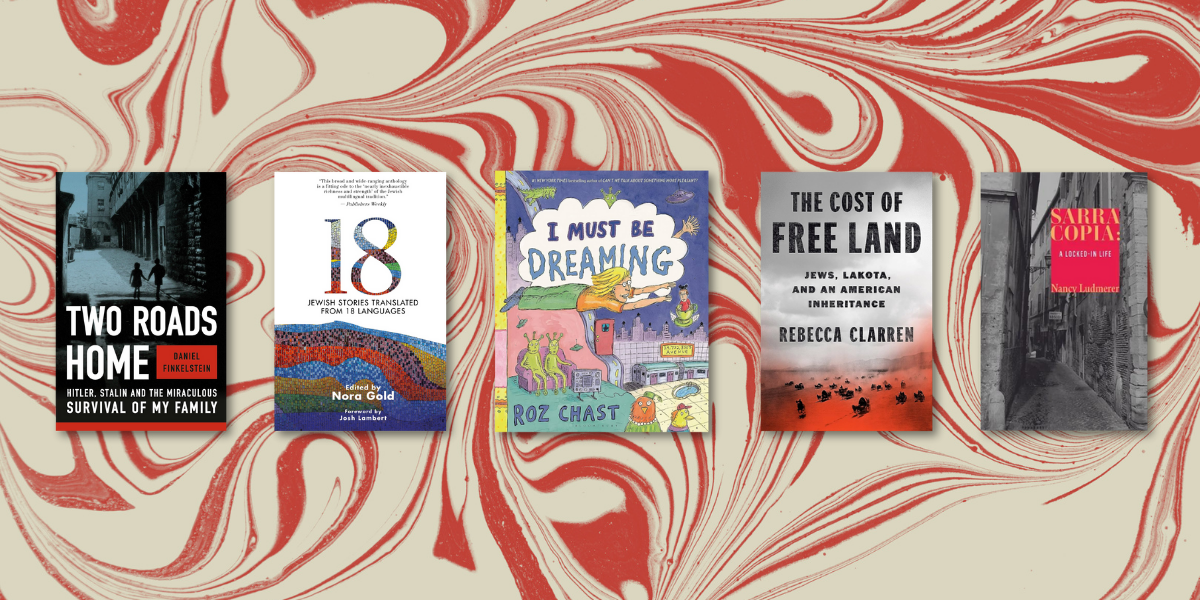 Sarra Copia: A Locked-in Life
by Nancy Ludmerer (WTAW Press)
In this novella, Ludmerer captures the voice and deep intellect of Sarra Copia, a 17th century Jewish woman living in the confines of the Venice Ghetto. Locked inside the gates every evening, Sarra finds intellectual freedom in following her own mind, leading salons that include Christians, writing poetry and corresponding with others beyond the ghetto walls. The author was inspired to write a story based on the real-life Sarra after discovering her tombstone in the Jewish cemetery on the Lido.
18: Jewish Stories Translated from 18 Languages
edited by Nora Gold (Cherry Orchard Books)
For Gold, the founding editor of JewishFiction.net, a Jewish story is one that expresses Jewish identity in some dimension and relates to the Jewish experience. Here, she assembles 18 stories and novel excerpts translated from Hungarian, Croatian, Hebrew, Yiddish, Portuguese, Greek, Danish and other languages and publishes them in English for the first time. The backgrounds of the contributors vary widely (some stories, like those of Elie Wiesel and S.Y. Agnon, are published posthumously) and so do the stories' content and styles.
I Must Be Dreaming
by Roz Chast (Bloomsbury)
In her signature style, best-selling author and New Yorker cartoonist Chast takes on the mystery of dreams. All her life, she writes, she has wondered about "this mishmash of stuff that projected itself inside my head like my own weird theater." She's funny, whimsical and poignant as she draws, in full color, recurring dreams of high school ("not this again"), celebrity cameos, dentist dreams, nocturnal cartoon ideas, nightmares and more and ponders the interpretations of Freud and others.
The Cost of Free Land: Jews, Lakota, and an American Inheritance
by Rebecca Clarren (Viking)
An award-winning journalist specializing in the American West, Clarren does extensive research on the tangled connections between the Lakota Nation and immigrant Jews who settled in the West, including her own great-great-grandparents. Her ancestors, who fled antisemitism in Russia at the turn of the 20th century, had a homestead in South Dakota. Their immigrant success story was staged on what had been Lakota land, taken by the American government. Clarren has much empathy for the Lakota and their legacy of loss—of land, culture and resources—and has much to say about Jewish responsibility, atonement and justice.
Two Roads Home: Hitler, Stalin, and the Miraculous Survival of My Family
by Daniel Finkelstein (Doubleday)
A weekly political columnist for The Times, a British daily, Finkelstein unfolds the dramatic and compelling stories of his mother and father and their experience of persecution—including concentration camps and the gulag—resistance and survival in World War II. Theirs are multi-layered stories of transcendence of unspeakable horrors. This is both an intimate family story and a historical account, beautifully told.
---
Sandee Brawarsky is a longtime columnist in the Jewish book world as well as an award-winning journalist, editor and author of several books, most recently of 212 Views of Central Park: Experiencing New York City's Jewel From Every Angle.