Broadway's Julie Benko Encapsulates Jewish Life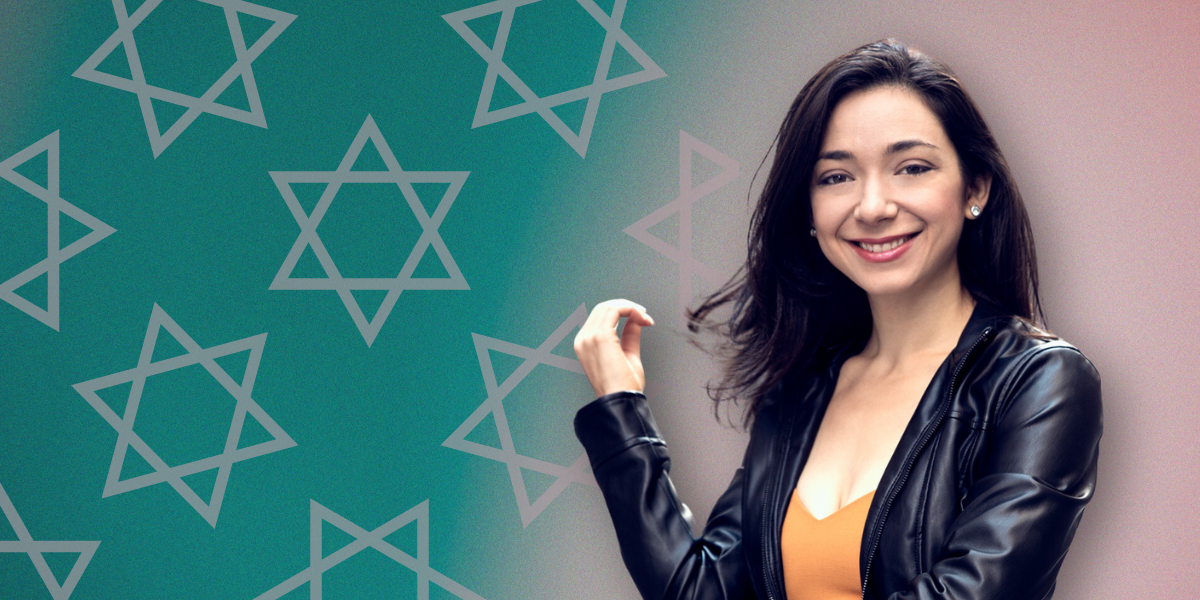 Actress and musician Julie Benko is making a name for herself on the Great White Way. In 2022, she played Fanny Brice briefly in the Broadway revival of Funny Girl after Beanie Feldstein left the role, for which The New York Times called her a "2022 breakout star." Starting in November, the 34-year-old will portray another Jewish woman on Broadway in Harmony, based on the true story of the Comedian Harmonists, a popular singing ensemble in Weimar Germany. Benko plays Ruth, the Jewish wife of Chopin Bootz, a non-Jewish singer in the group. This interview has been edited for brevity and clarity.
Concerns around "authenticity," when non-Jewish actors are cast in Jewish roles, have emerged in recent years. What is it like for you, playing a Jewish character as a Jew?
Authenticity in casting is tricky nowadays, and I really appreciate it when the effort is made. It's a complex, nuanced issue, and there isn't a blanket response.
A friend of mine said there is the "joy" and the "oy." As Fanny, I got to play an iconic Jewish character that had nothing to do with the Holocaust, and that was "joy." It was a gift to play the "joy." Now I am doing more of the "oy."
I am honored to get to encapsulate Jewish life on stage. Fanny and Ruth are two different women who lived at the exact same time in different countries with completely different views on life.
---
Watch Julie Benko and a gathering of Broadway stars perform a rendition of Bring Him Home from Les Miserables, to draw attention to the more than 200 people abducted and taken hostage by Hamas:
---
What has it been like working with Barry Manilow, Bruce Sussman and choreographer Warren Carlyle?
It was a joyous experience. Truly a theater collaboration. Warren would take my ideas and humor me. And we had a lot of fun discovering and playing together. I got to record the cast album, and Barry, being a great musician, was particular about it. I worked hard!
Tell us more about Ruth.
She's an amalgamation of different characters. Chopin's real wife was named Ursula. Ruth is a Bolshevik activist; Ursula Bootz was not political, though she was Jewish. I tracked her daughter down. The name "Ruth" comes from a Holocaust survivor that Bruce [Sussman] knew personally. She is a composite character, and that's a little freeing as an actor; I get to do more of what I want.
Female Jewish stories have been lost to history, but Jewish women were a huge force of resistance in Nazi-occupied countries because they could hide their Jewish background (more easily than men, who were circumcised).
What are you hoping the audience walks away with?
In Germany, the Comedian Harmonists are known. Outside of Germany, they are not. Most people I talk to, this is their first interaction with the story, and I am excited for people to hear a story that the Nazis tried to silence. Allowing it to live on a Broadway stage—the pinnacle of our profession—is an act of political resistance. It's an act of defiance. It's never been more relevant, as antisemitism is rising in the United States.
What else are you working on?
I will be releasing a holiday album this fall—like all the great Jewish singers before me. It's called Christmas With You and has four songs. I am married to pianist/composer Jason Yeager. He and I have been working on the album. One of the songs is "Tumbalalaika." It's a Ukrainian-Russian-Yiddish folk song and has a nostalgic factor to it. I'm actually learning Yiddish right now on Duolingo.
---
Suzanne Dressler is a freelance writer and podcast host of There's a Word for That!