Parenting, a Task of Biblical Proportions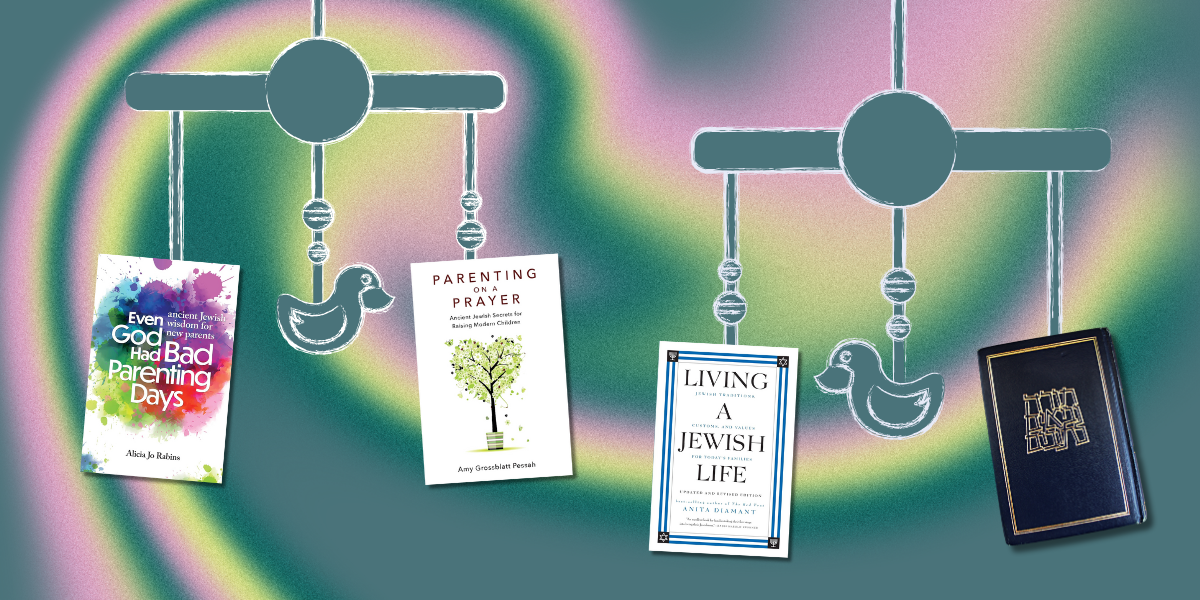 Six weeks after my son was born, I was lugging him to an appointment in an astonishingly heavy car seat, when an elderly woman sidled up to me and whispered, "It's so hard, isn't it?"
Although no woman can predict her path in motherhood, I still wish I'd had a clue about the changes it involved and continues to involve, now that my son is 7. That becoming a mother, especially a Jewish mother, might require a breaking down to rebuild, like growing a muscle or gutting a house.
Thankfully, a couple of recent Jewish books on parenting present the journey as such—one of biblical proportions—even as they suggest we dial down the pressure and consider our own well-being in the process.
Alicia Jo Rabins' Even God Had Bad Parenting Days: Ancient Jewish Wisdom for New Parents and Rabbi Amy Grossblatt Pessah's Parenting on a Prayer: Ancient Jewish Secrets for Raising Modern Children look to sacred texts for guidance and comfort. Anita Diamant's newly revised Living a Jewish Life: Jewish Traditions, Customs, and Values for Today's Families offers meaningful ideas for new family rituals.
The Torah and the Talmud "remind us how little changes over the millennia," Rabins said in an interview, pointing to the rabbinic phrase tza'ar gidul banim, the pain of raising children. In her book, Rabins, who has two children, describes being overwhelmed and struggling with her marriage after the birth of her first child and feeling "so seen" by this almost 2,000-year-old phrase from the Talmud.
Despite the plethora of books on parenting, Rabins, who lives in Portland, Ore., said she hadn't found much about "how it feels to make that transition into becoming a parent." Drawing on her awareness as a poet, musician and Jewish educator, she wrote a collection of micro-essays that seeks to answer the question: "How can our tradition support us through this very sacred and tumultuous time?"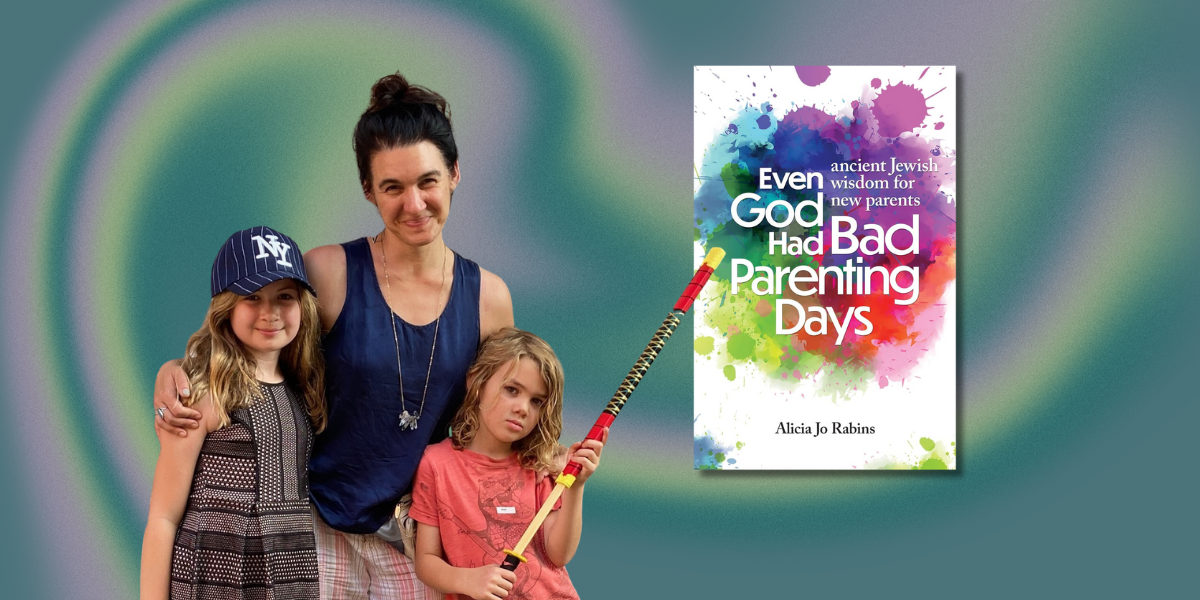 In one example, she relates the midrashic tale of the angel who visits us in the womb and transmits the entire Torah, only to wipe it from our memories with a tap on the mouth before we're born, leaving the indent above our lips called the philtrum. "I love this story because, while our instinct is often to hold on tightly to all we've gained, this legend is about the power of letting go," Rabins writes. "Sometimes, in order to be born, in order to grow, we have to forget the Torah we knew so well."
In her introduction to Parenting on a Prayer, Pessah recalls the same legend to suggest that intuition guides us to that knowledge we had in the womb, urging parents to listen to their internal "GPS," or Great Parenting System.
In 18 chapters, Pessah, a community rabbi in South Florida, links Jewish prayers to lessons in parenting. She explores, through the examples of her own three children, subjects such as empowerment with Mi Chamocha and boundaries with Adon Olam.
But what underlies her book is much the same message conveyed by Rabins—that the central challenge of parenting is letting go.
As her oldest son prepared for college, Pessah describes pulling into a gas station and weeping at the sight of a tanker trailer. Sixteen years earlier, Yossi was a truck-obsessed toddler, and they would stop to watch tankers delivering gas as he peppered her with questions. She consoles herself with the verses of Mi Chamocha, chanted by the Israelites as they fled Egypt, hoping she has empowered her son for his venture.
In a chapter that examines God's omnipresence through the verses of Adon Olam, the morning prayer that describes God as infinite and "without end," Pessah introduces the concept of tzimtzum, Hebrew for contraction. In Jewish mysticism, the term describes the process through which God contracted, withdrawing from the world to make room for humanity. Though Pessah longed to connect with her increasingly distant adolescent daughter, she realized she, too, must contract, to give her daughter space to expand. "During this painful process, I will turn to God as my redeemer and refuge and hope to find solace and comfort," she writes.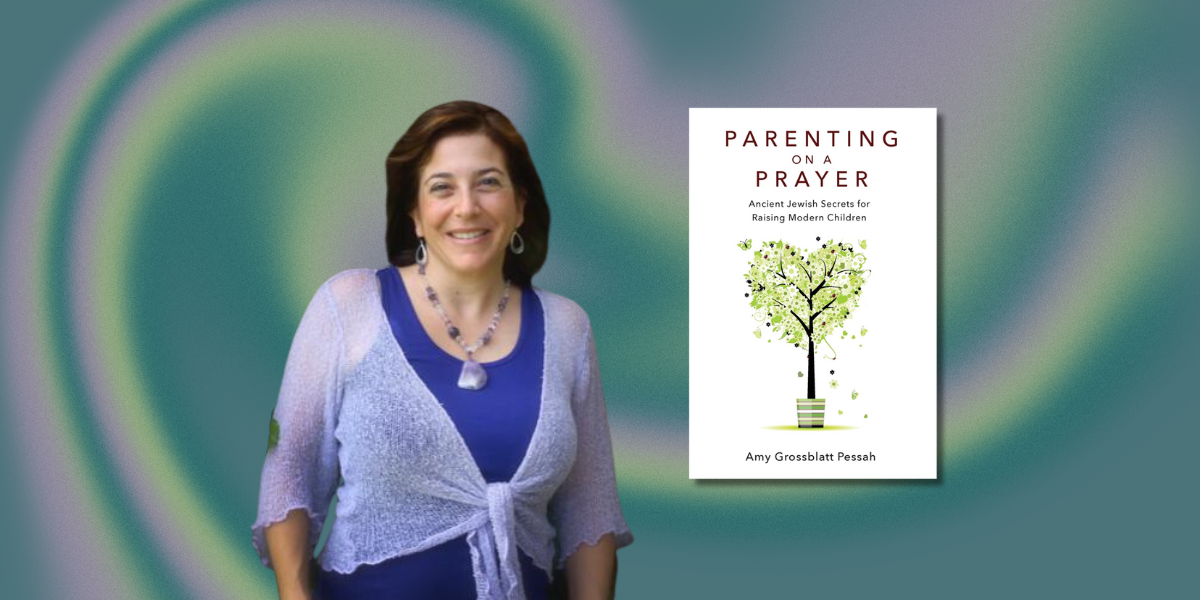 Whether or not we let go—of perfectionism, old beliefs, the thrill of our children's earlier stages—the days pass to make room for something new.
The other night, while tucking my son into bed, I mentioned the safety hazard of a light-up toy with electronics protruding from its structure.
"It'll be easier when I'm older, Mom," he said. "You won't have to worry as much."
I asked him to explain.
"I'll make more decisions for myself."
If it's any consolation to worried mothers and fathers, according to the Talmud, parents are only bound by a handful of obligations: circumcise male children; redeem first-born sons with the ritual of pidyon haben; teach kids Torah, a trade and how to swim; and get them married. In her book, Rabins adapts the list to four goals: love our children; keep them safe; pass down our traditions; and teach them to need us less.
Rather than berate herself for perceived parenting failures, Rabins recalls the checklist and tries harder tomorrow. "I give them a hug," she writes. "I tell them I love them. And then I look up the deadline for swim lesson signup."
Anita Diamant makes a similar point in Living a Jewish Life. "You don't have to know everything. You don't even have to know a lot to be a great Jewish role model," she said in an interview from her home in the Boston area. Simply put: "Add a lot of joy to Jewish living." Whether you host Shabbat dinners or take up Israeli dancing, you'll transmit pride in being Jewish.
"You really can't fail at this if you're trying," she said. "There's always next week, and there's always next holiday."
Diamant, who grew up in a secular home, picked up traditions and knowledge from friends. These days, she acknowledges, she also learns from her adult daughter, who channels her Judaism through social justice work. "Maybe that's the goal. You raise a Jewish child to be your Jewish teacher," she said.
With my second child, a daughter, I figured I knew the drill, not fully appreciating that this magnificent creature would continue to thrill and confound me. A spitfire who belly laughed at an age when humor seemed inconceivable, my now nearly 4-year-old daughter's favorite meal is sardines and cottage cheese, and she insists on wearing crop tops and spandex no matter the weather. From the side, she looks like my mother, who, in the ultimate act of letting go, passed away six months ago.
"Mom, this is your biggest day," my son said to me the morning after she died.
"Why's that?"
"It's your first day without a mom." Thud.
He later explained that if my mom is with God and God is everywhere, then she is inside us.
We learn from the living memories of our parents and from the uniqueness of our children. And, as these parenting books explain, if we remain open and present to this as we care for ourselves, we continue to grow as well.
---
Rachel Pomerance Berl is a freelance writer in Bethesda, Md.