'Feeling Abandoned' by the Univ. of Washington and Middlebury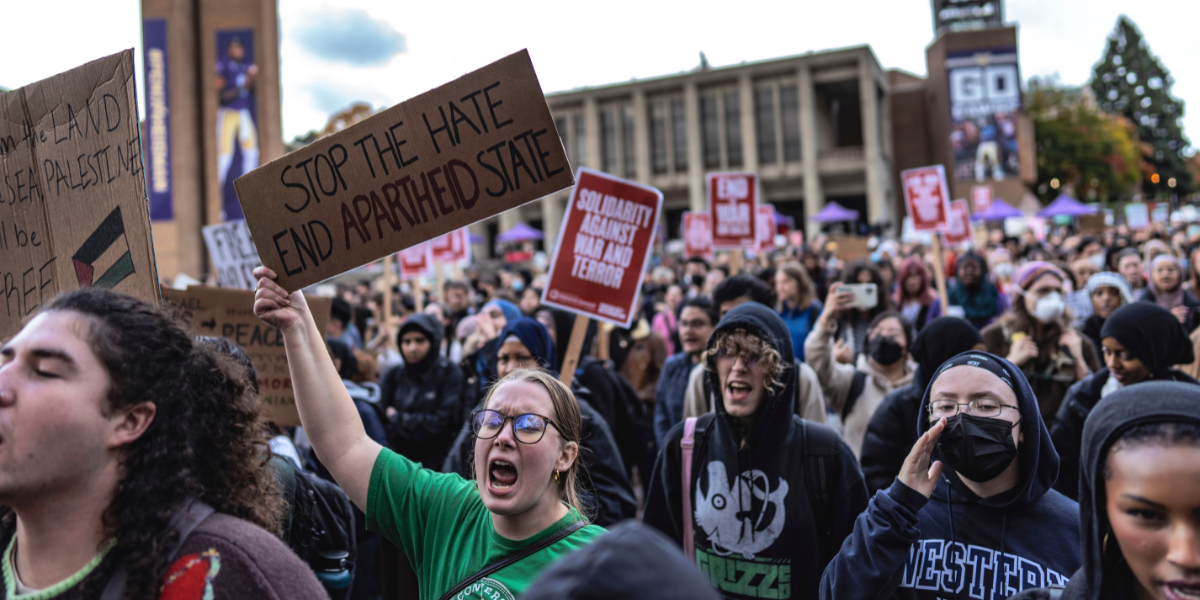 Editor's Note: Hadassah Magazine asked college students to recount their experiences on their campuses in the wake of the October 7 attacks on Israel and the ensuing Hamas-Israel war. See other responses here and here.
---
I received my undergraduate degree from Middlebury College, my home in Vermont for four years. At Middlebury, I was a two-sport athlete, started the Special Olympics club, organized reproductive justice events and majored in sociology and anthropology. I love Middlebury and will always have a deep appreciation for my time there. As an alumna, I have continued my support as an ambassador interviewing prospective students. This is why Middlebury's reaction to the October 7 terror attack has left me feeling abandoned by my beloved alma mater.
The inability of Middlebury President Laurie L. Patton to condemn terrorism against Jews has resulted in an unsafe campus climate for Jewish students and those who support Israel. A current student told me they would be afraid to display the Israeli flag. In response to a vigil for the victims of the October 7 attack, Middlebury alumni circulated a letter calling Israel's response "genocidal." The letter also noted they were "frustrated to see the way our alma mater promoted and handled the problematic Jewish lives vigil" and that they "understand this event to have taken place and been justified from the pressure that Zionist parent and alumni groups" exert on administration.
To which I say, "You know what else is frustrating?" The fact that one of my Middlebury teammates has a cousin who was violently ripped from their home in southern Israel and is now held hostage in Gaza—yet President Patton could not bring herself to call the people responsible terrorists. Instead, she called for "open expression and the free exchange of ideas [that] are core to the Middlebury mission." There was no call for open expression when Russia invaded Ukraine or when George Floyd was murdered. But now that the victims are Jewish, we must "all lives matter" the issue.
And I agree, all lives do matter. Jewish ones. Palestinian ones. And in this case, when 1,400-plus Israelis are tortured and murdered (recently updated to 1,200) in the most horrific ways imaginable, the inability to call terrorism what it is leaves Jewish students feeling unseen, unprotected and worthless.
On the other side of the country, events are just as alarming. As a current graduate student at the University of Washington, I am now navigating calls on megaphones to "globalize the intifada" and "resistance is justified" between classes.
When Hamas showed their true intentions to annihilate Israel on October 7, I thought that my classmates finally would understand the evil that Israel was defending itself from. But on the very day when Jewish women were raped, the elderly were shot in their beds and babies were mutilated—the very day when recent UW international studies Ph.D. graduate Hayim Katsman was killed in his home—the group Students United for Palestinian Equality and Return (SUPER-UW) posted on Instagram calling for a demonstration in support of Palestine. They did this before Israel had even responded. The ensuing rally included chants of "intifada, intifada" and "from the river to the sea," a rallying cry that is a common call-to-arms for the complete elimination of the world's only Jewish state.
In my state of intense grief and fear, my fellow UW students were celebrating and posting flyers of the Hamas paragliders as symbols of "resistance." Even more distressing, SUPER-UW hosted a community vigil to "honor the martyrs," effectively celebrating the actions of terrorists. Later, after their coordinated class walk-out, speakers (including a professor) referred to October 7 as the "latest surge of resistance" and stated that advocating for Palestine right now is akin to standing up during the civil rights movement and—most terrifyingly—the Holocaust.
In this impossible time, I remember that I come from a resilient people. My grandparents survived the Holocaust. Normalized antisemitism terrifies me, especially among the people who support and uplift all marginalized groups besides Jews. But the light and courage of the Jewish people will not be extinguished by misled, uneducated and hostile calls for "justice" with, or without, the support of the institutions that claim to be "safe spaces." Universities feel anything but safe at the moment.
---
Ellie Greenberg, originally from suburban Philadelphia, is a graduate student at the University of Washington studying social work and education.