Netflix's Aleeza Ben Shalom on Love in the Time of War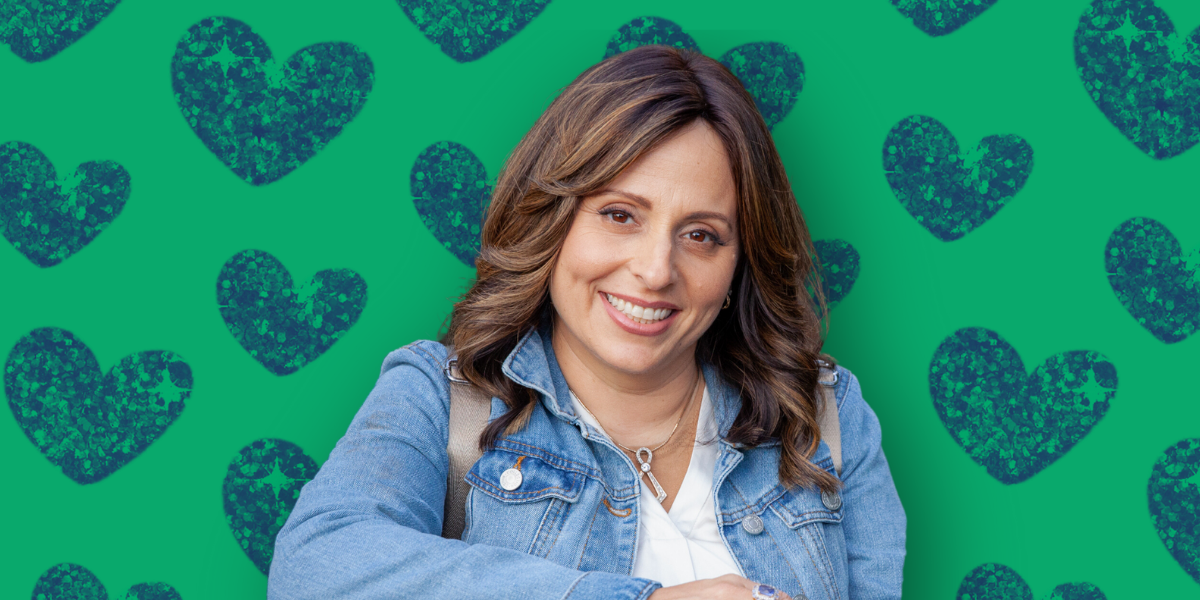 When Aleeza Ben Shalom made aliyah with her husband and five children two and half years ago, she never imagined that she was on the verge of becoming a Netflix sensation with her Jewish Matchmaking hit series—and possibly the most famous Jewish matchmaker and dating coach in the world today. She also never imagined that just five months after the show's premier, her family would be plunged into one of the worst nightmares Israel has experienced since its creation.
"There are conversations that we never heard of before, or things that we never prepped our children for, because it wasn't something that was super relevant. It's a new conversation that we have to have," said the 46-year-old, whose oldest son, age 19, enlisted in the Israel Defense Forces in September and is now in basic training.
Despite the uncertainties of life in a country at war, Ben Shalom, who grew up in suburban Philadelphia, is doubling down on her quest to bring couples together. "I'm fighting on the spiritual frontlines to build the next generation," she said in a Zoom interview from her home in central Israel, three weeks into the war sparked by Hamas's horrific attacks on October 7. This interview has been edited for brevity and clarity.
Is it true that there's been an uptick in weddings since the war began? If so, how do you explain that?
Yes, 100 percent, it's true. It's not just soldiers, but there are tons of soldiers also getting married. People are thinking: "Whatever I was thinking of doing in my life that was really important to me, I want to do it now because life is so precious, and we see how quickly things come and things go." And getting married is on a lot of people's bucket list.
You posted a tearful and moving video on your social media when, a day after the Hamas attacks, you left Israel for a live matchmaking tour of America and London. Explaining your difficult decision to leave, you said you were "fighting on the spiritual frontlines." What did you mean by that?
What I mean by that is that the soldiers are fighting for our homeland. But what good is it to have a homeland if we don't have a future for the Jewish people? This is our place. But we have to continue to grow and to build the Jewish people, and the way to do that is to get married, to build families and to build communities. So, I'm fighting on the spiritual frontlines to build the next generation, to have people find each other and come together, and to build the homes and the lives that we need so that we can live l'dor v'dor, from generation to generation.
At the live events you headlined in October, were audiences trying to figure out how to think about love and relationships at this time of existential fear, concern and worry?
Yes, it's on the top of people's minds. I told them, "I almost didn't come, and they almost cancelled the whole event."
We had prayers for peace, and then I asked everybody's permission for us to come up and come out of that and temporarily leave behind their grief and fears, so that we can have joyous moments. And I compared it to a Jewish wedding. At our greatest time of joy, what do we do? We break a glass to remember that we don't have our Temple in Jerusalem; that we, the Jewish people, are scattered and shattered across the world. We're not all together; we're not unified. In our greatest time of joy, we have our greatest sorrow. At that moment, we remember that, and then continue on. We sing and dance.
I said, "Tonight, we're going to do the opposite. In our greatest time of sorrow, we're going to take a moment, but we're not breaking the glass. We're going to actually re-form it, pull it back together, and we're going to make matches. And then you can go back home…[and] watch social media."
How is your matchmaking business doing?
Unfortunately, war is very good for matchmaking. Covid was good for matchmaking. I think that moments of crisis create an existential crisis. People ask: "Who am I? What do I want? What am I doing? What are my next steps? And how am I going to get there?" And for a lot of people, that means finding a partner—whether it's for the first time, if you're in your 20s, 30s, 40s, or second or third time around. People of every age, in every stage and every generation want to find love. The oldest client I worked with was 89, and she was like, "I still have life to live, and I want to find my sweetheart, and I want to find love."
How many couples have you helped bring together?
I've helped over 200 couples to find their person and get married, and I don't know how many babies; we don't count all the kids. I have a lot of clients in the United States because I started my business there, but also clients all over Europe, South America, South Africa, Australia, Canada, Mexico and Israel.
How many singles are you currently working with?
Oh, that's a hard question to answer. I have a whole team. I have, besides myself, a matchmaking team and an online matchmaking team that is currently working with hundreds of people. I have a coaching team. We have online courses that we offer. I have books, a podcast. We're reaching thousands of people on a regular basis.
Can you recount your journey to matchmaking and how you landed the Netflix series?
I got married when I was 25, and other than getting married, I really didn't have career aspirations and life goals. I just wanted to get married and build a family—those were the two most important things in my world. After I got married, I was thinking I needed some adult interaction and communication, and a girlfriend of mine said, "You can volunteer, you can be a matchmaker online." And I said, "Oh, that sounds nice." I started doing matchmaking online, but I didn't think that was enough, so I began calling people. And people started asking for dating advice, so I fell into coaching and supporting singles. Then I started to train other matchmakers and other coaches internationally, and things just started to snowball.
Over the years, I've made lots of different connections, and one of my matchmaking girlfriends told me that Netflix was looking to create a Jewish matchmaking program similar to the Indian Matchmaking series—and she had given them my number.
I started interviewing with them. After several months, they called back and said, "O.K., we picked you. And let's do this. And we're going to send you a contract." And I was like, "Wow, this is really happening." Then I told them, "Wait, I just want to give you a little caveat—I'm moving to Israel and making aliyah." And they said, "That's fine, no problem. We don't care."
Did any of those couples that you worked with on the show end up staying together?
They didn't get married, but some did continue dating. They did take my advice to date off camera, which was really important. And we have had a couple of engagement and wedding announcements. I've stayed in touch with everybody, some of them I'm coaching still, and if I ever hear of a good match, of course you know I'd pass it on, but most people contact them directly at this point.
Is there any word of a second season yet?
I'm waiting to hear. There's a lot going on right now in the world, so I think everything is extremely slow moving.
With an upsurge in global antisemitism and anti-Israel sentiment, would you feel an especially urgent responsibility to represent the Jewish people and Israel in a second season?
Yes, but I've always felt that way, because even when there's not a war, there's still antisemitism. It just never goes away. It's just either quiet or loud. So I felt that even with the season that we did. And I felt especially good that I had moved to Israel. Loud and proud, I could say where I'm from and who I am. That was important to me.
But yes, even more so going forward. I think it's our responsibility to be a light unto the nations, and to show wisdom, and to show beauty in life in general and in ways for other people to also connect and interact with us, and to understand who we, the Jewish people, are.
Hadassah is in the midst of an emergency war campaign, At War: Heal Israel Now, to fund the treatment of wounded Israelis, including trauma and rehabilitative care. You have a special story about your husband's recent experience at Hadassah Hospital Ein Kerem. Tell us about that.
In August, we had an emergency situation. He had a tooth infection, but his dentist told him this was very serious and he needed to have his tooth extracted immediately. His dentist said: "I'm sending you to Hadassah Hospital Ein Kerem right now. They are waiting for you."
I was out of the country on one of my tours. He didn't call me to tell me. But I got a phone call afterwards from him: "Hi, sweetheart, everything's O.K. But when you come back, can you come and pick me up at the hospital because I've been here for a week?"
When I got off the plane, I rushed immediately over. They had taken amazing care of him. I would call it life-saving care. It wasn't just a little thing; it was very serious, and we have a tremendous amount of gratitude. On a follow-up appointment, we visited the hospital's Abbell Synagogue where they have the gorgeous stained-glass Chagall windows. We took a video in there of my husband blowing the shofar during Elul (the month before Rosh Hashanah) and posted it online.
And I know that anything that's being done for anybody who's injured during the war, I know that they're going to get the best care if they're there.
What do you think is the most important thing that American Jews can do at this time of crisis?
There are many different things that we can do right now, but I think that the most important thing is to do something consistently. Whether it's making a small contribution every day to different organizations, or whether it's giving your time and volunteering, or even visiting somebody and talking to them, because so many people right now are so low because of the situation that we need a lot of support. It could even be writing soldiers a letter a day. They love getting letters. There are bases all around the country with letters posted on the walls. Whatever language it is, someone is there to translate.
So my message to the world is to stop scrolling on social media and start doing one thing every day. Somewhere in America there's always people that are in need, and as we help each other, we are creating a better world.
---
Lisa Hostein is the executive editor of Hadassah Magazine.