These Kids Books Make the Best Presents for Hanukkah 2023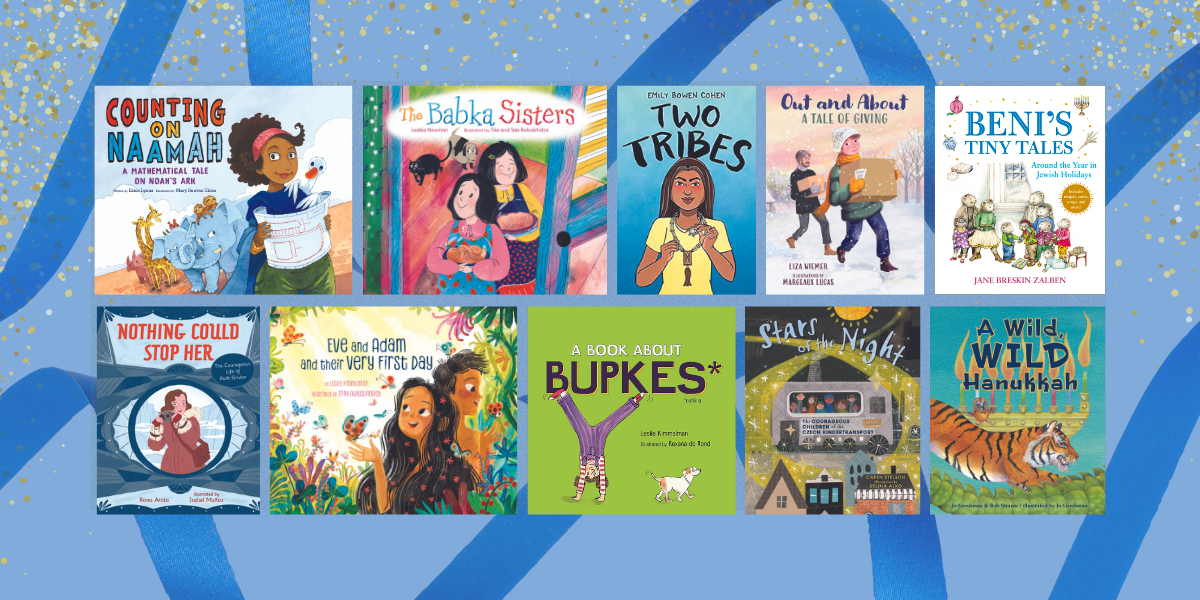 Thinking about what to read with the kids during Hanukkah? This year saw a bumper crop of wonderful Jewish-themed children's books. Some relate biblical tales with a delightful feminist twist, rethinking the stories of Adam and Eve and Noah's Ark for little readers. New releases for older readers include a biography of groundbreaking Jewish journalist and photographer Ruth Gruber, who documented major events of the last century, and a beautifully illustrated story about the brave children of the Kindertransport and the man responsible for their survival.
Finally, no reading list is complete without something to whet the appetite, such as two sisters who compete in a babka bake-off and one book that features a recipe for every Jewish holiday. These suggested reads—the first six for ages 3 to 8; the rest for 8 and up—are perfect for curling up by the light of the menorah, or any night of the year.
A Book About Bupkes
By Leslie Kimmelman. Illustrated by Roxana de Rond
(Kar-Ben Publishing)
This is a book about nothing, or bupkes, in Yiddish. Young Zoe engages in acts of kindness for her friends and family and leaves a trail of bupkes in her wake: An empty garden means an elderly neighbor has a basket full of freshly picked vegetables; an empty bowl is all that is left after Zoe makes chicken soup for her sick mom; and a park bench is empty because Zoe invited a brand-new friend, who had been sitting on the bench, to play hopscotch. "The thing is, bupkes may mean nothing, but it can feel like everything," the book concludes.
Eve and Adam and Their Very First Day
By Leslie Kimmelman. Illustrated by Irina Avgustinovich (Apples & Honey Press)
In this frankly feminist book, another delightful offering from Kimmelman, the first man and woman explore their surroundings while naming the animals and plants they encounter. Eve's names—nightingale, weeping willow, nine-banded armadillo—are initially more imaginative than Adam's, such as ant, cat and dog. As rain begins to fall and the sun goes down, the two learn to lean on each other and their faith in God. Avgustinovich's vivid portrayal of the Garden of Eden and Kimmelman's words are wonderful reminders to marvel at both the "ordinary and miraculous" around us every day.
The Babka Sisters
By Lesléa Newman. Illustrated by Tika and Tata Bobokhidze (Kar-Ben Publishing)
Prolific children's writer Lesléa Newman is out with a new book about two sisters, Esther and Hester, who live next door to each other. When Sylvester moves into the neighborhood, they compete for the title of best babka baker, and Sylvester agrees to be their taste-tester. After much mixing, stirring, kneading and baking, the sisters arrive at Sylvester's house for a Shabbat meal. What will his verdict be? With silly rhymes sure to leave kids in giggles and with whimsical illustrations by sisters Tika and Tata Bobokhidze, this title makes for sweet reading.
A Wild, Wild Hanukkah
By Jo Gershman and Bob Strauss. Illustrated by Jo Gershman
(Kar-Ben Publishing)
Who wouldn't want a polar bear at their Hanukkah party? Or two "crying crocodiles" who peel onions by the pound to make latkes? Each night of Hanukkah, more and more animals arrive, eating jelly doughnuts, flipping latkes and lighting candles. On the final night, "eight pompous, punk-rock penguins" show up to spin their dreidels on the floor and finish off the celebrations. Gershman's wise-looking animals and the authors' witty rhymes will delight children and parents alike.

Everyone knows about Noah and his ark. But what do we know about his wife, Naamah? "Though her name meant pleasant (and she was very nice), Naamah was known best for being clever. Especially when it came to MATH," writes Lyons. In her amusing midrashic reimagining, Naamah is an engineering and math whiz who plays a vital role in saving animals from the flood. She uses her problem-solving skills to calculate how much grain they will need and where to house the hippos and elephants so they don't tip over the boat. When the animals get restless, Naamah organizes the first ever deck-athlon.
Sir Nicholas Winton helped save 669 Czechoslovakian children from the Nazis by bringing them to the United Kingdom on the eve of World War II. This book tells the children's story from their collective point of view. Their days used to be carefree, picnicking in the parks of Prague and ice skating on frozen rivers, but suddenly their lives grow somber, as do the evocative paint-and-collage illustrations. Author Stelson recounts how their parents begin to make arrangements for them to leave and pack their suitcases with warm clothes, books and teddy bears. "There will be times when you'll feel lonely and homesick. Let the stars of the night and the sun of the day be the messenger of our thoughts and love," one mother tells her daughters at the train station as she sets them on their journey.

Beni the Jewish bear is back in this delightfully illustrated installment in the series by Zalben, who first began writing about him and his family over 30 years ago. Now, Beni is all grown up and is teaching his own children about holiday traditions, from Rosh Hashanah to Shavuot. Beni's Tiny Tales includes 10 stories, each centered around a Jewish holiday, as well as recipes—for Hanukkah, there are Dreidel and Menorah Cookies and Doughnut Holes, among others—songs and craft ideas. Zalben's watercolor and pencil drawings of the bear family are cozy and detailed, with each character's personality shining through.

Journalist, photographer and humanitarian Ruth Gruber led an extraordinary life. Her assignments took her all over the world, from the Siberian Arctic to Alaska, from Germany in the 1930s to the newly established State of Israel.
Nothing Could Stop Her describes how Gruber defied convention from the start. She was born in 1911 to Polish Jewish immigrants in Brooklyn and graduated high school at 15, then went to New York University. At 20, she became the youngest person to receive a Ph.D. at the University of Cologne in Germany, completed in just one year. She arrived back in New York in 1932, on the St. Louis, the same ship that would be denied entry to the United States in 1939 when it was carrying European Jewish immigrants.
Motivated by her Jewish identity and sense of justice, Gruber's work went beyond writing about current events to wanting to change them.
After the war, she documented the plight of Jewish refugees settling in Mandate Palestine and the birth of modern-day Israel. At the age of 76, Gruber traveled to Ethiopia to record the stories of Ethiopian Jews. This is a fascinating biography of a remarkable Jewish woman, perfect for children and their grown-ups.
Out and About: A Tale of Giving
By Liza Wiemer. Illustrated by Margeaux Lucas
(Kalaniot Books)
Daniel wakes up early one morning, looks out the window and sees his dad going somewhere, his arms loaded with boxes. But when he asks his mom and siblings about where dad went, they give a mysterious answer: "He went out and about."
At school, Daniel's imagination runs wild. What could be in those boxes? Daniel pictures a baseball mitt, a birthday cake, even a pizza. Eventually, Daniel figures out the contents of the mysterious boxes and joins his dad on a mission of tzedakah, helping those in need.

Two Tribes
Written and illustrated by Emily Bowen Cohen
(HarperCollins)
Mia, who recently celebrated her bat mitzvah, attempts to reconcile her Jewish and Native American identities in this coming-of-age debut graphic novel by Emily Bowen Cohen. Mia's mom is Jewish and her dad is a member of the Muscogee Nation. Originally from Oklahoma, she moves to California after her parents' divorce. Her newly observant mom remarries, to a Jewish man.
Watch Emily Bowen Cohen in conversation with Hadassah Magazine: Jewish Women of Color in Their Own Words
Through illustrations and text, Bowen Cohen describes Mia's struggles at her Jewish day school, where she looks different from all the other students, and at home, where her mom refuses to talk about Mia's dad and the other half of her heritage. Feeling increasingly isolated and misunderstood, Mia lies to her mom and takes a bus to visit her father in Oklahoma.
In an author's note, Bowen Cohen, who is Jewish and Muscogee, describes her dual heritage and how she drew on it for inspiration. She weaves together Jewish and Native American culture and narratives in her book: Mia muses that lox and schmear would go well with traditional Native American fry bread and connects the biblical story of the prophet Jonah and the whale with the Muscogee tale of creation.
---
Alexandra Lapkin Schwank is a freelance writer for several Jewish publications. She lives with her family in the Boston area.