Season to Taste: Tel Aviv With a 'K'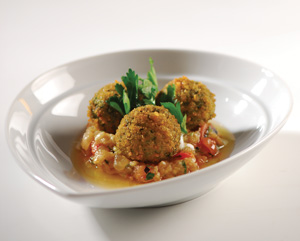 It has always been an irony that the highest compliment a kosher restaurant could receive was, "You would never know this place was kosher." But for a long time, even that platitude was rarely bestowed upon those Tel Aviv eateries that did adhere to strict dietary laws. Finding a
good kosher meal in Tel Aviv was a challenge unless you stuck to establishments focusing on the basics—falafel, shawarma, hummus and the like—of which there are dozens of excellent choices.
But today, Tel Avivians—not to mention the tens of thousands of observant Jews who commute in daily to work, plus those who come in from around the country to avail themselves of the city's theater, dramatic arts and culture scene—have more options thanks to a mini boom of new kosher choices. Some have been open several years now, others are newer, and they represent a sea change in the way chefs and patrons perceive the kosher market.
This isn't stodgy kosher hotel fare, nor is it bound to standard expectations of what kosher food—Sefardic or Ashkenazic—should be. Rather, the emphasis is on preparing first-rate dishes that pay respect to their ingredients, often using local produce and artisan products as inspiration.
And going kosher is also good for business; why not increase the potential clientele exponentially?
One of the new standard-bearers is Deca, a dairy and fish restaurant virtually hidden away in an industrial zone in the southern part of the city. The chic space, with concrete floors and intricate tiling detail, could be an upscale restaurant in any cosmopolitan city. Haim Cohen, one of Israel's most influential chefs, consulted on the ambitious menu, which consists of dishes such as fish falafel over a bed of white-bean hummus, pumpkin carpaccio decorated with greens and a drizzling of olive oil, and Persian-spiced whitefish kebabs. Entrées are often sophisticated takes on Israeli classics or influenced by the immigrant melting pot.
From a sleek, airy, light-infused dining room, Lilith serves modern Israeli dishes with style. One of the oldest in the new kosher movement in Tel Aviv, it is a popular special-occasion restaurant, but also a place where you will see observant and nonobservant Jews enjoying one of the best deals in town—a multicourse business lunch for about $18. Noam Dekris, a veteran of some of Israel's most popular nonkosher establishments, is the new chef (Lilith was previously a dairy restaurant). His creations—veal with onion "butter," date syrup and balsamic reduction, just to name one—incorporate very Israeli flavors in subtle, often sophisticated ways. Lilith also has its heart in the right place: The restaurant works with Elem, an organization that helps rehabilitate and mainstream troubled youth in Tel Aviv and beyond to train them for careers in Israel's food-service industry.
Over at Bariba, located in Tel Aviv's revitalized port area in the north of the city, don't expect wheatgrass juice and spartan tofu dishes just because the restaurant is part of a holistic health complex. A focus on seasonality and colorful presentation means that the menu changes every three months. Depending on the time of year, you could enjoy a bright, vinegar-laced tomato-and-peach gazpacho soup, a flavorful carrot risotto or house-made gnocchi in creamy pistachio sauce.
The kosher dining trend is not confined merely to fancy restaurants. Many more casual spots are now opening with, or seeking to obtain, kosher certification. Mazzarine is a shabby-chic café with two locations; the larger outpost, a stone's throw from both the Tel Aviv Stock Exchange and the Great Synagogue on Allenby Street, boasts one of the city's loveliest gardens and is set in a high-ceilinged old building with stone floors. Breakfast at Mazzarine is a particular pleasure: Try the café's famous poached eggs nestled in a puff-pastry basket. Mazzarine is also the perfect place to buy expertly executed French pastries and desserts, from fresh brioche and Napoleons to rich chocolate mousse, truffles and light, airy crumb-topped cheesecake.
Cabina, just south of Rothschild Boulevard in southern Tel Aviv, feels like a place hard-working laborers might have flocked to after irrigating nascent farmland in the early days of the state—except with an alluring patina of hipness. Patrons sidle up to one of the counter seats to order a sizzling mixed grill, substantial hamburger or a hunk of velvety roasted eggplant topped with spicy sausage and a drizzle of rich tahini, all made by chefs just on the other side of the Formica surface. At night, Cabina transforms into a restaurant-bar with dishes like date-syrup-marinated baby chicken skewers and chorizo sausage sandwiches layered with grilled potatoes and pickled cabbage.
Deca's fish falafel balls (recipe at right), filled with herbs and delightfully crispy, look deceptively similar to the real thing, but the taste is something altogether different. Serve them as an appetizer over white-bean hummus or as a main course with a salad. The balls can also be baked on an oiled cookie sheet at 500° F for 10-12 minutes, though frying is better for achieving that soul-satisfying crunch.
Fish Falafel
Makes 24 balls.
1 pound skinless, boneless whitefish fillets
1 12 oz. bag frozen corn kernels, defrosted, or 2 1/2 cups fresh kernels
1 1/2 cups roughly chopped celery
2 cups packed cilantro
2 cups packed parsley
6 cloves garlic, minced, about 2 TBs
1 jalapeño pepper, seeded
1 tsp salt
1/2 tsp black pepper
3/4 cup plain dried breadcrumbs
Vegetable oil for frying
1. Using a sharp knife, finely mince fish. Place in a bowl and set aside.
2. Place corn, celery, cilantro, parsley, garlic and jalapeño in a food processor and process until all ingredients are finely minced. Transfer to a fine-mesh sieve or to a triple layer of cheesecloth set over a bowl.
3. Press mixture against sieve with spatula, releasing as much liquid as possible. Discard liquid.
4. Add mixture to fish, then add salt and black pepper and mix until well combined.
5. Form into 24 one-ounce balls and roll in breadcrumbs.
6. Pour about four inches of oil into a heavy saucepan and heat until very hot but not smoking. Gently lower three or four balls into oil and fry until golden brown, 1-2 minutes. Drain on paper towels and serve.
Tel Aviv's Kosher Hot Spots