Season to Taste: Getting Around the Bird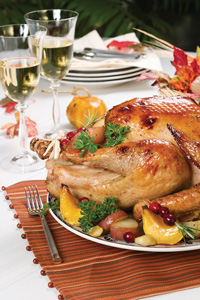 There's no way around it: Preparing for Thanksgiving is a time-consuming affair, with the turkey taking up not only hours and energy but oven space as well. And, let's face it, unlike other holidays, where there may be a choice of main courses, everyone is expecting a burnished bird with all the trimmings as the centerpiece. And since the turkey really cannot be made in advance, your oven is going to be off-duty for a good part of the day, leaving you with one of two options for making side dishes and other courses: get up really early to reserve some cooking real estate or find another way.
That is why, in recent years, when it comes to the trimmings and desserts, I have been making dishes that can either be prepared in advance, heated and served when the time is right or can be cooked somewhere other than in an oven. This is also an opportunity to move beyond heavy, carbohydrate-laden casseroles and heavy dishes and to experiment with lighter options that will leave you satisfied without feeling stuffed.
The following dishes all work well as leftovers, too, and they contain enough flavorful accents—ginger, miso, sage—to keep things interesting.
Looking for another thing to be thankful for? The holiday always falls on a Thursday. Its proximity to the weekend allows the meal to do double duty, providing ample leftovers for Shabbat meals—and often beyond.
Mashed Parsnip with Crispy Sage
Serves 6
1/2 cup canola oil, for frying
12 whole sage leaves
6 parsnips (about 2 lbs), peeled and cut into 1-inch slices
8 cups chicken or vegetable stock (or enough to cover parsnips)
3 cloves garlic
salt and pepper to taste
Prepare the mashed parsnips in advance: Put parsnips, stock and garlic in a stockpot and bring to a boil. Reduce heat to a simmer, cover and cook until parsnips and garlic are tender, about 20 minutes. Drain the parsnips, reserving the liquid.
Place parsnips and garlic in a food processor and process, adding stock 1/4 cup at a time until desired thickness is achieved (you will not use all the stock); some people like a thicker purée, some thinner. Season with salt and pepper, transfer to a bowl and put aside until you are ready to reheat before serving.
Reheat mashed parsnips either over the stove or in the microwave.
Immediately before serving, heat oil in a small frying pan until very hot. Add sage and fry until crisp, about 3 seconds. Remove leaves from oil and drain on paper towels; sprinkle leaves on parsnips.
Thyme-Roasted Vidalia Onions 
Serves 6
6 large Vidalia onions (about 6 lbs)
1/2 cup olive oil
1 tsp kosher salt
1/2 tsp pepper
1 bunch thyme sprigs, divided
Preheat oven to 425°F. Peel onions and slice into 1/2-inch thick rounds. Arrange on cookie sheets and brush with olive oil. Sprinkle with salt and pepper. Flip onions and repeat.
Cook onions until undersides are browned and slightly caramelized, about 35 to 40 minutes. Turn onions over and brush with olive oil. Roast an additional 15 to 20 minutes, then open oven and place one or two thyme sprigs on top of each onion slice. Return to oven for an additional 15 to 20 minutes.
Remove from oven and let rest 15 to 20 minutes. Serve warm or at room temperature.
Sweet Potatoes with Miso-Scallion Butter
Serves 6-8
4 large sweet potatoes
1 stick margarine*, well softened
3 TBs miso paste (preferably white, blond or mellow)
3 TBs finely chopped scallion
Bake the sweet potatoes in advance: Preheat oven to 450°F. Prick sweet potatoes with a fork, place on a foil-lined baking sheet and bake until skins are crisp and sweet potatoes are soft, 1 hour. Set sweet potatoes aside until ready to reheat.
Make the miso-scallion butter in advance: Combine margarine, miso and scallions.
Before serving, reheat sweet potatoes in 450°F oven for 30 minutes. Once they have cooled enough to handle, cut them in half crosswise, then slit them down the middles and squeeze potatoes from the outside to push flesh upward. Top with miso-scallion spread.
*I use Earth Balance buttery spread in this recipe.
Cranberry-Ginger Granita
Serves 6
2 1/2 cups cranberry juice
1/2 cup sugar
2 TBs Cointreau or Triple Sec liqueur (optional)
1/2 cup peeled, finely chopped ginger
Crystallized ginger and mint leaves for garnish
Make room in your freezer for a 9- x 13-inch metal baking dish to lie flat.
Combine the cranberry juice, sugar and ginger in a saucepan and bring to a boil; reduce heat and simmer until sugar is dissolved, about 5 minutes. Remove from heat and let cool to room temperature to allow ginger flavor to infuse.
Strain out ginger through a fine-mesh sieve and discard. Add optional liqueur to cranberry liquid and transfer to baking dish. Place in freezer. After half an hour, open freezer and drag a fork over surface of liquid. Repeat every half an hour for about three hours, until a flaky ice has formed.
When serving, divide among 8 glasses and garnish with crystallized ginger and mint.