Hadassah Cookbooks Promote Kitchen Zionism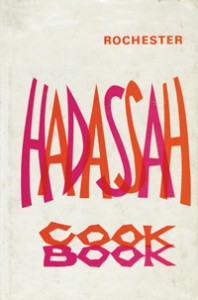 In a nondescript room in downtown New York sit 13 boxes that reveal a very tasty slice of American Jewish life. Housed at the Hadassah Archives located at the Center for Jewish History, the weighty blue accordion-file holders in those boxes open to reveal more than 100 community cookbooks, compiled and produced by Hadassah chapters in North America to raise money for charitable projects both stateside and in Israel.
By turns folksy, witty and inspirational, the books are undeniably charming, providing basic culinary guidance and recipes—along with hints of context into what was happening then in the greater world.
"These books reflect the Jewish American woman's experience in some telling ways," says Susan Woodland, director of the Hadassah Archives. "And food was one way of illustrating the extent to which [women] were integrated with the greater world."
The oldest book in the collection is the Naomi Cookbook, a fabric-bound hardcover from the Naomi chapter of Hadassah in Toronto. Originally published in 1928, the slim, slate-blue volume is dotted with Yiddish scribblings, adaptations and translations of the English text in faded pencil, alongside black-and-white ads for Manischewitz wine and Horowitz Margaretten matza.
Typically, dozens of members created these cookbooks, doing everything from typing recipes to selling advertisements. They are testaments to a core Hadassah virtue—volunteerism—and the connective power of food.
Another endearing feature of the books is their creativity. Some have tongue-in-cheek titles—In the Beginning There Was Chicken Soup; Ladle of Love; As the Cookbook Says, to name a few. Many offer illustrations. The cover of a 1989 cookbook, From Knaidlach to Quiche, from the Tampa, Florida chapter, is an homage to the transgenerational power of both Hadassah and a good sweetpotato kugel recipe, depicting an Old Country Yiddishe Mama in an apron exchanging steaming dishes with a leotard-clad Jane Fonda lookalike. Ellen Mandel Levine drew the illustration and served as the book's coeditor.
"Making that book was more than just collecting recipes, it was a community-building exercise," says Levine, who now lives in Marietta, Georgia. "My own copy is so tattered and worn out, I use it all the time. My only regret is that I don't have any extras for my daughter."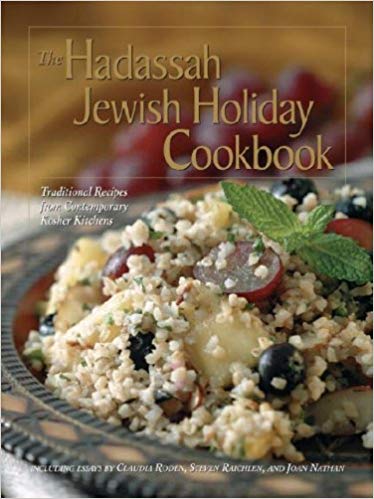 For generations of women, the Hadassah cookbooks offered a benchmark for Jewish cooking, but they also served a more practical purpose as well, noted Jenna Weissman Joselit, a professor of Judaic studies and history at George Washington University in Washington, D.C. "Along with Torah, philanthropy and good deeds, the exchange of culinary knowledge becomes the basis for a tangible sense of belonging," she said. The tradition continues with The Hadassah Jewish Holiday Cookbook, a collection of recipes from members around the country.
Most of the cookbooks chronicle ambitious entertaining schedules. "Must try poppy seed cookies for New Year's," scribbles the owner of the Rochester Hadassah Cookbook from 1972, probably the most enduring of the books. "Never again! Lou hated!" she writes on another. The book has had at least four printings, copies often pop up for sale on eBay and it was even featured in a 1975 article in Ladies Home Journal.
Many of the recipes have headnotes. For example, the authors of From Noodles to Strudels (Beverly Hills Hadassah, 1972) preface "Machiah Matzo Balla" with the following advice: "You can even open a window and these still won't fall."
"Headnotes really anchor the recipes and give the reader a sense of who was behind them," says Bonnie Slotnick, owner of an eponymous independent cookbook store in New York. "Without them, many of the recipes would just be nondescript."
And it's true: In each decade, there are recipes—from onion soup mix and orange marmalade chicken to dairy noodle pudding—that are almost identical in every book.
The books also shed light on the ways Hadassah chapters reacted to social movements. Bras may have been being burning all around them, but in the introduction to From Noodles to Strudels, the women focused on their good works. "While other women are demonstrating, Hadassah women are doing," the authors wrote with pride.
Ukrainian Orphan Candy
Adapted from Naomi Cookbook
Makes about 30 candies
"This candy was made in the Ukrainian orphanages during [World War I] with the condensed milk sent by American Jews to the children," says the headnote. "It was considered the best way to distribute the milk."
1 12 oz. can sweetened condensed milk
1/4 tsp salt
1 tsp vanilla
2 TB unsweetened cocoa
1 cup chopped walnuts
1 cup confectioners' sugar
Place sweetened condensed milk in a nonstick 10inch sauté pan. Add salt, then sift cocoa over pan. Stir to incorporate. Cook over mediumlow heat, stirring until cocoa is dissolved, then until the liquid thickens and becomes more difficult to stir, 1214 minutes. Remove from heat, stir in walnuts and cool mixture completely, about 30 minutes. Working in batches, roll about 3 TB of cooled mixture in confectioners sugar and form into a ball, then roll out on lightly sugared countertop into 1inch logs. Cut logs into 1inch pieces and toss in more confectioners' sugar.