Season to Taste: It's a Wrap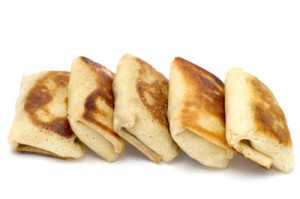 I love Shavuot, the springtime holiday also known as the Festival of Weeks, which marks the end of a seven-week period following Passover and celebrates the day the Jews received the Torah from Moses on Mount Sinai. This year it begins on the evening of May 18.
As far as Jewish holidays go, Shavuot has a lot to recommend it: Great weather; the reading of the Book of Ruth, a dramatic love story between the older, Jewish Boaz and the young Moabite who is the story's namesake; and the opportunity to engage in intellectual all-night study sessions called tikkunim until the sun rises.
But there's one Shavuot tradition that excites me above all others: the consumption of dairy foods. Some believe this custom to be a commemoration of the codification of the kosher laws at Mount Sinai, but food writer Arthur Schwartz believes the answer is much more simple.
"In the springtime, lambs and goats were giving birth, so there was always a lot of milk and a lot of dairy," says Schwartz, author of Arthur Schwartz's Jewish Home Cooking: Yiddish Recipes Revisited (Ten Speed Press). "It's just smart to eat what you have when it's in season."
Someone very wise indeed must have conceived the dairy blintz. Other than cheesecake, there's no food more closely associated with Shavuot—and, in my opinion, none more delicious. The Yiddish word blintze, derived loosely from the Slavic word for mill and associated with the finely ground flour used in making them, has permanently entered the American lexicon, and you can find blintzes on menus both posh and proletariat.
Schwartz made many a blintz with his maternal grandmother, an elegant woman who was only willing to have her meticulously manicured nails filed down once a year for the express purpose of mass-producing hundreds of blintz wrappers, commandeering every inch of available kitchen space in the process.
"Because she made so many, I thought it was a difficult and intimidating task," said Schwartz. "Only when I grew up and made a reasonable amount did I realize it's not that big a deal."
Once you get the hang of it, there's something fun about the methodical process of ladling, swirling and flipping these delicate little crepes. The blintzes can be made in advance and refrigerated for 48 hours. If sealed tightly, they can be stored in the freezer for up to two months. They can also be filled and refrigerated, then pan-fried just before serving, which I highly recommend.
Blintzes with Sweet and Savory Fillings
Makes 14-16
For the blintz wrappers:
3 eggs
1 1/3 cups milk
5 TBs melted butter, divided
1 cup flour
1/2 tsp salt
1. Whisk together the eggs and milk, then whisk in 3 TBs of the butter.
2. Sift the flour and salt together, add to the liquid and whisk.
3. Heat a 6-inch nonstick crepe or omelet pan over medium-high heat. Brush pan with remaining 2 TBs of butter. Ladle 2-3 TBs batter into pan and swirl to evenly spread batter. Heat until just cooked but wrapper is not browned, about 1 minute.
4. Gently flip using a small spatula, then almost immediately turn out onto a paper towel to cool briefly. Transfer to a plate and cover with plastic wrap.
5. Repeat with remaining batter, separating your stack of wrappers with layers of plastic.
Thyme-Scented Potato, Mushroom and Cheese Filling
2 TBs olive oil
1 medium onion, finely chopped (about 1 cup)
2 cups chopped mushrooms
1 TB chopped fresh thyme
2 cups cooked mashed potatoes (omitting any milk or butter)
3/4 cup grated Gruyère or Swiss cheese
3/4 cup sour cream
1 tsp salt
1/2 tsp fresh-ground black pepper
1. Heat oil in a large skillet over medium-high heat. Add onions and cook, stirring occasionally, until browned, 12-15 minutes.
2. Add mushrooms and thyme and cook until mushrooms release all their water and mixture appears mostly dry, 10-12 minutes.
3. Remove from heat and transfer to a bowl. Add potatoes, cheese, sour cream, salt and pepper and stir until smooth.
Sweet Cheese Filling
1 pound farmer cheese
2/3 cup sour cream
1/4 cup sugar
Zest of 1 large lemon
Combine all ingredients in a bowl and stir with a fork until smooth.
To make sweet or savory crepes, place about 3 TBs filling about 2 inches from end of crepe, leaving room on each side. Fold end over filling and begin rolling. Fold sides in toward one another and continue rolling until a blintz is formed. Repeat with other blintzes.
Heat a nonstick skillet and fry blintzes in butter until crisp and browned on both sides, 1-2 minutes per side.
Top sweet crepes with strawberry jam, sour cream or sugar. Top savory crepes with sour cream and—if you are feeling fancy—a dusting of finely grated lemon zest or a dollop of salmon roe.