Season to Taste: Gifted Giving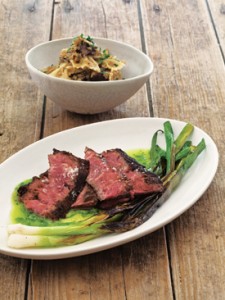 In my house, mishloah manot—festive packages of food exchanged between friends and family on Purim—were a simple, homespun affair. We would pile stacks of waffle-edged, floppy paper plates with dried or fresh fruit, homemade poppy seed- and apricot-filled hamantaschen, Her-
shey miniatures and a mini-bottle of Kedem grape juice, wrap them in cellophane paper, then bind the lopsided bundles with colorful twine.
Flash-forward 30 years. Along with many Jewish food-bound traditions, the Purim basket has gone big time. Chalk it up to the Martha Stewart-ization of America, but people take it upon themselves to get seriously—and sometimes competitively—creative. Themed baskets abound, from patriotic prototypes containing checked red-and-white napkins, marzipan hot dogs and cans of Coke, to elegant petit fours and bottles of wine arranged on china dishes wrapped in ribbon-tied linen napkins.
Rachel Perdue owns the stylish, kosher-certified company Wild Pomegranate, which specializes in elegant, subtly Jewish gifts."I don't like actual baskets themselves," she says. "There are more eco-friendly ways to go, like a cute reusable container or box."
While she admires the creativity that goes into today's elaborate deliveries, she thinks they have limitations. "Who needs a black-and-white basket if you end up with a random combination, like caviar and black-and-white cookies?" asks Perdue, who opts to package items together logically, for instance jam, cheese and crackers.
This year, since Purim falls on a Saturday night, Perdue is offering a havdala-themed wooden box filled with a havdalacandle, matches in an artisan-paper box, cinnamon sticks bound with raffia, a chocolate bar and a bottle of sparkling grape juice. (To order this and other baskets, visit www.wildpomegranate.com).
Another source for kosher baskets ranging from the modest to the indulgent is the Kosher Basket (www.the kosherbasket.com). For as little as $20 (not including shipping) you can send a jeweled flower holding raspberry hamantaschen and a red-foiled chocolate rose. For those suscribing to the more-is-more philosophy, consider the pricier Purim Crocodile Chest Duo, which features two patterned reusable chests filled with chocolates, nuts, strawberry jam, smoked salmon and a chocolate mask.
If you're looking to make your own presentations—and healthy cooking is a focus—Food Network host Ellie Krieger, author of the cookbook So Easy: Luscious, Healthy Recipes for Every Meal of the Week
 (Wiley), has a solution. She likes to pair bran muffins with a bag of loose tea, a tea ball and a pair of mugs for a Purim basket. "It's nice to give someone everything they need," says Krieger. "It makes them feel spoiled."
The following recipes can be made well in advance and frozen—just be sure to defrost them completely before packaging them in baskets.
Ellie's Healthy Bran Muffins
Makes 12 (from So Easy: Luscious, Healthy Recipes for Every Meal of the Week
).
1 1/2 cups bran cereal
1 cup low-fat milk
1 1/2 cups whole-wheat flour
1 TB baking powder
1/2 tsp salt
3/4 cup applesauce
1/2 cup honey
1/3 cup canola oil
2 TBs unsulfured molasses
1 large egg, lightly beaten
1 cup chopped dried figs, plus 3
whole dried figs, thinly sliced
1. Preheat the oven to 400°. Coat a 12-capacity cupcake pan with cooking spray. In a large bowl, combine the cereal and milk. Let sit until softened, about 5 minutes. Meanwhile, whisk together the flour, baking powder and salt in a separate bowl.
2. Add the applesauce, honey, oil, molasses and egg to the cereal mixture and stir until combined. Add the flour mixture and stir until just combined. Gently stir in the chopped figs.
3. Spoon the batter into the prepared pan and top each muffin with a fig slice. Tap the pan on the counter a few times to remove any air bubbles.
4. Bake for about 20 minutes, until a toothpick inserted in the center of a muffin comes out clean. Cool in the pan on a rack for 15 minutes. If necessary, run a knife around muffins to loosen. Unmold muffins and cool completely on a rack.
Rachel Perdue's Buttery Hamantaschen
Makes approximately 3 dozen.

1 cup butter, softened
2 cups sugar
2 large eggs
4 2/3 cups all-purpose flour, plus
more for dusting
1 tsp baking soda
1/4 tsp salt
1/4 cup buttermilk
jar of apple, pear or pumpkin butter
coarse sanding sugar, if desired
1. In the bowl of an electric mixer fitted with the paddle attachment, cream butter and sugar until fluffy, about 4 minutes. Add eggs, one at a time, beating well after each.
2. Sift flour, baking soda and salt into large bowl. On low speed, gradually add flour mixture to creamed butter, alternating with buttermilk, until combined. Wrap dough in plastic and chill until firm, 1 hour or overnight.
3. Preheat oven to 350° and place racks in center of oven. Line 2 baking sheets with parchment paper. On a lightly floured surface, roll chilled dough to 1/8-inch thickness. Using a glass, cut out circles and transfer them with a spatula to baking sheets. Chill for 30 minutes.
4. Place a small spoonful of apple, pear or pumpkin butter in center of each circle and fold into a triangle, leaving centers exposed. Sprinkle with sanding sugar, if using. Bake until golden but not too brown, about 10 minutes. Cool cookies on a rack. Continue with dough, rerolling scraps.