Season to Taste: Good Food, Every Day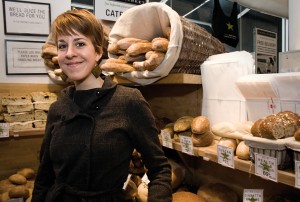 In these days of busy schedules and overprogrammed lives, what does "daily cooking" look like? Too often—whether the kitchen belongs to a couple of empty nesters, a single person cooking for one or a family lieutenant supplying food-as-fuel for an entourage of relatives and friends—as the week grinds on, the need to get food on the table can lead us to shortcuts culled from a box, mix or freezer. Thankfully, Leah Koenig thinks things are changing.
"Jews have such a great tradition of cooking for Shabbat and special occasions, making everyday cooking exciting and varied sometimes gets overlooked," says Koenig, a 29-year-old food writer with the soul and culinary instincts of someone who has been cooking for generations.
Koenig is the author of the brand-new Hadassah Everyday Cookbook: Daily Meals for the Contemporary Jewish Kitchen
(Universe), which offers more than 160 recipes—and a foreword written by famed cookbook author Joan Nathan—that aim to transform quotidian cooking from a prosaic chore to a simple pleasure. The book is a follow-up to the popular 2002 The Hadassah Jewish Holiday Cookbook: Traditional Recipes from Contemporary Kosher Kitchens
, reissued in 2008 by Universe.
Koenig, a well-known food writer for The Forward and other Jewish publications as well as a contributor to Everyday with Rachael Ray, Saveur and Gastronomica online journal, worked on food initiatives at Jewish-sustainability organization Hazon for several years. She also served as founding editor for Hazon's award-winning blog, The Jew & the Carrot.
Addressing a generation of cooks for whom cooking with ethnic, seasonal and ethical influences is increasingly important, the book is filled with produce-centric recipes. "I wouldn't say it's a 'secret vegetarian' book, but it can't hurt to reduce our carbon footprint," says Koenig, who herself abstained from meat for 10 years before recently reincorporating it into her diet. The book also avoids classic pitfalls of kosher cookbooks, eschewing chemical-filled nondairy substitutes and hydrogenated margarine in favor of almond and soy milk and nonhydrogenated margarine and other more natural alternatives.
There are dozens of everyday cookbooks, so how did Koenig and Hadassah give this one a Jewish twist?
"Jewish ingredients are a hard category to figure out," says Koenig. "It is often as much about the heart, feel and intention of the food than the origin itself."
To that end, many recipes, while inflected with Jewish touches—pomegranate seeds crowning luscious chocolate brownies, smoked salmon woven through a jumble of scrambled eggs—could grace any modern table.
Some dishes are updates on Jewish staples: Challah French Toast with Pear Compote and Sesame Seed Chicken Cutlets, made healthier with the addition of ground flax seeds to the breading. And Koenig includes multiple Israeli everyday classics, from the egg dish Shakshuka to Sabich eggplant sandwiches to spicy Za'atar Pitza.

"We all want to put delicious, healthful food on the table, each and every day, but we are all busier today than ever," notes Ruth G. Cole, chair of Hadassah Magazine, which oversaw the book's creation. "What this book offers is a blueprint for preparing simple, fresh meals—from breakfast to lunch, dinner to dessert, even snacks and cocktails. The Hadassah Everday Cookbook will fit busy lifestyles and tastes that range from comfort food to the truly gourmet."
Koenig credits her mother, Carol Koenig, a long-time Hadassah member in the Chicago area, as a master at getting wholesome, nourishing meals on the table while working full-time. "Even things I don't realize I learned from her, I learned from her," says the author, who included several of her mother's mainstays—Apple Walnut Bread, Pepper Steak, Sweet Citrus Fruit Salad with Honey and Pistachios.
Koenig adopted a more religious lifestyle when she met her now-husband, musician Yoshie Fruchter. Similar to the humble, unassuming way she practices her Judaism, the recipes she chose for the book—culled from a variety of sources including friends, family and celebrity Jewish cooks—wear their Jewish identity comfortably.
"I just want things to be easy," she says. "If people don't feel comfortable, they're not going to want to cook." With dishes as effortless and delicious as these, don't be surprised if you find yourself in the kitchen more often than expected.
These selections are appropriate for Passover menus, though the book steers clear of devoting an entire section to the holiday. Many of the collection's recipes just naturally work for the holiday, a tribute to their versatility and focus on turning nature's bounty into repast after delicious repast.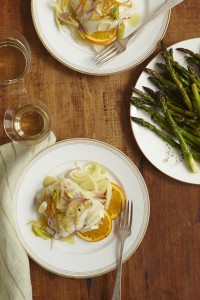 Citrus Cod with White Wine
Serves 3-4
1 1/2 pounds cod fillets (or any white fish)
1/2 cup white wine
Juice of 1 orange
Juice of 2 limes
Juice of 1 lemon
1/4 cup olive oil
1 teaspoon lemon zest
1 teaspoon orange zest
4 cloves garlic, minced
1 shallot, minced
3 scallions, thinly sliced, plus more for garnish
1 teaspoon kosher salt
Freshly ground black pepper
1 yellow onion, sliced
1. Preheat oven to 350 degrees. Rinse fish, pat dry and place in a glass baking dish.
2. Whisk together wine and citrus juices. Add oil in a slow stream, whisking together until emulsified. Stir in zests.
3. Pour wine and citrus dressing on top of fish. Sprinkle garlic, shallot and scallions on fish and season with salt and pepper to taste. Arrange onions around fish. If desired, add a few thin rounds of one or more of the citrus fruits to the dish for color.
4. Bake for 20-25 miutes, until fish is cooked through. Serve topped with additional scallions, if desired.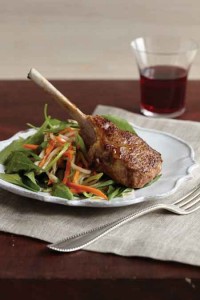 Cucumber and Mint-Spiced Lamb Salad
Serves 4-6
For Salad:
2 TBs white wine vinegar
1 TB olive oil
8 mint leaves, roughly chopped
Sea salt and freshly ground black
pepper
1 English cucumber, julienned
2 carrots, julienned
4 scallions, thinly sliced
1/2 pound arugula
For Lamb:
1 tsp cumin
1 tsp chili powder
Sea salt and freshly ground black
pepper
6 lamb chops
1 TB olive oil
1. Make the salad: In a small bowl, whisk together vinegar, oil, mint leaves and salt and pepper to taste; set vinaigrette aside. Combine cucumber, carrots and scallions in a medium bowl and set aside.
2. Cook the lamb: Preheat outdoor grill or grill pan over medium-high heat. Combine cumin, chili powder and salt and pepper to taste in a small bowl. Brush lamb chops with oil and season with spice mixture. Place lamb on preheated grill and sear on one side until browned, 3-4 minutes; flip and cook on second side another 3-4 minutes, until cooked through.
3. Spread arugula onto a serving platter and top evenly with cucumber-carrot mixture. Lay lamb chops on top of salad and drizzle with vinaigrette.
Broiled Grapefruit with Brown Sugar
Serves 4
2 grapefruits, halved horizontally,
seeds removed
Pinch of cardamom or cinnamon
(optional)
4 TBs brown sugar
1. Preheat broiler. Section grapefruits with a sharp knife, cutting around outside edges and at the seams of each section to loosen them.
3. Place the grapefruit halves in a baking dish (you can trim a little peel off the bottom to help them sit still without rocking). Spread 1 TB brown sugar onto each half and sprinkle with spices, if using. Broil until sugar is bubbly and fruit is gently warmed through, about 5 minutes.