Season to Taste: Kid Chefs
Kids are cooking. On Amazon.com, cookbooks aimed at young food enthusiasts and their parents abound. Ten percent of the Food Network's audience is comprised of children under the age of 11. Even First Lady Michelle Obama has gotten involved, promoting cooking with kids
as a way to curtail our nation's growing childhood obesity epidemic.
"One of the best ways to teach kids great eating habits is to get them involved in the preparation of their food," says Julie Negrin, a chef, nutritionist and author of the cookbook Easy Meals to Cook with Kids
 (AuthorHouse) in which she shares her extensive experience educating children and their families about sound eating.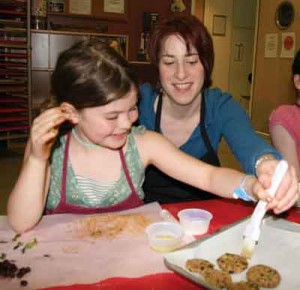 Exposure to cooking from scratch at an early age sets up a lifetime of kitchen confidence in youngsters, and Negrin cites studies showing that, with a little planning, cooking from raw ingredients takes only a few minutes more than using prepackaged ingredients.
In her book, tasks are divided into age-appropriate categories based upon development of motor skills, attention span and ability to manage responsibility. So while kids as young as 4 or 5 can practice kneading dough or cracking eggs, kids in their 'tween years can—with proper training—safely use a chef's knife and cook almost independently.
Negrin's book is health-focused but not heavy-handed, with an emphasis on vegetables and balanced eating. Still, there is no "sneaking" of healthy ingredients into recipes. "Kids are smart and they will know if you are trying to pull one over on them," says Negrin, who treats even her smallest subjects with respect and empowers them with skills they can use as the basis for their own future kitchen repertoire.
That's a philosophy shared by Samantha Garelick (www.thekoshergirl.com), a Los Angeles-based chef and cooking instructor who has her own budding chef—her 2-year-old son.
"Rather than doing things like slipping the avocado into the chocolate pudding, I will really try to explain things to him," says Garelick, who stresses the connection between bright colors and healthy vegetables and reinforces that eating well will make him healthy, smart and strong.
In her kids' cooking classes, Garelick integrates vegetables into meatballs or bakes—rather than fries—kid-friendly favorites like egg rolls. "It's showing them that the things they love can be good for them and still taste great," she says.
Jewish tradition adds an additional element. "So much of our culture revolves around the kitchen," says Susie Fishbein, whose cookbooks cater to an observant Jewish clientele. Her child-oriented book, Kosher by Design: Kids in the Kitchen
 (Mesorah), was a hit a few years back. "It's a natural learning playground for parents and children to explore the interplay of food and Judaism together. And besides, Shabbat and holidays are always around the corner."
All the chefs agree that sometimes you just have to let kids be kids. "Many children are first introduced to the kitchen with the scent of delicious brownies or chocolate chip cookies, and that's what they may want to make first," says Fishbein. "I have seen a real rise in awareness of healthy eating among kids, but in my opinion there should always be a place for a little indulgence."
The key, says Garelick, is not to make desserts a Pavlovian sweet finish. In class she does not necessarily teach desserts last, and at home she does not reward vegetable eating with a cookie. "That's not the message I like to send," she says.
These soba noodles are exotic yet easy and can be made in advance. According to Negrin, kids and adults equally love the bright colors, sweet-salty flavors and the crunch of the vegetables. "It's a crowd pleaser that's good for you, too," says Negrin.
Toasted Sesame Soba Noodles
Serves 4. From Easy Meals to Cook with Kids
(AuthorHouse).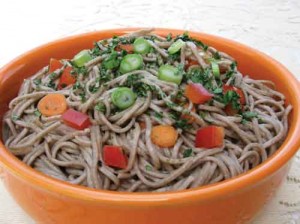 One 8-ounce package soba noodles
1 TB freshly squeezed lime juice
(about 1 lime)
3 TBs toasted sesame oil
2 TBs wheat-free tamari or soy sauce
2 TBs rice vinegar
1 TB mirin
2 tsps pure maple syrup
Optional: crushed red pepper flakes
or minced fresh ginger
1/2 red pepper, diced
1 medium-sized carrot or 6 baby
carrots, diced
1 cup snap peas, diced
1/2 cup cucumber, peeled and diced
2 scallions, sliced
1/4 cup cilantro, chopped
1/2 tsp kosher salt or sea salt
Freshly ground black pepper to taste
Garnish with toasted sesame seeds
Optional: avocado slices, grilled
chicken or sautéed tofu
Adults: In a medium saucepan, cook the soba noodles according to package directions.
Kids 6 and Up: While the noodles are cooking, whisk the lime juice, toasted sesame oil, tamari or soy sauce, rice vinegar, mirin, maple syrup (and red pepper flakes or ginger, if using) in a small bowl.
Adults: Drain the noodles in a colander and run cold water over them. Transfer to a large mixing bowl.
Kids 4 and Up: Fold the red pepper, carrots, snap peas, cucumbers, scallions and cilantro into the noodles. Add the dressing to the noodles and mix well. Season with salt and pepper and sprinkle with sesame seeds (and top with avocado, chicken or tofu, if using). Serve warm or chilled. This dish makes scrumptious leftovers. Store the noodles in a sealed container in the refrigerator for up to 5 days.