Season to Taste: Bake, Broil, Blog
If anyone ever doubted that the Internet was the great equalizer, the ascent of food bloggers is proof positive. Gone are the days when food writing was the sole province of professionally trained chefs or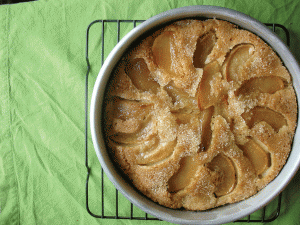 full-time journalists. These days, a computer and true passion are the only requirements for savvy home cooks eager to upload homespun prose with recipes to match.
The medium really hit its stride a few years back with the popularity of Julie Powell's Julie and Julia blog, where the author cooked her way through Julia Child's classic Mastering the Art of French Cooking
 , but Jewish bloggers writing about kosher food lagged a few years behind. Now, they are starting to find their place in the online world—and gaining wider audiences in the process. Early pioneers like The Jew and the Carrot (originated by Hadassah Everyday Cookbook
 author Leah Koenig) and Boston-based The Kosher Blog have spawned many offspring.
But that old culinary adage about cream rising to the top applies here, too; the best iterations find a natural audience as their authors' distinctive voices assert themselves.
Back in 2008, Rivka Friedman, 28, took advantage of some prolonged down time at her health care consulting job in Washington, D.C., to launch her food blog, Not Derby Pie (named for a favorite family dessert; 
www.notderbypie.com
).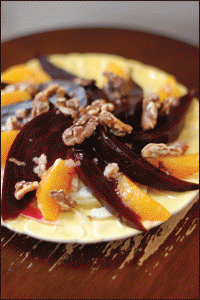 She began posting reflections about what she was making for dinner. "It all started out as an experiment," says Friedman, whose childhood in a food-loving household emerges often in her posts. All of her recipes are kosher, but you often wouldn't notice unless you were looking.
Still, Jewish holidays do inspire special menus and, like most kosher blogs, the Jewish calendar unspools as a subtle thread throughout. Though the food she features is both sophisticated and approachable (some are adapted from other sites like Amanda Hesser's crowdsourcing www.food52.com), it is Friedman's growing gift for food photography that distinguishes her from the pack. Her colorful, almost textural images of food preparation and finished dishes deliver a lush, virtual bite worthy of a professional. "Now what motivates me is that my stuff is out there, and that I might have inspired someone along the way," Friedman says.
For some bloggers, their online persona is their primary creative outlet. Gayle Squires, a 35-year-old health care consultant in Boston who blogs as Kosher Camembert (www.koshercamembert.com), writes poetically about food, travel and the intersection of food and everyday life. "It's the place I really get to be myself," says Squires, whose cooking has a seasonal-greenmarket bent fused with touches of her traditional Jewish background. And while some blogs clearly have their audience in mind, Squires's reads more like a dreamy personal diary. "I started it as a way to archive my recipes," she says, "and it turned into something else entirely."
Squires has also developed relationships with other bloggers, including a halal blogger with whom she now has an online dialogue. She even traveled to Portugal and Spain with an online peer.
The ability to connect with like-minded individuals has been an unexpected bonus for 46-year-old Michelle Nordell, an Alabama-born Israeli ola who blogs as Baroness Tapuzina (www.baronesstapuzina.com). Known for her quirky sense of humor and love of Israeli produce, Nordell's posts have connected her with food bloggers from the Arab world and allowed her to put forth a version of her adopted homeland she finds politically uncharged and refreshingly congenial. "I can present Israel in a positive light through food," she says. "And it makes me realize how small the world is."
To prove the point, the following two High Holiday-friendly recipes are related. One comes directly from Friedman while the other was adapted from her blog by Squires.
Easy Apple Cake
By Gayle Squires, adapted from Not Derby Pie.
For apples:
4 apples (Gala, Fuji, Granny Smith or
Crispin), peeled, cored and sliced
1 TB lemon juice
2 TBs margarine or butter
2 TBs sugar
For cake batter:
1 cup flour
3/4 cup sugar
2 eggs
1/2 cup canola oil
1 tsp baking powder
1 tsp vanilla
2-3 TBs demerara or sanding sugar
1. Preheat oven to 350º F. Grease and flour a 9-inch layer or springform pan. Sprinkle apples with lemon juice to prevent browning.
2. Heat margarine or butter in large sauté pan over low heat. Toss apples with sugar and cook in pan until apples soften and lose some of their liquid, 10-15 minutes. Meanwhile, combine flour, sugar, eggs, oil, baking powder and vanilla with a spoon.
3. Add half the warm apples with their juice to the batter and mix, then pour into the prepared pan and spread batter evenly with a spatula. Arrange remaining apple slices on the top in a decorative pattern and sprinkle with demerara sugar. Bake for 1 hour, then cool completely before removing from pan (edges may be sticky).
Roasted Beet and Orange Salad
From Not Derby Pie. Serves 4-6.
2 large beets (3/4-1 lb.)
2 tsps orange zest
1/4 cup fresh orange juice
1/4 cup champagne or white wine
vinegar
1 minced shallot (about 2 TBs)
1/2 tsp fennel seeds, toasted
1/2 tsp sea salt
1/2 cup walnut oil
1 bulb fennel, stalks removed, fronds
reserved, bulb very thinly sliced
3 oranges, segmented
3/4 cup walnut halves, toasted
Salt and pepper to taste
1. Preheat oven to 375°F. Wrap beets tightly in foil. Roast on a baking sheet until just slightly tender, 45 minutes to an hour. Cool completely in foil.
2. To make dressing, combine zest and orange juice, vinegar, shallot, fennel seeds and salt. Slowly whisk in walnut oil.
3. When beets are cool, unwrap and remove skin with paper towels. Halve beets lengthwise and slice into wedges, transfer to a bowl and toss gently with half the dressing. Chill for 30 minutes.
4. When beets are sufficiently cool but not cold, toss fennel with 3 TBs dressing and marinate for 5 minutes. Divide fennel among 6 plates. Alternate beet wedges and orange segments in a spiral pattern, then sprinkle with toasted walnuts. Drizzle with remaining dressing, sprinkle with salt and pepper and top with a few fennel fronds. Serve immediately.