Season to Taste: Brotherly Love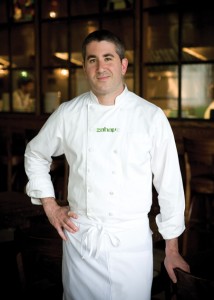 It's the shy side of 7 P.M. on a recent Monday night at Zahav, chef Michael Solomonov's hit four-year-old modern Israeli restaurant in Philadelphia. At the bar, patrons drink "limonana" (lemon-mint) cocktails, glasses of Israeli Dalton fumé blanc and shots of anise-flavored araq liquor as they scoop up colorful salads from towering mezze platters with torn pieces of still-hot laffa bread.
Across the way, almost directly underneath an oversized color photograph of Jerusalem's Mahane Yehuda market, stands Solomonov himself, arms dusted in flour as he rolls out dough and expedites the orders flowing in and out of the open kitchen.
"Can I get two kugels, a chicken liver and a hummus?" asks Solomonov, 32, rattling off an order rarely heard in fine-dining territory as he throws a circle of dough onto the brick surface of Zahav's custom-built wood-burning oven.
Though an increasing number of chefs in Israel are using sophisticated culinary techniques to portray the confluence of the country's multicultural melting pot on the plate, few Stateside have tried, much less succeeded, as fantastically as Solomonov.
The accolades started with Philadelphia magazine's Best New Restaurant award in 2008 and culminated with a prestigious James Beard Award for Best Mid-Atlantic Chef, 2011.
Solomonov, who was born in Israel but grew up mostly in Pittsburgh, did not start out cooking this kind of food—though as a teenager he worked the morning shift in a Kfar Saba bakery when his family returned for a time to Israel. Solomonov eventually found his way to culinary school in Florida, then spent years under the tutelage of Philly legend Mark Vetri at his eponymous restaurant before a life-altering event moved his culinary compass toward the Middle East.
On Yom Kippur 2003, Solomonov got the news that his brother, David, had been killed by sniper fire while serving in the Israel Defense Forces. Solomonov walked into Congregation Rodeph Shalom to hear the mournful tones of Kol Nidrei and soon afterward found his way to Israel, where he cooked for his brother's unit to express his grief and his gratitude.
His healing truly began when he opened Zahav, where he found a way to forge a unique cooking style without the baggage of politics or religious differences so often found in Israel.
Solomonov's food contains touches of soulful immigrant flavors that power Israeli eating. There is soup deepened with a turmeric-accented Yemenite spice mixture; crispy cauliflower resting atop herb-inflected labneh; and ice cream that is a cold, creamy take on Turkish coffee.
There are all manner of meats skewered and charred over a simple charcoal grate in a method replicated by millions of Israelis every weekend during grilling season.
And, of course, there is hummus—four kinds, in fact, including a traditional version as well as a soufflé-light, tahini-free Turkish iteration.
Solomonov's passion for Israeli home cooking is reflected in dishes like kibbe naya—raw lamb infused with cinnamon-tinged Baharat spices—and tiles of fried haloumi cheese, silky persimmon slices and black olives over intense, jammy date purée imported from Kibbutz Kinneret.
Zahav isn't kosher, but Solomonov uses organic kosher chicken when his budget allows, separates meat from milk and serves no pork or shellfish (though he does at Percy Street, his popular barbecue joint in town).
As Solomonov's success grows (there is also the nearby Federal Donuts, his hopping donut and fried chicken shop), so does his connection to the Jewish community. He and his wife, Mary, have an infant son, David, who goes to a federation nursery school affiliated with the Reform Rodeph Shalom, where he has many admirers, among them Rabbi William I. Kuhn.
"He has volunteered to teach our confirmation class and has been an integral part of our community supported agriculture project," Kuhn says. The rabbi recalled a recent hurricane that shut down nearly every city restaurant on a Saturday night. Not Zahav, which remained open. "It would take more than a hurricane to slow him down."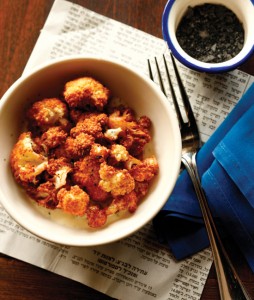 Fried Cauliflower
Serves 4.
For Labneh:
2 cloves very finely minced garlic
2 TBs fresh lemon juice
1⁄2 cup labneh* or Greek yogurt
1 TB chopped dill
1 TB chopped Italian parsley
1 TB chopped chives
1 TB chopped mint
Kosher salt and freshly ground black
pepper
For Cauliflower:
Vegetable oil for frying
1 head cauliflower
Kosher salt to taste
1. Make labneh: Combine garlic and lemon juice in a blender and let stand for 15 minutes. Add the labneh and herbs and pulse to mix thoroughly, 15-20 pulses. Season to taste with salt and pepper. Cover and refrigerate for up to 24 hours.
2. Make cauliflower: Heat vegetable oil over high heat in a heavy-bottomed pot. Separate cauliflower from core and break into florets approximately 1-inch in diameter. Fry the florets in batches until deep golden brown, 3-4 minutes. Remove with a slotted spoon and drain on paper towels. Season with kosher salt. Serve with prepared labneh.
*Labneh is available at Middle Eastern grocers and some supermarkets.

Beets with Tahini
Serves 4.

1 lb red beets, all roughly the same size
1 cup kosher salt, plus additional
4 oz prepared tahini (see recipe below)
2 oz fresh lemon juice
4 oz extra-virgin olive oil
4 TBs fresh chopped dill
1 TB fresh chopped mint
4 TBs lightly toasted chopped walnuts
Freshly ground black pepper
1. Preheat oven to 350 degrees. Scrub the beets under cool running water to remove all dirt and debris.
2. Spread 1/2 cup of kosher salt on the bottom of a heavy-bottomed sauté pan. Place the beets on top of the salt and cover with the remaining 1/2 cup kosher salt. Place sauté pan in the preheated oven and roast for approximately 90 minutes, or until the tip of a paring knife easily pierces the flesh of the beets. Remove the beets from the salt and cool for 20 minutes.
3. Remove the skins from the beets while still warm by rubbing with paper towels. Cool beets completely.
4. Grate the beets using the coarse side of a box grater. Combine the grated beets, prepared tahini, lemon juice, olive oil and herbs in a large mixing bowl and combine thoroughly. Season to taste with black pepper and additional kosher salt, if necessary. Sprinkle the walnuts on top of the beets and serve at room temperature.
Prepared Tahini

3 cups warm water
4 cups organic sesame paste (preferably unhulled)
2 garlic cloves, peeled, germ and root-end removed
1 tsp ground cumin
1/4 cup extra virgin olive oil
2 oz fresh lemon juice
Kosher salt
Combine the garlic cloves and lemon juice in a blender and process until it forms a smooth paste. Let stand for 10 minutes. Add 1/2 of the tehina and water and blend until smooth. Add the rest of the ingredients and blend again until smooth. Season to taste with kosher salt. Refrigerate for at least 30 minutes.