Season to Taste: Pulling Strings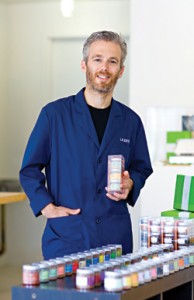 Leticia Moreinos-Schwartz's childhood in Rio de Janeiro was a study in contrasts.
There were days at the beach watching her parents drink mint-muddled capirinhas on weekends and Catholic holidays. But there was also the Jewish private school, the Israeli dance troupe and bar mitzva parties stretching so far into the night that breakfast was served as the sun came up.
"Brazil is a very tempting society," said Moreinos-Schwartz, 37, a Brazilian television personality, cooking expert and the author of The Brazilian Kitchen: 100 Classic and Creative Recipes for the Home Cook
 (Kyle Books). "And not an easy place to stay religious."
Moreinos-Schwartz's father, Solomon, a native of Tangiers, and her Russian mother, Selma, married in 1970, and started their life together in a kosher, Sabbath-keeping home.
The family became less observant over time, but a powerful link to their heritage was Moreinos-Schwartz's tia, or aunt, Sarita Benzaquem, who had moved to Brazil in 1958 with her new husband. Sarita then spent two years saving enough money to bring the rest of the family, including Solomon and their mother, Estrella, to Rio.
Holiday meals were always prepared by Tia Sarita and Vovo (grandma) Estrella. In addition to traditional Brazilian staples like rice and beans and salt-cod fritters, there were Moroccan Jewish delicacies such as pastellitos—seasoned ground beef enrobed in mashed potatoes and egg—and rich soups studded with tiny meatballs. "We loved all the dishes equally, but at the time we didn't distinguish between the Jewish and Brazilian ones," she said.
Though she was comfortably integrated into Brazilian society—there were Jewish and non-Jewish friends in the mix—Moreinos-Schwartz always felt different. "There was this constant sense of being an outsider that has been with me my whole life," she said.
That sense may be related to the history of Jews in Brazil, which dates as far back as the roots of the country. Established as a Portuguese colony in 1500, Brazil was initially a source of hope for Portugal's Jews, who had forcibly been converted in 1497, driving many to become Conversos (Jews who practiced in secret). Many moved to Brazil hoping for an easier life, but discrimination ensued until Brazil established independence in 1822—excepting the 30-year Dutch occupation between 1624 to 1654. Today, Brazil's Jewish population numbers 150,000, most of whom are nonreligious.
Rather than viewing her outsider status as a roadblock, Moreinos-Schwartz used it to her advantage when she moved to the United States in 1996 to pursue her passion for cooking. "Integrating here was easier since I already felt a bit like an immigrant," said Moreinos-Schwartz, who lives with her husband, Dean, and their two children—Thomas, age 11, and Bianca, age 9—in suburban Connecticut.
Over time, she began yearning to reconnect with her Jewish roots. "Having kids and being far from family contributed," she said.
Three years ago, on her annual trip back to Rio, she began cooking with Tia Sarita, now 72, and her longtime domestic worker, Nuesa de Sousa, a constant presence in their lives. As they talked and cooked, Moreinos-Schwartz learned stories about Vovo Estrella, like the communal oven she used to cook in in Tangiers, and the methodology behind those pastellitos.
Tia Sarita and Moreinos-Schwartz speak every month, and after the family gossip and casual conversation, the last question is always the same. "When are you coming again, mi reina [my queen]? And what are we cooking?"
Serves 6 to 8.
Owing in part to the level to which most Jewish immigrants integrated into Brazilian society, a true Jewish-Brazilian cuisine never developed, said Moreinos-Schwartz. Still, many of Tia Sarita's traditionally Moroccan recipes contain more than a splash of Brazil. Tia Sarita's mayonnaise, which her family originally made in Tangiers, replaces lemon juice with lime, which is far more widely available in Brazil. Once you make homemade mayonnaise you will be hard-pressed to go back to the jarred version. The chicken salad, a staple of Brazilian beach cuisine, is an interplay of sweet and spicy flavors and makes for a perfect lunch.
Although the potato strings are an indulgence, they are worth it. Both the mayonnaise and potatoes can be replaced with store-bought versions.
Mayonnaise
(Makes 1 1/2 cups)
1 egg, room temperature
1 tsp fresh lime juice
3/4 tsp salt
1 1/2 cups canola oil
Blend egg, lime juice and salt in a blender on high and drizzle in oil, very slowly, until thick and opaque. If you do this right, it should take
3-5 minutes.
Potato strings
2 Idaho potatoes (about 1 lb)
4 cups vegetable or canola oil
Salt to taste
1. Using a mandolin slicer or by hand, shred or cut potatoes into shoestrings. Soak in cold water, then drain.
2. Spread potatoes on a flat surface, cover with paper towels and dry 5-10 minutes.
3. Heat oil in a heavy-bottomed pot until a potato placed in oil browns and crisps quickly.
4. Fry potatoes in batches until lightly golden; drain on paper towels.
5. Season with salt.
Salad
1 (3 to 4 pound) roasted chicken or rotisserie chicken
2 TBs olive oil
2 cups thinly sliced onions
3/4 cup raisins
2 TBs white wine
1/2 cup prepared mayonnaise
3 TBs tomato sauce, preferably marinara
2 TBs freshly chopped parsley
Kosher salt and freshly ground black pepper
1/8 tsp cayenne
1/8 tsp paprika
2 cups coarsely grated carrots
1. Thinly shred chicken by hand (discard skin) to yield 4 cups.
2. Heat oil in a large skillet over low heat. Add onions and cook, stirring, until translucent, 10-15 minutes; transfer to a bowl and set aside.
3. Cook raisins and wine in a small saucepan over low heat until raisins begin to soften, 3-5 minutes. Transfer with liquid to a plate to cool.
4. Combine mayonnaise, tomato sauce, parsley, salt, pepper, cayenne and paprika in a medium bowl.
5. Combine pulled chicken, reserved onions and raisins, carrots and mayonnaise sauce in a large bowl; adjust seasoning to taste.
6. Place the salad on a large platter and arrange the potato strings on top.