Meat, Cook, Love
Do you know where your pastrami comes from? Leo Beckerman and Evan Bloom do. As proprietors of the 10-month-old Wise Sons deli in San Francisco, the food entrepreneurs, both under the age of 30, knew that just any old meat wouldn't make the cut. As the source for the brisket used to produce their instantly iconic pastrami, they turned to Creekstone Farms, purveyor of grass-fed, organic (but not kosher) meat.
Their briskets take a weeklong bath in a brine of salt, sugar, garlic and pickling spices before getting slathered in spices and smoked with hickory wood for eight hours. While it's true that their brisket has a peerless pedigree, their initial motivation was something altogether different. "We just wanted a good pastrami sandwich," said Beckerman. Aside from the pastrami, his restaurant's defining characteristic is the line stretching around the corner every day come lunchtime.
Wise Sons is part of a growing group of meat-centric Jewish restaurants including Washington, D.C.'s DGS Delicatessen and Kenny & Zuke's in Portland, Oregon, who have made it their mission to revive the classics while applying standards the new food generation holds dear: ethical, sustainable, local whenever possible and, above all, house-made. With ethnic cuisines across the culinary spectrum getting an update, it's no surprise that the movement has found its way to the Jewish table.
"Handcrafting is a big part of what we're doing," said Noah Bernamoff who, along his wife, Rae, own Mile End, a Brooklyn restaurant specializing in smoked meat—the much-adored pastrami cousin Bernamoff grew up eating in his native Montreal (Rae Bernamoff hails from New Jersey).
"We only want to serve food that we're making," adds Bernamoff. "So why wouldn't that apply to meat, too?"
After his grandmother died, Bernamoff realized that updating the foods she served on Shabbat and holidays could be his life's calling. While still working as a woefully unfulfilled attorney, he began to redevelop beloved totems of the Ashkenazic food canon.
Since debuting in 2010, Mile End has garnered a cult following and a spinoff sandwich shop in Manhattan. While the younger generation makes up the majority of his clientele, Bernamoff is equally trained on impressing the old-timers. "If anything, they are more discerning," says Bernamoff. "They have something against which to compare."
Interestingly, though the revival in Jewish-style meats shows no signs of slowing down, hardly any of it is kosher. While a few purveyors, including New York's Grow and Behold and Maryland's Kol Foods, are producing kosher-certified, ethically raised meats, their audience remains small and, at least for now, mostly home-based.
The topic of meat has clearly captured the imagination of the food world. Naama Shefi, a freelance culinary curator who collaborates with the Center for Jewish History in New York, recently organized a panel discussion on brisket. Experts Jewish and otherwise talked about the meat's historic roots, attributing Jewish immigrants' love for the cut of meat to its richness, long cooking time, relatively low cost and ability to feed a crowd.
Then the sneaker-clad, bearded Bernamoff piped into the conversation: "I would argue that brisket is more than a source of nostalgia for Jews. It is a legitimately delicious product worthy of our respect and adoration."
Last year, the Bernamoffs released The Mile End Cookbook
 (Clarkson Potter), a love letter to East European Jewish food that is simultaneously simple and elegant. The following recipe stars skirt steak, which Bernamoff calls the "quintessential" Jewish steak. The luscious sauce and charred onions hint at the upcoming arrival of springtime and would be great for lunch company or a family dinner. Also below is Mile End's recipe for hamantaschen (apricot, prune and poppyseed), just in time for Purim.
Romanian Steak with Spring Onions
Serves 4. Adapted from The Mile End Cookbook
 (Clarkson Potter).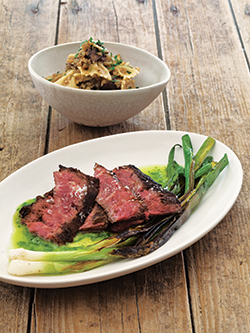 3 TBs paprika
1/4 cup plus 1/3 cup extra virgin olive oil
3 sprigs rosemary
6 garlic cloves, peeled and halved
1, 2-pound skirt steak, cut into 4 equal-sized pieces
2 bunches scallions, divided
1/4 cup chopped flat-leaf parsley
3/4 cup canola oil, divided
Kosher salt
Freshly ground black pepper
Zest and juice of 1 lemon
Marinate Steaks
Combine paprika, 1/4 cup olive oil, rosemary, 4 cloves garlic and steak in glass baking dish. Toss to coat, cover and marinate in refrigerator at least 3 hours or overnight.
Make Scallion Sauce
1. Trim roots from 1 bunch of scallions. Blanch in boiling water for 30 seconds, plunge in ice water and drain again.
2. Chop blanched scallions and add to food processor with remaining garlic, parsley and lemon zest. Pulse 5 times. With processor running, add 1/3 cup olive oil and 1/4 cup canola oil in slow stream until creamy, loose sauce forms. Season with salt and lemon juice to taste.
Cook Steaks
1. Working in 2 batches, heat 2 TBs remaining canola oil in a large skillet over high heat. Remove steaks from marinade, season with salt and pepper and cook 3-4 minutes per side. Let steaks rest 5 minutes.
2. Drain all but 1 TB fat from skillet and char scallions, 2 minutes per side. Slice steak against grain; serve with sauce and charred scallions.
Rae: We wanted to come up with a version of this Purim pastry that was light and crumbly but not dry, and these really fit the bill. At Mile End we make the three classic kinds: apricot, poppy seed, and prune. If you want to make a mixed batch, just make all three fillings, using a third of the amount of each of the filling ingredients called for below. Mile End's baker, Rich Maggi, swears by his tortilla press for flattening the dough, though a rolling pin will also do the trick.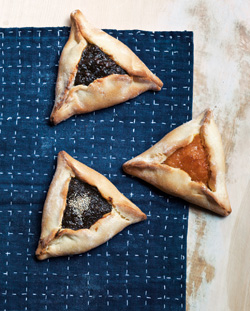 4 cups all-purpose f lour
1 teaspoon baking powder
2 teaspoons Diamond Crystal kosher salt
Zest of 1 lemon
4 large eggs
1 cup sugar
1 cup canola oil
1/4 cup lukewarm water
For the apricot or prune filling:
2 cups dried apricots or dried prunes
1 cup sugar
1 cup water
For the poppy-seed filling:
1 cup poppy seeds
1 1/2 cups dark raisins
1 1/2cups golden raisins
1/2 teaspoon ground cloves
1/2 teaspoon Diamond Crystal kosher salt
1/2 teaspoon ground cinnamon
1 cup sugar
2 cups water
Make the dough: Combine the flour, baking powder, salt, and lemon zest in a large bowl and mix them together with your hands until thoroughly combined. In a separate bowl, whisk the eggs, sugar, and oil together vigorously until thoroughly combined. Pour the egg mixture into the dry ingredients and mix them together with your hands for 10 to 15 seconds. Add the water and continue mixing with your hands until the dough comes together, another 30 seconds or so.
Scrape the dough onto a floured surface, adding a little more f lour if the dough is too sticky.
Use your hand to f latten the dough slightly into a thick disk, and wrap the disk very snugly in aluminum foil. Refrigerate until the dough is firmly set, about 3 hours.
Make the apricot or prune filling: Combine all the filling ingredients in a medium saucepan and bring them to a boil over medium-high heat; reduce the heat and simmer for 5 minutes. Set the mixture aside until it is just cool enough to handle, then transfer it to the bowl of a food processor and process until smooth. Refrigerate the filling until it's completely cooled before using.
Make the poppy-seed filling: Combine all the filling ingredients in a medium saucepan and bring to a boil over medium-high heat; r educe the heat and simmer until the mixture has reduced somewhat, 15 to 20 minutes. Set the mixture aside until it is just cool enough to handle, then transfer it to a food processor and process until the poppy seeds have broken down and are thoroughly incorporated, 5 to 6 minutes. Refrigerate the filling until it's completely cooled before using.
Shape, fill, and bake the cookies: Remove the dough from the refrigerator (it will look and feel quite oily) and transfer it to a floured surface.
1-2. Tear off a small piece of dough and roll it between your hands into a ball roughly the size of a Ping-Pong ball; use your hand to flatten the ball into a thick disk. Repeat with the remaining dough to make roughly 28 disks and hold them in the refrigerator.
3-4. Then, pull one disk out at a time and place it onto a sheet of floured parchment paper. Fold the edge of the paper over the top of the disk, and use a tortilla press or rolling pin to flatten the dough until it's roughly doubled in width. Using the same sheet of parchment and adding f lour as needed, repeat with the remaining dough pieces.
5. Working with 1 flattened piece of dough at a time, dollop a heaping tablespoon of the filling of your choice in the center of the dough.
6. Then gently fold 1 edge of the dough over the side (but not over the top) of the filling and press the edge slightly against the filling so it stays in place.
7. Next, bring up a second edge the same way.
8. Finally, bring up the third edge and pinch the 3 seams together, creating a triangular pastry with a little of the filling still exposed at the top. Transfer it to a 10-by-15-inch baking sheet that's lined with parchment paper and greased with oil or cooking spray (use a bench knife or a metal spatula to gently scrape the bottom of the filled cookie off the work surface, if necessary). Repeat with the remaining dough and filling. Cover the filled cookies with plastic wrap and refrigerate them for about 30 minutes.
Preheat the oven to 350°F. Remove the plastic wrap and bake the cookies, rotating the tray halfway through baking, until golden brown, 10 to 15 minutes.
Makes about 28 cookies
Reprinted from The Mile End Cookbook
. Copyright © 2012 by Mile End Delicatessen. Photograph copyright © 2012 by Quentin Bacon. Published by Clarkson Potter, a division of Random House, Inc.