Sticky Toffee Apple Pudding for Rosh Hashanah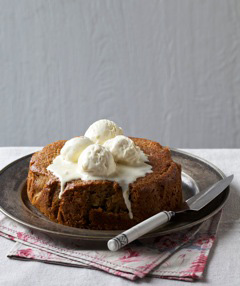 Though I already reviewed Jewish Traditional Cooking: Over 150 Nostalgic & Contemporary Recipes
 for the magazine just last month, there was a standout dessert that I did not include because the timing just wasn't right. You see, it is Sticky Toffee Apple Pudding (delish!), and that, of course, means one thing: Rosh Hashana.
Thankfully, the New Year is just around the corner, so I have the opportunity to share with you, and you have the excuse to make (and then devour at your holiday table), Ruth Joseph and Simon Round's comfort food dessert. Comfort me with apples, indeed. Here's to a sweet, and sticky, new year! B'teyavon and shana tova!
Sticky Toffee Apple Pudding for Rosh Hashanah
Serves 8-10.
This sticky toffee honey dessert is enriched with the tartness of cooking apples for the perfect Yom Tov dessert.

1 3/4 cups all-purpose flour
3/4 teaspoon baking soda
1/2 teaspoon ground cinnamon
1 cup non-dairy margarine or butter
1/2 cup packed dark brown sugar
2/3 cup honey (or corn syrup)
2 eggs
4 tablespoons soy milk or whole milk
1 cooking apple
Juice and grated zest of 1/2 lemon
8 dates, pitted and finely chopped
4 tablespoons crystallized ginger, finely chopped (optional)
1. Preheat the oven to 325 and line an 8-inch round, loose-bottomed cake pan with parchment paper.
2. Sift the flour with the baking soda and cinnamon into a bowl. Melt the margarine with the brown sugar and honey (or corn syrup) in a small pan. Set aside to cool slightly. Beat the eggs with the milk in a large mixing bowl. Peel and grate the apple and mix with the lemon zest and juice. Combine with the egg mixture and stir in the dates and ginger (if using). Pour in the melted honey mixture and combine thoroughly. Quickly fold in the flour and spices and spoon into the prepared pan.
3. Bake in the oven for about 1 hour until the cake is gloriously golden brown and risen. Insert a toothpick—it should come out clean if cooked. Serve hot or cold with ice cream and enjoy for a sweet, good year. This dessert keeps for days and is sticky and delicious.