Season to Taste: Cooking Slow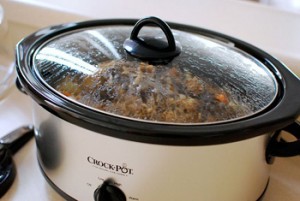 We Jews have a long relationship with long-cooked dishes, stretching back to the biblical tale of Esau selling his birthright to his brother, Jacob, for nothing more than a steaming bowl of simmered lentils.
There is also the halakhic prohibition against working on the Sabbath; as the biblical story goes, after creating the world in six days, God rested on the seventh—and therefore so do we—meaning that food for Shabbat should be prepared in advance. Cholent (Ashkenazic) and hamin (Sefardic), those bubbling stews set over a flame before Friday candle lighting and cooked overnight for serving on Shabbat day, are the perfect expression of active-passive cooking. They continue to be extremely popular with observant Jews.
Modern times brought the invention of the slow cooker, and with so much history between us and the bubbling cauldron, it should not be surprising that it was a Jewish invention. In the 1950s, Irving Naxon, the son of Lithuanian immigrants, invented what he called the Naxon Beanery, a plug-in pot with an electric heating element that was eventually sold to Rival in 1971 and renamed—you guessed it—the Crock-Pot.
Fast-forward to today, where the slow cooker is still popular. While dozens of new models with endless features hit the market every year, look for a relatively simple one that feels solid in construction, has an easy-to-use interface (many are digital) and fits the footprint of your kitchen in both size and design. Busy schedules and a tighter economy have only reinforced that using one of these machines is a great, economical way to coax maximum flavor out of tougher cuts of meat, which benefit from slow-and-low heat, without having to check in on dinner's progress every few minutes. (Dark meat chicken, which tends to be less expensive than white, also performs marvelously.)

Though the slow cooker liberates one from stovetop maintenance, a few basic guidelines go a long way. Quality of ingredients is key, according to Dina Cheney, author of Year-Round Slow Cooker: 100 Favorite Recipes for Every Season
 (Taunton). "You can't just throw in a bunch of ingredients and walk away," says Cheney. Use the best herbs, wine, seasonings and other ingredients to build layers of flavor, just as you would in any other recipe. Browning meat or poultry before putting the protein in the slow cooker may take a few extra minutes, but the end result will prove more tender and luscious. Next, create a sauce with strong seasoning accents, since the slow cooker mellows assertive flavors as the hours go by. This may seem counterintuitive—won't the slow cooker do the work for me?—but since the device's temperature never reaches a boil, a sauce created inside its walls never has the chance to reduce and thicken. You will also want to dredge your protein in seasoned flour, which enhances a velvety texture and keeps it extra juicy and fork tender.
This recipe, a streamlined riff on a chicken tagine, gets double apricot flavor from the dried fruit and nectar; the citrusy zing of lemon peel and juice adds tang. It makes for an easy weeknight dinner.
Apricot Chicken with Carrots
Adapted from Year-Round Slow Cooker: 100 Favorite Recipes for Every Season. Serves 4.
1, 2-inch strip lemon peel
1 lb. carrots, peeled and cut into 1/3-inch coins
30 whole dried apricots
1/4 cup plus 1 TB all-purpose flour
1/4 tsp cinnamon
1/4 tsp coriander
1/8 tsp ginger
1/8 tsp cardamom
1/8 tsp cayenne pepper
1 tsp coarse salt, plus more for seasoning
1/8 tsp freshly ground black pepper, plus more for seasoning
2 1/2 lbs. bone-in, skinless chicken thighs (about 8 thighs)
3 TBs vegetable oil, divided
1 medium onion, finely chopped (about 2 cups)
1 1/2 TBs minced garlic
2 TBs tomato paste
1 cup apricot nectar
1/4 cup fresh lemon juice
1/2 cup low-sodium chicken stock
Toasted pine nuts and chopped parsley for garnish
1. Add the lemon peel, carrots and apricots to the slow cooker (a 6 quart model works best). Whisk the flour with all of the spices in a large bowl. Add the chicken and coat well, shaking off excess and reserving any remaining flour.
2. Heat 2 TBs of the oil in a 10-inch skillet over medium-high heat. Brown the chicken in two batches, about 11 minutes total, adding the remaining 1 TB of oil if the pan becomes dry. Transfer the chicken to the slow cooker.
3. Add the onions and garlic to the skillet, and cook until the onions are softened and translucent, scraping the bottom of the pan with a wooden spoon, 4-5 minutes. Stir in the tomato paste and reserved flour and whisk well until the flour disappears, 1-2 minutes.
4. Add the apricot nectar, lemon juice and stock, then bring to a boil; boil for 2 minutes, then pour sauce over the chicken in the slow cooker, moving chicken pieces so sauce settles and almost submerges the chicken.
5. Cover and cook on low until the chicken is cooked through and the carrots are tender, 5-6 hours. Remove lemon peel, season with additional salt and pepper to taste, and garnish with pine nuts and parsley. Serve with cooked brown rice, quinoa or the grain of your choice.