Chicken, Centerpiece of a Jewish Table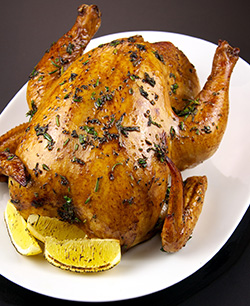 Many a Friday I have a certain kind of Shabbat dinner in mind, the one with the dazzling menu hatched in an overly optimistic imagination, its many courses cycling through my head like some sort of culinary flipbook.
But then the errands, the housecleaning, the deadlines, the unexpected phone conversations, the doctor's appointment, the business trip—in short, life—get in the way. Since friends have been invited, there's no turning back, but a plan forward seems out of reach.
That is, until I roast a chicken.
It's not just because at this point I've committed the recipe to memory, or that people ask for it more than anything else I make, or that it's been the centerpiece of Jewish Friday night dinners for centuries. In my case, I make it because it's dead simple and because once in the oven the plan for a meal seems to magically arise, ushering in the kind of Friday night I had envisioned from the get-go.
I can prepare the chicken in 15 minutes or less, slide it into the oven, then use the roasting time as a countdown for preparing the rest of the meal. How much can I get done in the 90 minutes it takes for the chicken to turn a deep golden shade and perfume my kitchen with the aromas of garlic, lemon and herbs? A lot, it turns out. A salad, a side, a fruit salad—dinner is served.
While it's true that kosher chickens are fed an all-vegetable diet, they are no more hormone free, free range or better for you than a conventional bird unless they are specially raised. The primary taste benefit of a kosher chicken is its salinity. In recent years, many chefs have become enthralled by brining—the process of soaking raw chicken in a heavily salted solution to break down its cellular structure, add an extra layer of flavor and encourage juiciness. Since kosher laws dictate that all meat and poultry be salted to remove any excess blood, using a kosher chicken means you're essentially starting with a brined bird.
Always use a whole chicken; here, the unadulterated sum is truly greater than its parts, since an unbutchered bird stays moister and retains more of its natural juices. If you can't always find a fresh whole chicken, stock up when you do: Defrosting a frozen one is a perfectly good option, though you will have to build in extra time for defrosting the bird.
A simple paste of olive oil and fresh herbs—my recipe calls for oregano, thyme and rosemary combined with fresh garlic, lemon zest and chili flakes—makes quick work of flavoring the bird, which is stuffed with the zested lemon plus whole garlic cloves and herb sprigs.
Trussing the chicken isn't necessary, but it does keep the lemons and garlic inside; if you want to learn how, Google the procedure—otherwise just tie the legs together with a piece of kitchen twine.
Initially roasting at a high temperature then lowering the oven's heat encourages juiciness. Roasting in a pan that's not too large and not too small allows the juices to run out, but not evaporate, and the chicken to roast in just the right amount of its own liquid.
After Shabbat, combine the leftover chicken with your day-old, toasted halla, add a few ripe tomatoes and a simple vinaigrette and, behold, you have a salad.
1, 4-pound kosher chicken, rinsed and patted dry
2 TBs olive oil
1 lemon, zested and halved
2 TBs chopped fresh oregano, plus 2 sprigs
2 TBs chopped fresh thyme, plus 2 sprigs
1 tsp chopped fresh rosemary, plus 1 sprig
3 cloves garlic, minced, plus 3 whole cloves
1/4 tsp kosher salt
1/4 tsp freshly ground black pepper
1/4 tsp chili flakes
1. Preheat oven to 450°F. In a small bowl, combine olive oil, lemon zest, chopped herbs, minced garlic, salt, pepper and chili flakes.
2. Place the zested lemon halves, whole garlic cloves and herb sprigs inside the chicken. Tie the legs of the chicken with kitchen twine and place chicken, breast side down, in a 9 x 13-inch glass baking dish.
3. Rub the herb mixture all over the chicken and roast for 15 minutes. Reduce heat to 350°F and roast an additional 70-75 minutes or until a meat thermometer inserted into the thigh reads 165°F.
4. Remove from oven, let rest for 15 minutes, then drain liquid from pan into a gravy skimmer or pitcher; skim off fat and discard (to easily get rid of all fat, freeze drippings for 2 hours or until fat solidifies). Cut chicken into 8 pieces and serve with drippings.
Leftover Chicken & Halla Salad
Serves 4
6 TBs olive oil
2 TBs lemon juice
1 1/2 tsps Dijon mustard
Salt and pepper to taste
2 cups roughly chopped leftover roasted chicken, skin and bones removed
1/2 pound (4 cups) leftover halla, cubed and lightly toasted
3 large tomatoes, cored and chopped
1/2 cup torn fresh basil leaves
In a bowl, whisk together the olive oil, lemon juice, mustard, salt and pepper. Add the chicken, halla, tomatoes and basil, then toss; serve immediately.