A Seat at Their Table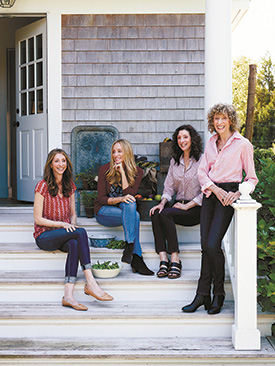 If you are experiencing the dinner (or dessert) doldrums, a new cookbook may just be the solution. The Pollan Family Table: The Best Recipes and Kitchen Wisdom for Delicious, Healthy Family Meals
(Scribner) is one famous family's approach to food that manages to be simple and sumptuous at the same time.
Most dishes take about an hour to get on the table, using ingredients available at any supermarket. For the Pollans, the book was a natural extension of a lifetime of meals shared in an exceptionally close family helmed by Corky Pollan, a veteran magazine editor who passed her love of cooking on to her three coauthors—daughters Tracy(an actress and the wife of actor Michael J. Fox), Lori and Dana (respected health and wellness authorities). Corky's son, Michael, is the best-selling author of books such as The Omnivore's Dilemma: A Natural History of Four Meals
(Penguin); he wrote the forward for The Pollan Family Table.
Until she went to work for New York magazine in the 1970s, Corky cooked intricate French meals for her family every night. Word spread, and Pollan dinners were often populated by a rotating cast of children's playmates, colleagues and friends. "People came to expect great food at our table," said Dana. "But they also came for the consistency of our family routine, which many craved."
As Corky reentered the workplace, she streamlined her cooking, shortening the roster of techniques and list of ingredients. "Just because I was busier did not mean I cooked less," said Corky. "I just cooked faster."
It was a lesson her children all adapted as they married and began to build families of their own.
"Our children and their friends looked forward to eating at all of our tables," said Tracy by phone from her home in New York (other than Michael, who lives in California, all the Pollans live minutes from one another). Over time, a sort of recipe dialectic emerged among the siblings and their mother, with a constant exchange of ideas, recipes and meals shared over email and, whenever possible, in person on weekends and over summer holidays.
"We eventually fielded so many requests from friends who had tasted our food that we realized we really had something there," said Lori.
The book—with lush, sunny images of both the food and the extended Pollan clan—was shot at Tracy and Michael J. Fox's Hamptons home. Recipes are divided into easily navigable chapters—poultry, meat, fish, dessert—plus useful guides to stocking a pantry. Vegetable sides, like a hearty Farro-Vegetable-Pilaf and Crispy Parmesan Zucchini Chips, are particular standouts.
It's in the dessert section, though, where the family's Jewish heritage is most on display (besides the Homestyle Chicken and Stelline Soup). Corky's mother, Mary, was clearly an inspiration to her daughter and grand–children, doling out cooking and baking advice as often as she did sweet treats.
"My grandmother Mary taught me a powerful lesson," writes Lori in the book. "Cooking is not a science but an art. Mistakes are okay, messes are fine—the pleasure is in the creating and the sharing of the result."
Lori, who still possesses a tiny red notebook filled with Mary's handwritten dessert recipes, remembers after-noons baking with her grandmother. "My mother would sometimes leave us there with implicit instructions for her to feed us dinner, The minute she walked out the door, my grandmother would look at us and say, 'Can't we just have cake?'" That cake was often this simple yet impressive Bundt creation, made elegant with a lashing of Grand Marnier and a sweet glaze.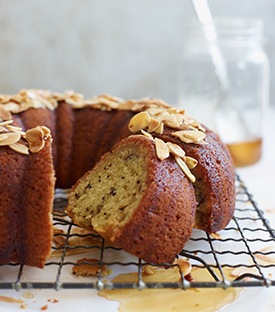 Grandma Mary's Grand Marnier Orange Cake
1/2 pound (2 sticks) unsalted butter, softened, plus more for greasing
3 tablespoons blanched sliced almonds, lightly toasted
2 cups all-purpose flour
1 teaspoon baking soda
1 teaspoon baking powder
1 1/2 cups sugar
3 eggs, separated
1 cup plain 2% Greek yogurt
1 tablespoon finely grated orange zest
1 cup raw chopped walnuts
1/3 cup Grand Marnier or other orange liqueur
1/4 cup freshly squeezed orange juice
1. Set a rack in the middle of the oven and preheat to 350°F. But­ter a 10-inch tube or Bundt pan.
2. In a medium mixing bowl, sift the flour, baking soda and baking powder; reserve. In a large mixing bowl, cream the butter and 1 cup of the sugar until light and fluffy. Add the egg yolks and beat until blend­ed. Alternate adding thirds of the flour mixture and the yogurt and mix until smooth. Stir in the orange zest and walnuts.
3. Using an electric hand mixer or stand mixer, whisk the egg whites until stiff but not dry, 2 minutes. Gently fold the egg whites into the batter until incorporated.
4. Pour the batter into the pan, smooth­ing the top. Bake, rotating halfway through, until golden brown and a cake tester inserted into the center comes out clean, 45 to 50 minutes. Cool in pan for 10 minutes.
5. While cake is cooling, combine the Grand Marnier and orange juice in a small saucepan over medium heat and bring to a simmer. Add the remaining 1/2 cup sugar and stir until well blended, 2 minutes. Remove from heat
6. Line a rimmed baking sheet with parchment paper and set a wire cooling rack on top.
7. Invert cake onto rack and spoon half the glaze over the top. Sprinkle on the almonds and spoon on the remaining glaze. Transfer to a serving plate.