Home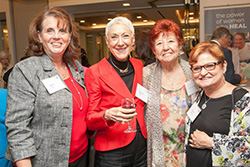 In this month's print edition of Hadassah Magazine, my column focuses on Hadassah's new headquarters on Wall Street, on the open environment that encourages communication and creativity, and also on how our location represents continuity with the story of Jewish life in New York.
But for all the attractiveness of our space, it's user-friendly design and the strategic location of our building in the heart of the Financial District, it is the people who occupy the space that transform walls and furniture into a home for Hadassah.
On June 9th and 10th we held two housewarming receptions for the staff, volunteers and donors—from New York and around the country—who give life to our mission and warmth to our day-to-day activities.
Dozens of mezuzot grace the doors of individual offices in the new headquarters, adding to the feeling of our work environment as a home for our collective efforts. At the receptions, we had a formal blessing and dedication of the mezuza at the front door. But even before reaching that entrance, our outer lobby—the first thing visitors see when they exit the elevators—has a mezuza that bears a large part of our history. Made of Jerusalem stone, it was given by chazan Morty Goldstein, of blessed memory, husband of Barbara Goldstein, and for decades was affixed to the front door of our home on W. 58 Street.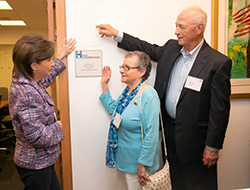 My column in this month's print edition also pays tribute to Bernice S. Tannenbaum, our beloved past president and one of the great Hadassah leaders of all time. Bernice passed away just a few weeks after our move. She made only one trip down to Wall Street to see our space before it was complete; at 101, she took the bus from her home on Central Park South, just to be sure she could come on her own strength. And she left another link with Hadassah's past by sponsoring the inner lobby of our new home.
So many people have contributed to Hadassah's accomplishments over the past 103 years. So many intelligent, creative and dedicated people contribute their efforts to advancing our mission today. I am confident that our new home will be a laboratory for ideas and a nexus of fulfillment for years to come. Just as we did on June 9th and 10th, we will have many more reasons to celebrate.