Stuffed With Goodness
Growing up in a kosher home in Montreal, cookbook author Kim Kushner learned to view keeping kosher not as a handicap but rather a set of culinary challenges, meant not only to be met but mastered. "My mother, Joanne, was an incredible cook who saw no limitations in her kitchen," said the willowy brunette, 35, who lives on the Upper East Side of New York with her husband, Jonathan, 37, and children Milan, 9, Emanuel, 6, and Rafaela, 3.
Joanne—affectionately known as JuJu—was born in Morocco, immigrated to Israel as a child and eventually ended up in Canada. "Juju has always lived for food and cooking," said Kushner. "Our table was never empty. My sister and I would often jokingly wonder who the mystery guest at our next meal would be…and there always was one," said Kushner, who would marvel at her mother's way of transforming whatever she had in the fridge into a great dinner. "I think my mother first and foremost saw cooking as her way of helping people and the world."
It's a philosophy Kushner seems to have inherited. After meeting Jonathan at a wedding and eventually moving to New York, she attended the Institute for Culinary Education and began teaching private classes, an experience that revealed a talent for making women feel comfortable in their own kitchens. Countless requests for recipes led to the publication of her first book, The Modern Menu
(Gefen), in 2013.
In subsequent years she refined her cooking style to meet her own needs: fast, simple, elegant and satisfying. The result is The New Kosher
(Weldon Owen), Kushner's second book.
"I want readers to flip through the pages and think, 'I could totally do that,'" said Kushner, whose recipes shy away from exotic ingredients in favor of sound techniques intended to coax the flavor out of every element.
Though the collection—which features gorgeous photography by Kate Sears—seems simple, with most recipes containing no more than 10 ingredients, Kushner insists that the dishes are just as suitable for holiday as every day.
"I don't necessarily feel holiday food has to be complicated or fancy to be festive," said Kushner. "I would rather spend my time focusing on my family or my guests."
Case in point: this kale- and feta-stuffed halibut that's a modern nod to the tradition of eating stuffed foods on Sukkot to celebrate the abundance of the season. A near-effortless pesto is tucked inside snowy halibut fillets that bake at a high temperature for 15 minutes, making them a worthy showpiece of a dairy holiday meal. The accompanying Brussels sprouts bake up crisp and golden in the oven, as much a pile of crispy, irresistible chips as they are a healthy side dish. Serve them in your sukka, or any time this holiday season for something simply sublime.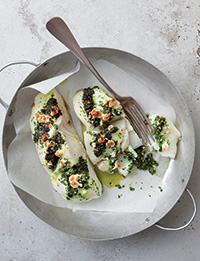 Halibut Stuffed with Kale & Feta Pesto
Serves 6
1 tsp grapeseed oil
6, 6-oz skinless halibut fillets
Kosher salt and freshly ground pepper
2 scallions, white and pale green parts, each cut crosswise into 4 equal pieces
2 cups coarsely chopped stemmed kale
1 celery rib, coarsely chopped
1/4 cup crumbled feta cheese
1-2 TBs extra-virgin olive oil
1. Preheat the oven to 450° F. Use the grapeseed oil to lightly grease a rectangular baking dish large enough to accommodate the fillets in a single layer.
2. Place the halibut fillets in the prepared baking dish and season lightly with salt and pepper. Use a sharp knife to slash several deep cuts in the top of each fillet, being careful not to cut all the way through the fish.
3. In a mini food processor, combine the scallions, kale, celery and feta cheese and process until the ingredients are crumb sized. Add 1 TB of the olive oil and pulse until a paste forms, adding more oil as needed to achieve a good consistency. Season with salt and pepper.
4. Use a small spoon or your fingers to stuff the pesto into the slits in each fillet, filling them with as much pesto as will fit and allowing it to overflow. Roast until the fish is opaque at the center when tested with the tip of a knife, about 15 minutes. Let cool for 3 minutes before serving.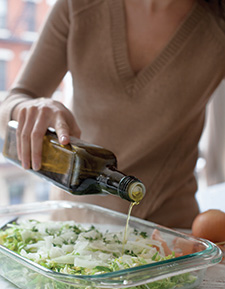 Crispy Shaved Brussels Sprouts
Serves 6
2 lbs Brussels sprouts
4 small scallions, white and pale green parts only
1/3 cup extra-virgin olive oil
1/2 tsp dried thyme, or leaves
from 4 fresh thyme sprigs
Kosher salt and freshly ground pepper
1. Preheat the oven to 350° F.
2. Use a very sharp knife to trim off the base of each Brussels sprout. Cut each sprout in half lengthwise, then cut each half crosswise into extremely thin slices, almost like shavings. Place in a rectangular baking dish.
3. Slice the scallions as thinly as possible, add to the Brussels sprouts and toss to mix. Drizzle with the oil and sprinkle with the thyme, 1/2 tsp salt and 1/4 tsp pepper. Toss well and spread out in an even layer.
4. Roast until crisp and golden, 30-40 minutes. The sprouts are best served straight from the oven.
Crispy Smashed Za'atar Potatoes
Serves 6-8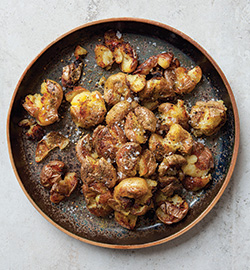 2 1/2 lbs marble potatoes or other small potatoes
Kosher salt and freshly ground black pepper
1/4 cup extra-virgin olive oil
3-4 TBs za'atar
1. Preheat the oven to 425° F.
2. Place the potatoes in a large pot and add cold water to cover. Bring to a boil over high heat and stir in 1 TB salt. Cover, reduce the heat to medium, and cook until fork-tender, about 10 minutes depending on size.
3. Drain the potatoes and spread in a single layer on a baking sheet. Use a large fork or a potato masher to smash them slightly. You just want to break them up a bit. Drizzle the oil over the top and season generously with salt and pepper. Taste and adjust the seasoning.
4. Roast until the potatoes are golden and crisp, about 10 minutes. As soon as they come out of the oven, sprinkle generously with the za'atar to taste and serve right away.