Kosher Food Trucks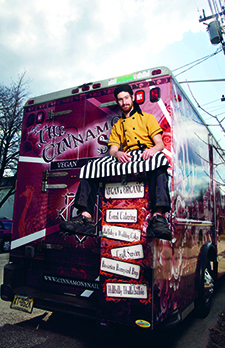 Standing in a tank top wiping off his brow with a muscled, tattooed forearm, 24-year-old Josh Sharon prepped for his eatery's lunch rush, making batches of hummus as a giant pot of tomato sauce bubbled on a burner behind him. Nearby, another employee dropped wafer-thin potatoes into hot oil while chunks of za'atar-seasoned cauliflower wrapped in foil cooked on a flat top grill.
The scene unfolding in the narrow galley kitchen describes many New York restaurants, but we were actually inside the Shuka Truck, one of a growing number of kosher or Jewish-themed food trucks cropping up all over the country.
On that steamy August day the cheery yellow truck was parked in New York's Financial District, waiting to roll up its windows at 11:30 A.M. sharp. Sharon and his partners Solomon Tarabousi and Gabriel Israel (a professionally trained chef) have introduced shakshuka—the Israeli dish of eggs simmered in peppers and tomato sauce—to a wider audience. Since opening in 2014, they have made a name for themselves in the highly competitive world of food trucks.
On the surface it sounds easy: less overhead, limited hours (many trucks open for lunch only) and streamlined staff. But food trucks have a whole different set of challenges: Keeping the vehicle operational (the Shuka Truck's generator blew out recently, resulting in a $10,000 fix). Getting permits from city officials is essential, but paramount is securing a daily spot for the truck. On busy 46th Street, owners drive a placeholder car to a desirable location in the middle of the night, then swap in their truck later in the day.
That is certainly the case for the Schnitzi truck, which had slid into a prime spot just off Sixth Avenue and 46th street around 3 in the morning. "A food truck was a way to get into the city without paying big-city rents," said Nir Messer, owner of the two Schnitzi restaurants in Brooklyn and, since 2011, the truck. "When we started, 90 percent of our customers were kosher. Now it's probably 50-50. The best part is we're spreading the gospel of schnitzel," said Messer of the crispy, breaded-cutlet sandwiches he serves with a variety of seasonings and sauces. There is a mashgiah onsite every day; the food prep is done in a kitchen the night before, then locked to ensure food safety and kashrut.
Barbecue is a category that lends itself to food truckery: There is Milt's BBQ truck in Chicago, a spinoff of a popular kosher joint that draws audiences from all over the Midwest and beyond; and JoeBob's in Austin.
Ari White, an El Paso, Texas, native and owner of Gemstone Catering, closed his Washington Heights restaurant "to preserve my marriage—restaurant hours were killing me," he said. He launched a barbecue popup restaurant that sold out of five days' of food in three nights. White soon found himself on eBay purchasing a $30,000 barbecue rig that took a month to kasher, resulting in the 2011 launch of his Wandering Que truck based in Riverdale, New York. Now the truck makes regular appearances at fixed neighborhood spots and competes at barbecue competitions.
Several attempts at kosher food trucks in Los Angeles have either closed or are on permanent hiatus. But Canter's, the storied kosher-style deli, has a roving truck that brings its pastrami sandwiches to a variety of locations.
Perhaps the champion of all kosher trucks is the Cinnamon Snail. Adam Sobel, a New Jersey-based vegan, opened the truck in 2010. His barbecued seitan, glazed donuts and other dishes gained such a following that one of his regular clients signed him to a book deal. Sobel now takes his truck all over the Eastern seaboard. He is also a four-time winner of the Vendys—the Oscars of the food-truck set (the Shuka Truck guys are finalists this year)—making him something of a legend in the food-truck world.
"The part I relish most is interacting with the customers," said Sobel. Here is his recipe for a red wine-enriched minestrone soup perfect for cooler weather, from his new cookbook, Street Vegan: Recipes and Dispatches from The Cinnamon Snail Food Truck
.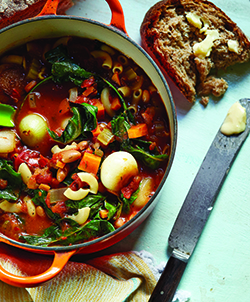 Red Wine Minestrone with Swiss Chard and Pearl Onions
Makes about 3 quarts.
2 TBs extra-virgin olive oil
16 small pearl onions, peeled
1 small yellow onion, diced
2 celery stalks, finely chopped
2 garlic cloves, minced
1 medium carrot, finely chopped
3 cups vegetable broth
2 cups red wine
1, 28-ounce can diced tomatoes (juice included)
1 cup ditalini, elbow or small-shell pasta
1 cup drained, rinsed canned pinto beans
1 tsp crushed red pepper flakes
1 tsp dried thyme
1 1/2 tsps dried oregano
1/4 cup chopped fresh basil leaves
1 bunch Swiss chard, stems removed, chopped
Salt to taste
1. Heat the oil in a large soup pot over medium-high heat Add the pearl onions and cook, stirring frequently, until lightly browned, 5 minutes. Add the onions, celery, garlic and carrot and continue to sauté until the vegetables soften slightly, 5 minutes.
2. Add the broth, wine and tomatoes, bring to a boil, add the pasta and boil until the pasta is only partially cooked, 4 minutes.
3. Stir in the beans, red pepper flakes, thyme, oregano, basil and Swiss chard and cook until the pasta is al dente, 2-3 minutes. Season with salt to taste.