Gondi for Purim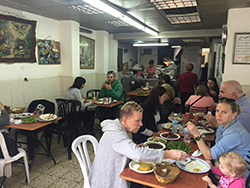 Purim is upon us, and food-wise it's a holiday widely known for its sweets: triangle-shaped hamantaschen meant to symbolize evil Haman's pointy ears and mishloah manot—packages of food usually heavy on candy and desserts that Jews send one another to fulfill a mitzva.
If you're interested in exploring the savory side of Purim, look no further than Persian cuisine. After all, the entire Purim story transpired in the ancient Persian empire, with the mighty King Ahasuerus at the helm. Persian (or Iranian) cuisine is known for its elaborate, intricate flavors, punctuated with ingredients like dried limes, rose petals, saffron and orange flower water. But half a block north of Tel Aviv's Levinsky spice market, Salimi restaurant serves some of the most soulful Persian-Jewish food I've ever tasted in a distinctly casual setting.
Salimi (80 Nahalat Binyamin Street) is a different kind of kosher eatery: A mis'adat po'alim (workers' restaurant), it was originally opened to cater to the many Persian Jewish immigrants who had—and still have—businesses in and around the market, situated in the southern part of the city. Israel is home to about 200,000 Jews with Iranian ancestry, but like many ethnic food traditions in Israel, Persian food's appeal reaches far beyond its indigenous eaters.
Formica tables, a beverage refrigerator and a stack of wicker pita baskets are just about all Salimi has in the way of décor, but it doesn't stop the lines from forming. Grilled meats threaded on skewers and cooked over coals are the main daily offerings. On Fridays, specials only available that day cause near pandemonium from the minute Salimi opens at 11 A.M. There's ash rimonim, tender meatballs in a piquant sauce of beets and pomegranate syrup; and ghormeh sabzi, a moss-green herb stew sometimes made with meat, sometimes vegetarian, but always served with rice.
And then there's gondi. Named after a bawdy euphemism for a certain part of the male anatomy, these spheres are made with ground chicken bound with egg and chickpea flour, seasoned with spices such as turmeric, cumin and coriander and simmered until tender. Unlike meatballs or matza balls, the preferred size is extra large and impressive. Turmeric in both the gondi itself and the broth adds a subtle, dusky earthiness and a sunny yellow hue.
I created this recipe based on what I tasted at Salimi, though I included chives since their bright flavor lightens up the dense but delicious balls. I also added vegetables to the broth to make this a great main course. If you prefer to serve the gondi as an appetizer, form the batter into 16 smaller balls instead of four larger ones and reduce the broth per bowl by half a cup. An added bonus: If you eat kitniyot over Passover, this recipe is an exotic alternative to matza balls.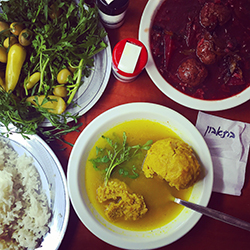 Gondi
Serves 4 as a main course, 8 as an appetizer.
For the gondi
1 medium onion, roughly chopped
3 large cloves garlic, peeled
3 TBs vegetable oil
1 egg
1 tsp salt
1 tsp ground turmeric
1/2 tsp ground cumin
1/4 tsp coriander
1/4 tsp ground white or black pepper
1 lb ground chicken (white or dark meat, or a combination)
1 1/2 cups chickpea flour (available at Indian and Middle Eastern markets and at Amazon.com)
3 TBs finely minced chives
For the soup
12 cups low-sodium chicken stock
2 tsps kosher salt
1 1/2 tsps turmeric
4 whole carrots, peeled
4 celery stalks, trimmed and halved lengthwise
6 sprigs each parsley and cilantro, tied into a bundle, plus more for garnish
1. Place the onion and garlic in a food processor and process until almost smooth, about 15 seconds. Transfer to a bowl and stir in the vegetable oil, egg, salt, turmeric, cumin, coriander and pepper until incorporated.
2. Add the ground chicken, chickpea flour and chives and gently stir until thick and pasty, making sure not to overwork. Press plastic wrap onto the surface of the gondi and chill the bowl for at least 3 hours and up to 24 hours.
3. While the mixture is chilling, bring the stock to a simmer, then add the salt and turmeric and bring to a boil. Add the carrots, celery and herbs and simmer until the vegetables are tender, 45 minutes. Gently remove the vegetables and herbs. Discard the herbs and reserve the vegetables.
4. Remove the gondi mixture from the refrigerator. Using wet hands, form mixture into four equal-sized balls. Gently drop them into the broth, return to boil, reduce heat, cover the pot and cook until the gondi are tender, about 55 minutes. Return the vegetables to the pot and warm through, 5 minutes.
5. Ladle 2 cups of broth into 4 bowls, then divide the gondi and vegetables among the bowls.