Haroset Five Ways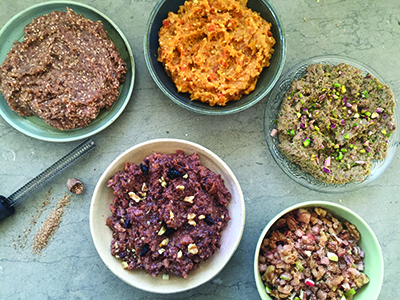 Haroset is a Passover classic, a Seder-plate item meant to symbolize the mortar Jewish slaves used to build "treasure cities" (or the pyramids, in popular lore) in their land of exile before the Exodus from Egypt. And as much as we may love the standard Ashkenazic haroset
containing apples, walnuts, wine and cinnamon ground into a paste—or chopped by hand and left chunky if that is your thing—the adventurous among us may be wondering what Jews around the world shmear on their matza at their Seders.
Thankfully, Jewish cooks have awoken to a colorful universe of harosets that draw inspiration from a variety of ethnic Jewish traditions. Using a bounty of dried fruits, nuts, seeds, figs, dates—even bananas—these recipes expand our idea about what haroset can be. Here are five to try this Passover season (and I threw in one classic Ashkenazic version, for old-time's sake).
Haroset from Surinam
Makes 3 cups
Every year, my friend Chaviva Levin prepares a variety of harosets, packages them and gives them to family and friends. When I tasted this one, with origins in the Jewish community of Surinam, I was hooked. Sephardic Jews first settled in Surinam in the 1600s, some seeking economic opportunity and others fleeing expulsion from Recife, Brazil.
The recipe is rich with tropical flavors, spices like cinnamon, dried fruit   and wine. It would be great served with brisket after it fulfills its ritual obligations at the Seder.
1/2 cup unsweetened coconut
1/2 cup chopped almonds
2 TBs sugar
1 tsp ground cinnamon
1/4 cup raisins
1 cup chopped dried apples
1/4 cup chopped pitted prunes
1/4 cup dried apricots
1/4 cup dried cherries
Water, to cover
1/2 cup sweet red wine
Combine all of the ingredients except the water and wine in a medium saucepan. Cover with water, bring to a boil, reduce the heat and simmer until softened, 30 minutes. Cool to room temperature, then stir in the wine until incorporated into the mix.
Yemenite Haroset
Makes 2 1/2 cups
This recipe combines many elements of a traditional Yemenite meal: Ja'aleh, a spread of fruits and nuts that often follows dinner, is represented here by dates, raisins and walnuts. Ginger, cardamom and white pepper mimic the flavors of hawaiij le'cafe, a Yemenite spice blend stirred into hot water in lieu of coffee.
1/2 cup golden raisins
1/2 cup medjool dates, pitted and chopped
1/4 cup boiling water
1 cup chopped toasted walnuts
1 TB ground ginger
1 tsp ground dried cardamom
1/2 tsp ground white pepper
1/4 tsp ground cloves
1 TB date syrup or honey
1/2 cup sesame seeds, toasted, plus more for garnish
1/4 cup sweet wine or grape juice
In a small bowl, pour the boiling water over the raisins and dates; rehydrate for one hour and up to four. Add the remaining ingredients, transfer to a food processor and purée until smooth, 20 to 30 seconds. Transfer to a bowl and garnish with more sesame seeds.
Persian Haroset
Makes 3 cups
The combination of bananas and apples puréed into a smooth, spreadable paste turns this haroset into a rich, complex fruit butter. Pomegranate syrup adds a novel form of sweetness, but you can supplement with honey or sugar if you like. The pistachios bring both crunch and color to the finished dish.
1 cup shelled toasted pistachios, plus more for sprinkling
2/3 cup sliced banana
1 small apple, peeled, cored and roughly chopped
1/2 cup chopped, toasted walnuts
1/2 cup grape juice, preferably light-colored
1 tsp ground cinnamon
2 TBs pomegranate syrup
In a food processor, purée all ingredients until smooth, 30 seconds. Garnish with chopped pistachios.
Adeena's Sunshine Haroset
Makes 3 cups
While I love haroset made with dates, figs and prunes, I wanted to create one that was lighter on both the palate and the eyes. This one mixes tart apricots with figs, crunchy hazelnuts and the surprise of lemon, ginger and saffron. Spread it on matza as the base for a day-after-the-Seder unleavened turkey or cold-cut sandwich.
1 1/4 cups dried apricots, chopped
1/2 cup Calimyrna figs, trimmed and chopped
1 cup boiling water, plus more as needed
1 cup blanched hazelnuts, toasted and cooled
Juice and zest of 2 lemons
Pinch saffron threads
1 TB freshly grated ginger
1/2 cup orange juice
2 TBs honey
In a bowl, cover the apricots and figs with the boiling water; rehydrate for one hour and up to four. Transfer the fruit and soaking water to a food processor, add the remaining ingredients and pulse until almost fine, adding more water as necessary to achieve desired consistency.
Ashkenazic Haroset
Makes 2 1/2 cups
Uri Scheft of Breads Bakery—with branches in New York and Tel Aviv—dictated his family's haroset recipe to me, which I adapted by adding pecans and brown sugar in lieu of white. Scheft processes his until finely puréed, but I prefer mine slightly chunkier; just do what feels right.
1/2 cup chopped red apple, peeled
1/2 cup chopped green apple, peeled
1/2 cup roughly chopped walnuts
1/2 cup roughly chopped pecans
1/2 cup sweet red wine
1/2 tsp ground cinnamon
3 TBs brown sugar
Combine all of the ingredients in a food processor and either pulse until finely diced and chunky, or process even more until really blended and almost smooth.