Cooking for Two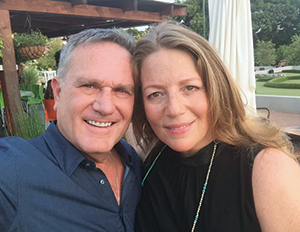 The first thing I ever made for the man who would become my fiancé was scrambled eggs. I remember standing at the stove in my New York City kitchen, stirring the eggs over a low flame as he sat at the dining table. As I sprinkled in a handful of freshly grated Parmigiano-Reggiano cheese, I was acutely aware of the tenderness of both the moment at hand and the custardy, perfectly undercooked eggs in the skillet.
As a professional recipe developer, I spend my days taking notes and measuring ingredients, making and remaking each dish until I'm satisfied with its taste and appearance. In my day job, at least, I've learned to remove emotion from the equation in the service of the perfect plate. But when I'm off the clock, I cook for the nods of affirmation, the second helpings, the joy I derive from filling the bellies of those I love.
So when Jay's eyes closed briefly and he nodded his approval of our first shared, albeit simple, homemade meal, it was a small but significant signal of progress in our relationship.
I've made food for one and food for hundreds, but the multiple of two is relatively uncharted territory for me. Lately, in adjusting to a new life (Jay and I are getting married in June in Tel Aviv, where we now share an apartment), I find myself making meals for just us at least a few times a week.
There is a pleasing economy to this type of cooking that goes beyond the financial. Shopping, planning and, of course, cooking become less overwhelming experiences. It tends to be easier to throw together a meal with what I've already got in the pantry and fridge, or after a quick trip to the nearby shuk.
And though it's taken me a little while to develop discipline at the cheese counter or produce bin, my new general rule is to take what I think I may need, then halve it—especially when it comes to things like cheese, herbs and produce.
This newly scaled-down approach to meals has paved the way for more single-pot or one-pan meals, meaning I'm more excited to cook fresh food every night, rather than make a bunch and rely on leftovers. Most meals, Jay cleans while I cook or right after we've eaten. I've washed so many dishes after so many meals that this help, which he takes for granted and extends with a natural magnanimity, moves me every time. Talk about nourishing.
Techniques and Tips
If you cook for two on a regular basis, buy good-quality smaller cooking vessels: a three-quart saucepan, a scaled-down roasting pan for smaller chickens, etc.
Buy the best. Since you're buying and cooking less, invest in the best produce and staples, like premium olive oil and spices.
If you're halving a larger recipe, take note: Though things like pasta, protein and vegetables can be reduced by 50 percent, salt and seasonings may not adhere to this rule. Season to taste.
Look for recipes specifically created for two: I like The Complete Cooking for Two Cookbook
from America's Test Kitchen and One Pan, Two Plates: More Than 70 Complete Weeknight Meals for Two
by Carla Snyder. Online, Eatingwell.com features a good selection of recipes designed for two.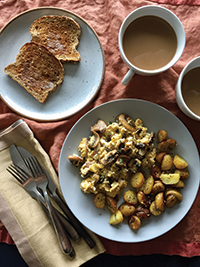 Mushroom and Feta Scramble with Crispy Za'atar Potatoes
1/2 pound baby potatoes,halved
4 tablespoons olive oil, divided
2 tablespoons za'atar
Kosher salt to taste
Freshly ground black pepper to taste
1/2pound (2 cups) mushrooms, trimmed and thinly sliced
1 clove garlic, minced
1 teaspoon fresh thyme leaves (1/2 teaspoon dried), plus more for garnish
4 eggs, lightly beaten
1/4 cup crumbled feta cheese
1. Preheat the oven to 425°. Toss the potatoes in a bowl with 2 tablespoons olive oil, za'atar, salt and pepper. Spread evenly on a baking sheet and roast until the potatoes are crispy and golden, 25-30 minutes.
2. During the last 15 minutes of roasting the potatoes, heat 1 tablespoon of oil in a large nonstick skillet over medium-high heat. Add the mushrooms and cook, stirring until they release their water, 6-7 minutes. Add the garlic and cook, stirring an additional 2 minutes. Add the thyme, season with salt and pepper and remove mushrooms from the skillet to a plate.
3. Reduce the heat to low, add the remaining tablespoon of olive oil, then add the eggs and cook, stirring gently, until the eggs are just scrambled and slightly wet, 2-3 minutes.
4. Return the mushrooms to the skillet along with the feta and cook, stirring until mushrooms are just warmed through, 1-2 minutes.
5. Remove the potatoes from the oven, season with more salt and pepper to taste and, with the eggs, split between two plates.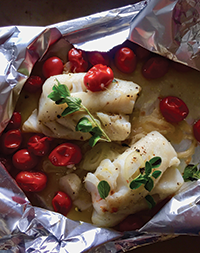 Fish in Foil with Cherry Tomatoes and Wine 
2 large shallots, thinly sliced
1 clove garlic, minced
Kosher salt to taste
Fresh ground pepper to taste
3 tablespoons olive oil, divided
2 skinless 6-ounce white fish fillets (e.g., cod, sea bass)
1 cup grape tomatoes
2 tablespoons dry white wine
2 oregano sprigs, plus more for garnish
Lemon wedges for serving
1. Preheat the oven to 425°. Rip off two large equal-sized pieces of heavy-duty foil. Place one of the pieces of foil, shiny side down, on a baking sheet. Sprinkle the shallots and garlic in the center of the foil piece, drizzle with 1 tablespoon of the olive oil and sprinkle with salt and pepper.
2. Season the fillets generously with salt and pepper and arrange them on top of the shallots and garlic. Drop the tomatoes around the fillets, drizzle with the remaining olive oil, pour on the wine and arrange the oregano sprigs on top.
3. Arrange the second piece of foil on top of the fish. Starting with one side, fold over several times to form a seal; repeat with the other sides until you have a square tightly sealed on all sides (make sure to leave a little room between the fish and the foil so the fish can steam).
4. Place the packet on a baking sheet and bake until the fish is opaque, 14-15 minutes. Slice open the packet with a paring knife (watch out for the steam!) and divide the fish, tomatoes and juices onto 2 plates. Garnish with more oregano and serve with lemon wedges.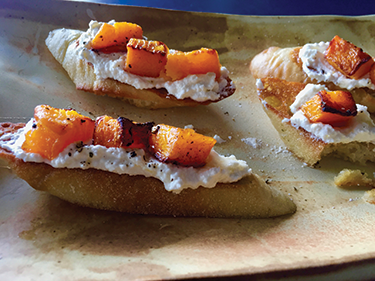 Roasted Butternut Squash and Ricotta Toasts 
2 cups (1/2 pound) butternut squash, cubed
4 tablespoons olive oil, divided
Salt to taste
Freshly ground black pepper to taste
1/2 sourdough baguette (or similar)
3/4 cup part-skim or full-fat ricotta cheese
Zest of 1 lemon
1 tablespoon honey
1. Preheat the oven to 400°. Toss the squash with 2 tablespoons of the oil and salt and pepper to taste. Turn onto a foil-lined baking sheet and roast until the squash is tender and the edges are golden, 30-35 minutes. Remove from the oven and cool.
2. Cut the baguette on the bias into 4 half-inch-thick, 4-inch-long toasts. Brush with the remaining oil, season with more salt and pepper and bake on a baking sheet until golden, 10-11 minutes.
3. While the toasts are in the oven, combine the ricotta in a bowl with the lemon zest and salt and pepper to taste.
4. Let toasts cool a bit before spreading some of the ricotta mixture on each toast and pile some of the roasted squash on top. Drizzle the toasts with honey, then serve.
Adeena Sussman is a cookbook author, recipe developer and food stylist based in New York City and Tel Aviv. Her latest cookbook is Short Stacks' Tahini
.