Seeds of Change in Israel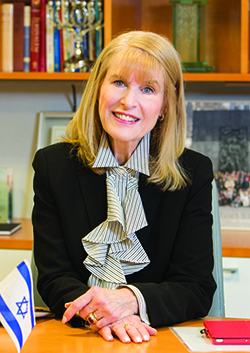 History is complicated but many of its guideposts are clear—at least in hindsight. Some of the most important Jewish dates are enshrined on our calendar as holidays, but there are also numerous key dates that pass each year without our notice.
Three July events jump out at me as symbols of recognition, right and renaissance—dates of action that were also the building blocks of Israel. Zionist history highlights Great Britain's Balfour Declaration of November 1917, envisioning a Jewish homeland in Palestine. But it was on July 22, 1922, that the League of Nations recognized the declaration as integral to Britain's mandate to rule Palestine—providing an international stamp of approval on the path to Israel's emergence in 1948.
Once Israel declared independence, all barriers to Jewish immigration were lifted. The affirmative legal foundation came on July 5, 1950, when the Knesset approved the Law of Return—giving every Jew the right to enter and obtain citizenship.
The guarantor of Jewish sovereignty is the Israel Defense Forces, and perhaps no act of self-defense has such symbolic importance as the daring operation to rescue Israeli hostages in Entebbe, Uganda, on July 4, 1976—the day America celebrated its bicentennial. Two days later, the lead New York Times editorial declared, "The civilized world owes the Government and armed forces of Israel a permanent debt of gratitude for the courageously conceived and brilliantly executed rescue of more than 100 hostages from pro-Palestinian terrorists at Entebbe airport…."
The framework of recognition, law and defense allows Israeli civilization to thrive and, not coincidentally, for the Hadassah family to continue playing a central role as healers, educators and stakeholders. For example, Leyla Vinopal, a student at Hadassah's Meir Shfeyah Youth Village, is one of the winners of this year's Intel-Israel Young Scientists Competition. She was recognized for her work on the impact of the immune system on the development of Alzheimer's disease. She is also one of four students chosen to represent Israel at the European Union Contest for Young Scientists, to be held in Estonia in September. (For more on Israel's youth villages, click here.)
One of the pillars of Israel's armed forces is its cadre of medics and paramedics responsible for treating injured soldiers and often civilians as well. These first responders are instructed by Israeli Army medic and paramedic trainers. But who trains the trainers? That would be the Hadassah Medical Organization. Hadassah Hospital at Ein Kerem recently held one of its periodic study programs at which specialists in emergency medicine, orthopedics, ophthalmology and neurosurgery trained military personnel.
We all know that nurses spend a lot of time on their feet, but for HMO head pediatric nurse Bracha Grossman, walking is not only an occupational necessity but also practice for something else. In March, she ran the Jerusalem Marathon. "I was thrilled to pass Mount Scopus, particularly this year when we are celebrating the reunification of Jerusalem and the return of the keys to Hadassah's Mount Scopus hospital," she said.
It's not only Hadassah nurses who run long distances, but also patients. In 2012, historian, Zionist scholar and dear Hadassah friend Gil Troy collapsed with a fractured femur just yards from the finish line of the Jerusalem Half-Marathon. He had emergency surgery at our Mount Scopus hospital, follow-up surgery at the Sarah Wetsman Davidson Hospital Tower in Ein Kerem and also got what he calls a "fear-of-God" speech about his weight and blood pressure. This year, he was back in the race. "It took me five years, two hours and 12 minutes to complete the half marathon," Troy wrote in a letter to Dr. Meir Liebergall, director of HMO's Orthopedic Surgery Department, "and I couldn't have done it without your skill—and all those who help you do what you do."
Statesmanship, leadership and strength lead to learning, training, competing and success. These guideposts—and there are many more—show how the Jewish state was created and how it continues to flourish.