Jewish Food Hero—Vegan Recipes, Modern Esthetic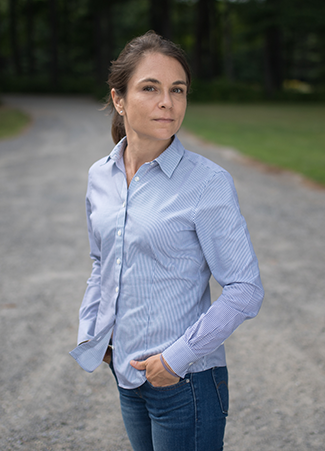 Meet the vegan Jewess who is changing the way we relate to Judaism and food
Her name is Kenden Alfond, and she is the founder and CEO of Jewish Food Hero, a plant-based Jewish food and lifestyle blog that she runs out of Battambang, Cambodia, where she lives with her husband and young daughter.
I vaguely know Alfond, 40, although we have never met in person, and our online paths haven't crossed in recent months. When we reconnect over Skype to talk about her work she feels like a familiar face. I remark on how surprised I am to hear her Maine accent, and I am reminded of her roots, which are remarkably similar to mine.  We are smalltown New England girls who grew up in the warm cradle of the Reform Jewish community—and then landed on the other side of the world as adults.
I start with a simple question: What inspired her to start Jewish Food Hero. She speaks about what it was like when she and her husband began raising her daughter while abroad, and how she strived to create an environment that reinforced healthy Jewish values, connections and symbols.
Part of this was creating a home that displayed her own kind of healthy, modern Jewish foods and crafts. This is the very reason she desinged a digital Jewish calendar—It is updated yearly and available for purchase or download online—with a listing of Jewish holidays and decorated with simple, sweet illustrations.
The Jewish holiday calendar is feminine and modern, important stylistic elements to Alfond.
Like her calendar, the content on her site is intended to enrich through conversation about plant-based eating, positive relationships, inspiring personal stories and educational lifestyle tips. The site shares biweekly posts, guest blogs and interviews with Jewish women professionals from all over the world. It is a forum that I personally have referred to for guidance.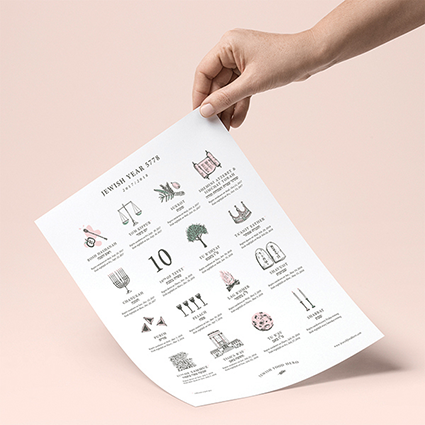 Kenden is a trained psychotherapist who has studied plant-based nutrition. She has been vegetarian or vegan since her preteen years.
"I came to realize that there were lots of Jewish women trying to create healthier families in this generation, and I wanted to create a community around this common desire for Jewish health," she explains.
Living in Cambodia—where Alfond and her husband relocated to open and operate the French International School—makes it challenging to participate in an organized Jewish community. "In order to find a synagogue to pray at for the high holidays," Alfond says, "we have to travel to a different city."
In light of this reality she has brought specific Jewish elements into her own home, which she opens to friends and travelers for weekly Shabbat meals.
But Alfond stresses that she does not preach her nutritional values. "I don't try to convert people to become vegan or anything like that," she specifies. "When people share a Shabbat meal in our home, I serve vegan food that is good and satiating. More often than not, people leave satisfied, having participated in a positive Jewish and vegan experience."
Personally, I am a meat eater who enjoys a decadent meal, but I believe her. Having thoroughly explored her cookbook, Jewish Food Hero Cookbook: 50 Simple Plant-Based Recipes for Your Holiday Meals, I know how creative, easy and delicious her cooking is.  
If anything, Alfond hopes to simply inspire people to eat fewer meat or milk products and make healthy yet festive eating more accessible to Jewish families.
Her recipe to you this Rosh Hashana is just that. It is a couscous side dish featuring baked pumpkin and apple that reminds me of a New England autumn. It can be made gluten free by using quinoa instead of couscous.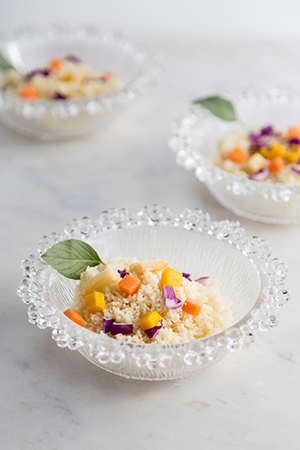 Baked Apple and Pumpkin Couscous
This grain-based Rosh Hashanah recipe includes baked apples and pumpkin and raw carrots and cabbage. The apple tahini dressing is creamy and both savory and sweet. The salad has color, crunch and flavor. It is a wonderfully healthy dish to add to your table for Rosh Hashanah (and all year around).
1 cup couscous, medium sized grain (can replace with quinoa)
1 1/2 cup diced baked pumpkin
1 1/2 cup diced baked apple
1 cup diced red cabbage
1 cup diced small carrot
1/2 teaspoon salt, to taste
1 tablespoon lemon juice, to taste
Freshly ground black pepper, to taste
Apple Tahini Dressing
1 apple
1 teaspoon tahini
1 garlic clove
1/2 teaspoon cumin
1/2 teaspoon cinnamon
2 tablespoons lemon juice
1 teaspoon dijon mustard
1 tablespoon brown sugar
1 teaspoon salt
Freshly ground black pepper to taste
2 tablespoons water (optional)
1. Pre-heat oven at 400. Make the couscous and set aside to cool
2. Coat a baking sheet with non-stick canola oil spray. Place the diced apple and pumpkin on baking tray and bake for 30 minutes or until soft (but not mushy)
3. Dice the red cabbage and carrot and set aside.
4. Make the dressing (if you like your salads with a lot of dressing, double the dressing recipe). Using a vegetable peeler, skin the apple. Using the same vegetable peeler, peel the apple into extra thin strips.
5. Place 2 cups of water into a saucepan and add the apple slices. Cook until apple is soft and all the water is gone (approx 10 minutes).
6. Place the cooked apple in blender. Add all other ingredients, except the water, and blend until smooth. Depending on the consistency of the dressing, add 1-2 tablespoons water as needed
7. After you make the dressing: In a large salad bowl, combine the salad dressing and the carrot and red cabbage. Mix evenly. Add the couscous and mix lightly and well (but do not mush).
8. When the pumpkin and apple are cooled, add to the salad. Mix to incorporate, but be gentle.
9. Taste, and add 1/2 teaspoon salt and 1 tablespoon lemon juice to taste if desired
Jessica Halfin is an American ola to Israel. She is a food and culture writer, pastry chef, gourmet cook and owner and operator of Haifa Street Food Tours. She resides in Haifa with her husband, Eli, and their three young children.